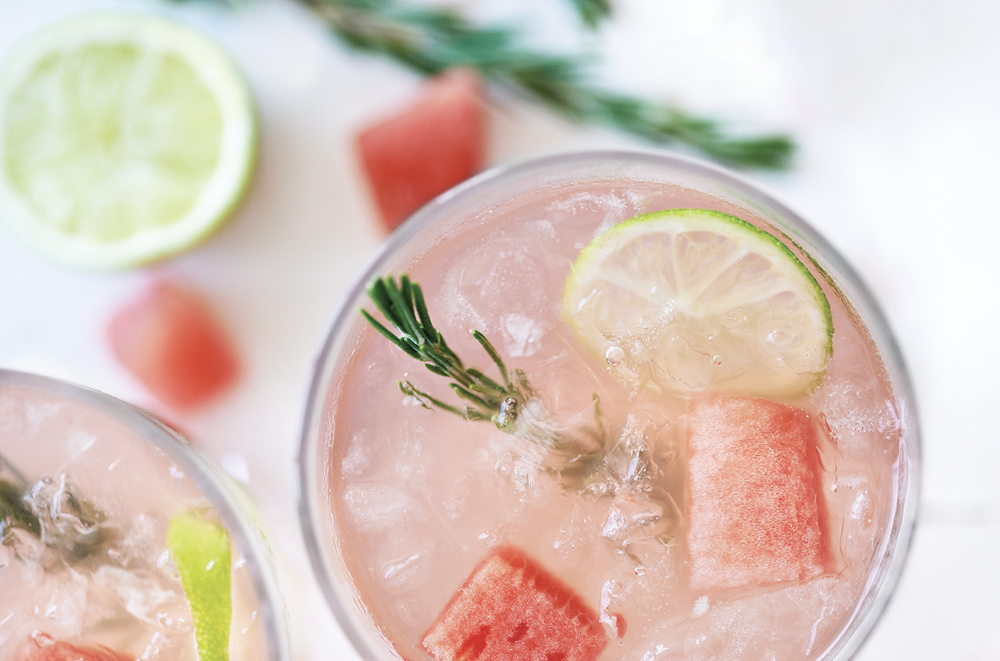 After Melissa Saubers stopped drinking three-and-a-half years ago, she had a realization: Social events are not designed for the sober.
"Part of the thing that kept me drinking, probably longer than I wanted to, was that I'm a very social person—I'm out and about a lot," she explains. "I would go to events and parties and there were no alcohol-free options."
The founder of Cowork Waldo, Saubers and her entrepreneurial spirit set out to change that with Sans Bar KC, a company focused on handcrafted alcohol-free drinks. The Sans Bar concept originated in Austin, but when Saubers came across it on Instagram and reached out to founder Chris Marshall, he was all for bringing the idea to a new market.
Saubers hosted her first booze-free bash New Year's Eve 2018. Since then, Sans Bar popped up at spaces around Kansas City for events that show forgoing alcohol doesn't mean saying farewell to fun. In fact, it allows more people to comfortably join in. Saubers notes that people opt for alcohol-free beverages for a variety of reasons, from their health to religious beliefs to wanting to get an early start the next day. Her goal is "to create a social situation for people who don't want to drink for a night or for life."
In addition to her own pop-up events, Saubers helps facilitate alcohol-free spaces at events like the Plaza Art Fair where people can enjoy a refreshing sans alcohol cocktail in a space that also includes alcoholic choices. Sans Bar also caters private parties and charity functions, which has been the most well-received aspect of the business. People have been "genuinely appreciative" for providing an option that still makes them feel like they're part of the party.
"One of my biggest fears with stopping drinking was that I would be disconnected from everyone and everything, and I actually found connection through my sobriety," she explains.
Beyond the Bottle
Saubers isn't alone in recognizing the power of alcohol-free cocktails. A growing number of bars and restaurants are also adding the drinks to their menus.
"First and foremost, it's our goal to provide the same level of hospitality to all of our guests, and that's impossible to do for us unless we consider all of our guests' different needs," says Ça Va general manager Sarah Hogan. "It's often not a lot of fun to be out with your friends and have no choice but water to drink."
The Westport favorite's offerings are updated seasonally along with the rest of the menu and designed with the same attention and care. Some of Ça Va's favorite regulars actually don't drink at all, Hogan notes, and instead come in to experience the different booze-free cocktails.
"I always try to encourage people to be mindful of the fact that if it sounds delicious, you can have it even if it doesn't have alcohol," she says. "I steer a lot of people who would drink and do drink toward some of our alcohol-free options because they're delicious and they're really thoughtful."
Adam Chase, Corvino Supper Club and Tasting Room's lead bartender, has a similar philosophy.
"Non-alcoholic cocktails have always been an important part of my cocktail program," he says. "I think the non-alcoholic game needs to be just as dynamic as the regular cocktail menu."
One of his current favorites is the Low Tide, a tiki-style libation that uses alcohol-free aperitif syrup, passion-fruit purée, lemon juice and sugar. Another of the bar's offerings, the Whoo Ha, Cherry Soda, is a throwback to soda fountain drinks with amarena cherry syrup.
Non-alcoholic cocktails aren't formally on the menu at The W in Lee's Summit, but bartenders embrace the opportunity to get creative when guests request them, says bartender Taylor Dumsky.
"We go through essentially the same process for building a mocktail that we would a cocktail, which I think is really important—you don't want to take away from that experience at all," she adds. "Just because the drink is without alcohol doesn't mean we can't make it exclusively tailored to that guest."
The thirst-quenchers they end up crafting are influenced by what types of drinks the patron typically enjoys, what they're in the mood for and any dietary concerns. Sometimes that might mean utilizing syrups and juices they have on hand for other cocktails or a trip downstairs for coffee or tea from sister bar and coffee shop Hand in Glove. One of Dumsky's recent creations was a Gin Fizz, without the gin but otherwise using the same high-quality ingredients.
"You essentially get the same product," she says. "The wow factor is still there."
Now Trending
Alcohol-free cocktails are a natural fit for Enjoy Pure Food + Drink, which caters to health-conscious diners and drinkers, many of whom may be trying to limit their alcohol consumption, says owner Staci Cross.
When the Mission Farms spot expanded last winter, its bar program grew with the space and now includes a lineup free of refined sugar and syrups, relying instead on spiked fresh-pressed juices and sustainably-farmed, low-sulfite wines.
That ethos extends to the alcohol-free offerings, which currently include The Green Rose, made with cucumber, mint, ginger, coconut, rose water and agave, and the Rosemary Paloma, a blend of fresh grapefruit juice rosemary-infused agave and Enjoy's metabolizing cold-pressed juice.
"I wanted to make them as clean and as healthy as possible," Enjoy mixologist Pressley Green says of the drinks. He experimented with a number of recipes and whittled the featured alcohol-free cocktails down to two for now, although more may make their way onto the menu over the summer.
Green and Cross see people moving toward a healthier, more self-aware lifestyle as the reason for the growing popularity of alcohol-free cocktails around KC, whether that means drinking only on the weekends, participating in Dry January—an increasingly popular movement to ditch alcohol for the first month of the new year—or eliminating alcohol all together
For Sans Bar's Melissa Saubers, the decision to stop drinking was multifaceted.
"I got to the point where alcohol was too centered—it was too much of a focus in my life," she explains. "And when I started realizing that was causing anxiety and it was really interrupting me being focused and being productive and taking the best care of myself, I realized it needed to go."
These days, she sees a much greater sense of awareness about the benefits of sober living or being sober-curious taking root in our culture. For her, those benefits include an improved immune system, increased energy, and renewed focus and clarity, along with some very simple upsides.
"Waking up every morning without a hangover for the rest of my life is the best thing ever," she laughs.
Still, Saubers sees plenty of room for improvement when it comes to the social scene in Kansas City. Her goal is to get people thinking about alcohol-free accessibility, which she defines as "raising the awareness that alcohol-free options are needed everywhere, all the time."
She wants to help bars, restaurants and event planners understand the value of sophisticated alcohol-free options and how to present them in a way that gives them the same weight and dignity as traditional cocktails. In the meantime, she'll keep mixing drinks and providing a safe, fun space around town at Sans Bar pop-ups.
"I'm not sure about a permanent location," she says, "because I think the benefit and the real magic of this is having alcohol-free options everywhere."