When we spied it was National Ice Cream Pie Day today we thought—it's the best of both worlds. The only thing better than pie—is ice cream! And we found one that will rock your face off. Behold the zingy Grasshopper Pie from the culinary team at Novel. They unleashed it in June to much fanfare. Turns out their new, decadent dessert has been "quite popular", says Jessica Armstrong, co-owner and pastry chef. Her inspiration? "My love for ice cream and fun summer desserts."
Of course, like a lot of items on their menu, there's a local component to it. "We receive a lot of fresh mint from our farmers during the summer," says Armstrong. "Feel free to try this recipe with other mint varietals. I use chocolate mint."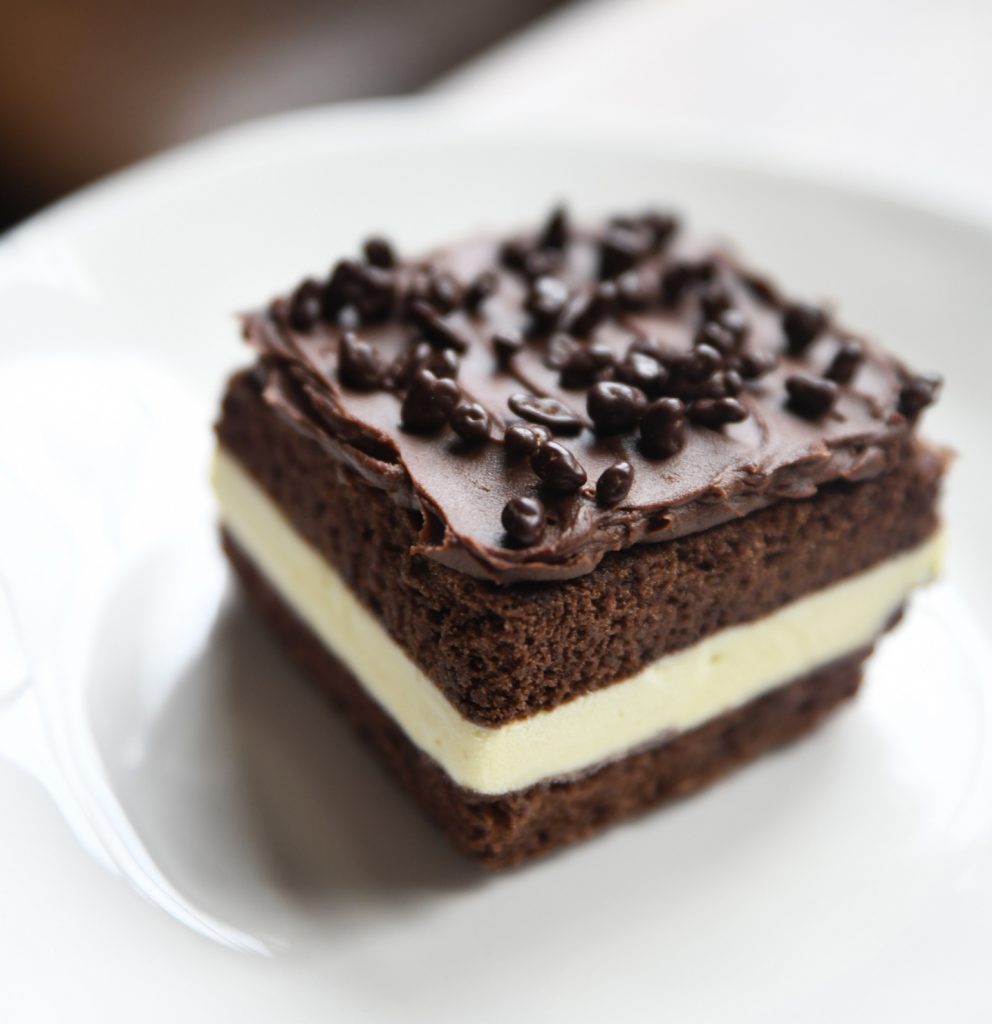 Novel's Grasshopper Pie
Chocolate Sponge Cake:
¼ cup whole milk
2 tablespoons unsalted butter
8 large eggs
2 cups sugar
¾ cup flour
½ cup cocoa powder
1 teaspoon baking powder
1 teaspoon salt
1. Preheat the oven to 350 degrees. Grease a rimmed sheet pan or cookie pan and line with parchment. Melt the butter and milk in the microwave. Whip the eggs and sugar on medium-high for 8 minutes, or until the mixture is a thick pale yellow.
2. While whipping, slowly add the warm milk and butter. Sift together the flour, cocoa, baking powder, and salt. Remove the bowl from the mixer and gently fold in the dry ingredients until there are no lumps.
3. Pour the batter onto the pan, spread evenly, and bake for 20 to 25 minutes. Allow to cool and run a knife around the edges to loosen. Cut the cake in half from top to bottom.
Fresh Mint Ice Cream:
3 cups cream
3 cups whole milk
12 yolks
1 1/2 cups sugar
1 ounce mint leaves
¼ teaspoon salt
1. Heat the cream, milk, salt, sugar, and mint leaves on medium heat in a medium-sized pot, stirring occasionally. Simmer for 15 minutes.
2. Place the yolks in a heat proof bowl. Slowly pour in half the hot liquid while stirring the yolks. Whisk the yolks back into the pot. Pour through a fine mesh strainer.
3. Chill overnight. Spin in your home ice cream machine.
Dark Chocolate Ganache:
8 ounces dark chocolate
1 cup heavy cream
1. Place the chocolate in a heat-proof bowl. Scald the cream and pour over the chocolate.
2. Whisk to combine. Set aside until it cools to a thick, spreadable consistency.Assembly:
½ teaspoon sea salt
Chocolate cookie crumbs or cocoa nibs
1. Scoop the frozen ice cream onto one half of the cake. Smooth out the ice cream with an offset spatula. Top with the other cake half. Wrap with plastic wrap and freeze overnight.
2. Before serving, spread the ganache as thick as you'd like over the top. Sprinkle the sea salt over the ganache. Garnish with chocolate cookie crumbs or crunchy cocoa nibs. Slice into square pieces.