They're bawdy, bearded, bejeweled and big-hearted. And when this group of fine, upstanding citizens converge upon a room, it's impossible to miss them. Meet the Sisters of Perpetual Indulgence—a spirited, glitterific group of gay do-gooders wearing nuns' habits. "We do community service in the guise of a sacred clown," says Andy Chambers who's known around town as Sister Glamarama Ding Dong. "And who doesn't love a clown?"
Like any well-meaning nun, the local City of Fountains Sisters are known for their charity work and humanitarian efforts around the city. But unlike, say, your bland Catholic high school nun, these sisters are dressed in glamorously garish, gender-bending get-ups. Mind you, it's for good reason. "There's a lot of social anxiety in this world—people worried their outfit looks weird or maybe they're afraid to talk to people," says Sister Glamarama. "We create visibility. Our visibility allows other people to enjoy themselves and relax. People who are scared of clowns aren't scared of us. People will open up to us. We're a buffer. You wouldn't believe the people that start talking around us because they want to be in our orbit. We're a catalyst—a glittery, crazy catalyst for their conversations."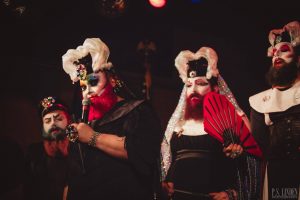 From humble beginnings way back in 1979 in San Fran, the Sisters of Perpetual Indulgence have grown to include charitable chapters all over the world—each house a little kookier and more sparkly than the last. Here in Kansas City, you'll find the City of Fountains Sisters hobbing and knobbing at various charity events. They gladly welcome any volunteer opportunities. "At Hamburger Mary's KC, the Sisters have volunteered their time and services for quite a number of our larger fundraising events," says Jeff Edmondson, co-owner of Hamburger Mary's. "Some of the charities they've assisted likely could not have pulled off their fundraising events, nor to the levels of success they had, without the help of the City of Fountains Sisters."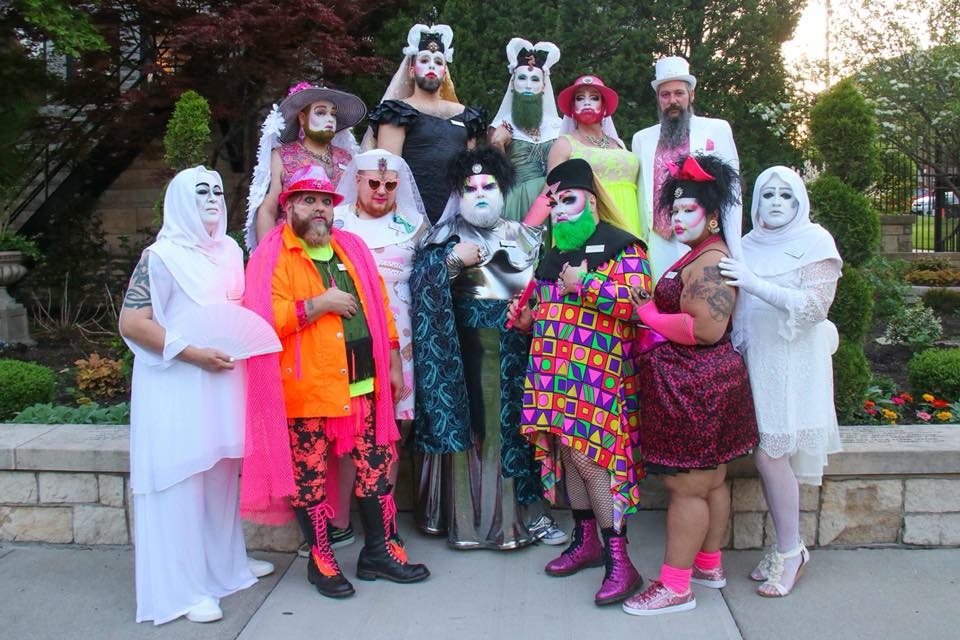 In order to become an ordained chapter of Sisters, attention must be paid. The process to becoming a bona fide, fully professed house is a lengthy one. Who knew? "Around 2013 is when the vision began," says Sister Glamarama. "We didn't know where to start or where to go, but we followed the guidelines, which tells you everything you need to know." After four years of philanthropic blood, sweat and water-proof mascara, the City of Fountain Sisters became an incorporated house in October 2017. They were officially official.
Why are the Sisters so successful in their philanthropic endeavors? In a word—tenacity. Uh—and lots of white face paint. "To me, one of the reasons we put that mask of paint on is that we look ridiculous and approachable," says Grover Vermillion a.k.a. Sister CupKake. "People come up and want to know why we're there. We're there to be helpful and talk to the community. We're educating and entertaining at the same time."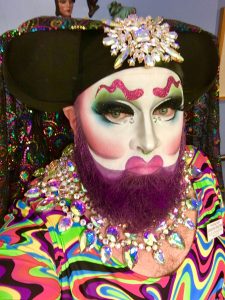 "We've changed the face of charity work and community service in Kansas City," says Sister Glamarama. "Anytime people need us and it's a great cause—we'll dress up, we'll manifest, and we go. We put in the work, but we look really fabulous. I'll dazzle them with visuals and then I ask them for money," he says with a laugh.
The local LGBTQ+ community has given the Sisters plenty of accolades along the way, which has been a win-win for everyone involved. "They've become an integral part of the Kansas City LGBTQ+ community," says Edmondson. "I believe 100 percent in their message and mission of charity and benevolence to others. They're a fantastic organization." Sister Glamarama agrees and says the Sisters are happy to help in any way they can—especially with LGBTQ+ youth. "We get questions about gender identity, safe sex," says Sister Glamarama. "We answer a lot of questions and get a lot of hugs."
And don't be surprised if you happen to see a Sister reading to your kids at your local theater. Drag Queen Story Time—yes, you read right—has become a thing. And it's become quite popular. Sister Glamarama attributes that to kids being unfazed, yet dazzled by all the shininess emanating from their wardrobe. Same goes for older adolescents.
"When we're out in public—say a Pride event—the younger kids always come up to us first," says Sister CupKake. "We can remind them that it's okay to be who they are. Hopefully, we're paving the way for kids today not to be so fearful."
There are now 15 Sisters roaming around Kansas City and lending a helping hand—and if there's a sister, there's obviously going to be a party. "If you see a sister out and about, come say hi," says Sister CupKake. "We can discuss, we can educate, we can commiserate, and you'll probably get a hug." Maybe you'll even get a blessing.
Whatever the case, Kansas City is blessed to have these twisted Sisters putting so much good juju in to the universe. "Wherever there are Sisters, there's fun," says Sister Glamarama. "We ultimately spread joy. And everything else grows from there."