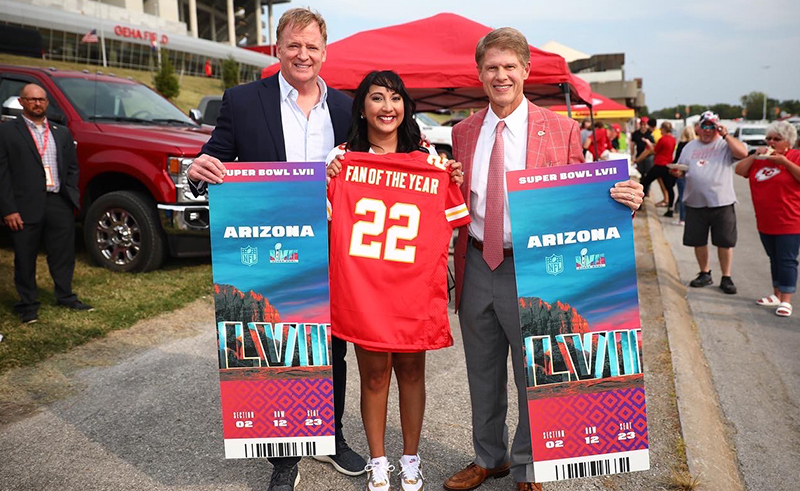 As the loudest stadium in the world, it's pretty obvious that the Kansas City Chiefs have the best fans, and this year's 2022 Chiefs Fan of the Year, Amy Patel, wants to remind the world of that fact.
Patel, a local physician who also was named a Kansas City Innovator and Influencer by IN Kansas City earlier this year for her work in breast cancer care and research, received the honor of the 2022 Chiefs Fan of the Year on November 10. She's now in the running for 2022 NFL Fan of the Year. (Vote for her here as many times as you want leading up to the week of the Super Bowl.)
We caught up with Patel to chat about her favorite Chiefs memories and what it means to be the fan of the year in the city with the NFL's loudest stadium.
How far back does your fan history with the Chiefs go?
I've only been a Chiefs fan since I can remember. I always joke that since I came out of the womb, I've been raised to be a diehard Chiefs fan. Growing up, we really couldn't afford to go to the game, so I didn't get to go to any games—we would watch the games religiously on TV. So, one of my goals was once I became a physician, I could get to the point where I could go for it. So finally in 2019, I could afford to get season tickets with my now husband. That was the year before the season leading up to the Chiefs winning the Super Bowl, so it was the right time to get them. 
How many games have you gone to now?
I would say close to 40. I go to pretty much every home game, every playoff game, and a few away games too.
What are your Chiefs game day traditions?
We usually tailgate with family or friends. We have a really good tailgate—whether it's Jack Stack Barbecue or homemade chili—we always have quite a spread. So that's one of our big traditions. I go to all the games with my husband. There are certain items of clothing I'll wear, and if the Chiefs lose, I don't wear it again.
What's your favorite memory from the games you've gone to?
We have so many magical moments—even when we saw them last night [November 20], playing the Chargers—but I would say some of them that stick out are the Super Bowl where we were down by ten and came back to beat the 49ers—that was one of the most amazing comebacks I've ever seen. Same thing with the 13 seconds against the Bills last year in overtime—that was just, "oh my goodness." One of those games that you just think to yourself, "did that happen?" But we're so fortunate just to be witnessing the Mahomes and Kelce era. We are so blessed to have these players—it's almost like an art form, the chemistry they have together, and they're on our team, and we get to witness it week in and week out. These are memories we should never take for granted, and I want to cherish these memories for the rest of my life.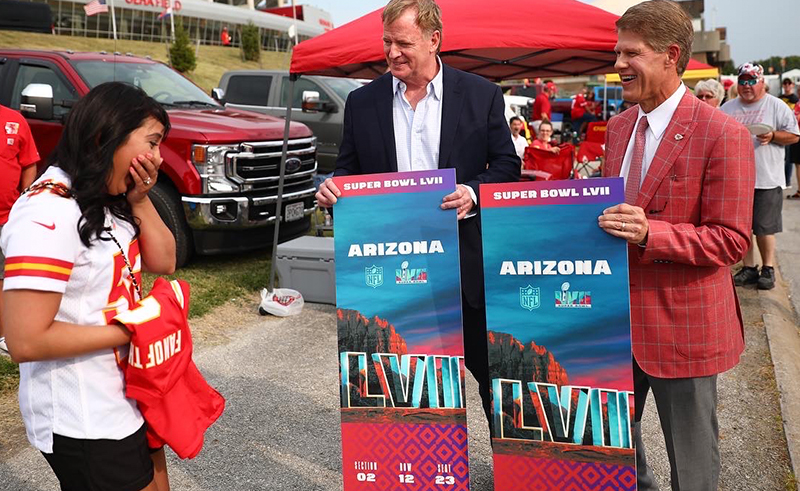 You were recently named the 2022 Chiefs Fan of the Year and you're up for NFL Fan of the Year. What's it been like so far?
I was really fortunate. I got to meet the NFL commissioner Roger Goodell and Chiefs CEO and chairman Clark Hunt, and that was really awesome. They were really gracious and generous. I met them, and they said thank you for everything I'm doing in the cancer community and beyond for breast cancer care and access. To be chosen for the Chiefs Fan of the Year is not only based on your love of the Chiefs, but it's based on your community impact. So that just meant a lot for all the work I've been doing trying to close the gap of care inequity, trying to elevate breast imaging, and comprehensive care in the metro. It meant the world to me that they recognized me for that—Commissioner Goodell shared that his mother had passed from breast cancer, so it was a cause near and dear to his heart.
The other perks include that I will be in Sports Illustrated magazine. There was a photo shoot a few weeks ago with myself and the other fans of the year for the other 31 teams. It's just incredible that I'll even get to be in that magazine—something I never would have thought. I get to go to the Super Bowl as well. Last year, the 2021 fan of the year got to announce a draft pick at the NFL Draft. The draft next year is in Kansas City, so I'm hopeful I'll get to do that as well. I'm just really appreciative, and I most certainly don't take it for granted because I know there are so many fans in the kingdom who could have been chosen. I'm trying to work really, really hard to hopefully win NFL Fan of the Year. I want to win this for the Chiefs Kingdom.
What would it mean to you if you win NFL Fan of the Year?
We have the best fans in the National Football League. I already know that we do, and I want the world to know we have such incredible fans—even in Mexico and Germany. I was on a sports radio show just the other day and a fan was listening in from France. It would be so cool for the rest of the NFL to see our reach, our diehard fans, and how our players and our coaching staff are really special in the sense that they're always acknowledging the fans—how the fans really helped them out at this or that game. You just don't see that as much from other NFL coaches and players. It feels like we all are part of one team, and I think that's what makes us so, so special. NFL Fan of the Year would embody and exemplify that.
This interview was lightly edited for length and clarity.