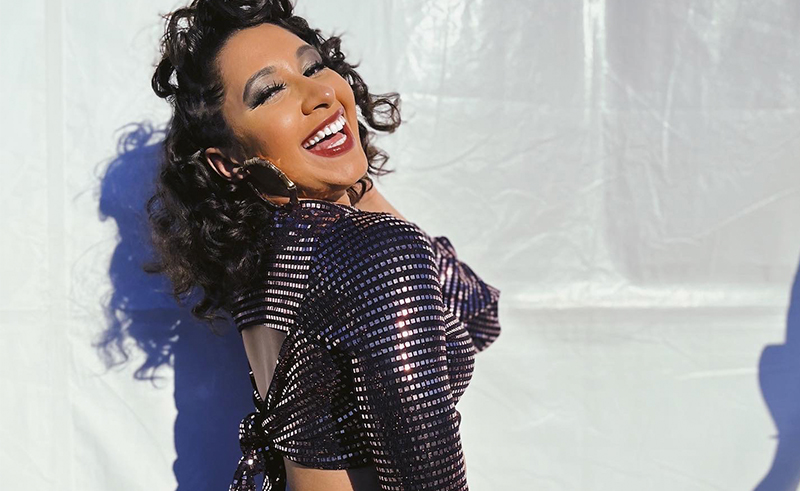 While the Super Bowl was bittersweet (ok, mostly bitter) here in Kansas City, it was life-changing for one KC native who crossed an item off her bucket list: dancing in the Super Bowl Halftime Show.
Edith Cruz first strapped on her dance shoes at MelRoe's School of Dance in Independence, Missouri, (now located in Liberty, Missouri) when she was eight. With over 15 years of competitive dance experience, Cruz is making her way as a professional dancer, choreographer, and instructor.
The 26-year-old dancer recently moved to LA, but she frequents her hometown of Kansas City to teach dance classes. IN Kansas City recently connected Cruz for a Q&A on her Super Bowl performance.
IN KC: You were recently on stage as a dancer during the Super Bowl Halftime Show. How did that come about?
Cruz: I booked the audition in early December, but I wasn't confirmed until mid-January–it felt like the longest few weeks of my life. I lost hope for a bit, but once they asked for my availability, I just visualized myself on stage, repeating the affirmation, "I'm so happy and grateful now that I booked the 2022 Super Bowl Halftime" literally over and over. One day before heading into work, I told myself, "You're getting confirmed for the Super Bowl today." Sure enough, two hours later my agent called and gave me the news that I'd officially been booked. I called my mom right away. It was such a surreal moment. 
Looking back at the performance, what was going through your mind while you were on stage?
The feeling of being on any stage is unlike anything else, but this time was extra special because everyone both watches and understands how significant the Super Bowl is. While dancing, I was just taking it all in—the crowd, music, lights, energy—dancing amongst musical icons. Having moved to LA only a little over a year ago, I was humbled to be able to cross off my very first bucket-list job in such a short amount of time. I've never performed in front of a crowd that big before. The high you get from it is truly an unexplainable feeling. None of this would have been possible without the incredible direction of choreographers Fatima Robinson, Adrian Wiltshire, and Tia Rivera. These individuals are truly something else, I'm just humbled to be able to be part of this project alongside them.
How did the Super Bowl measure up to other things you've done?
This was my first big production ever. In the past year, I've been fortunate enough to book a movie, Howard High (a musical now streaming on Tubi), dance at summer festivals with Rubi Rose, Lexy Panterra, a live show in Canada with Emotional Oranges, a few music videos with Gashi, and a few more. However, the Super Bowl will forever be one of the biggest accomplishments in my dance career. 
You recently moved from KC to LA. What prompted this move?
After I graduated college, I started a confidence-building program for women. While working a 9-5 by day and running the program by night, I was consistently so inspired by the women I met. In class, I would always put a strong focus on truly chasing your dreams. I loved Kansas City and everything that city brought me, but in 2020, I knew it was time to make the leap. It was tough at first, but I also believe taking major risks brings even bigger rewards. I frequently come and teach in KC, which I absolutely love doing, and will continue to make a regular thing. 
What's next after hitting this milestone?
The best part about being in a major production like this is the fuel you get to want to do more. Yes, I danced in the Super Bowl 2022 Halftime, but humbly speaking, this is just the beginning. I'm leaving for my first Europe tour next month with Emotional Oranges and I'm just elated. Other bucket-list items I plan to cross off in my career are Coachella, the BET Awards, Grammys, VMA's, a world tour, and so much more. As far as my confidence-building program, Heeling Her, I plan on restarting a virtual version of that this year. 
Cruz's next class in Kansas City, Femme Feels Dance Workshop, is on February 20—and it's not too late to sign up. Follow Cruz on Instagram and YouTube to keep up with her trips between LA and KC.