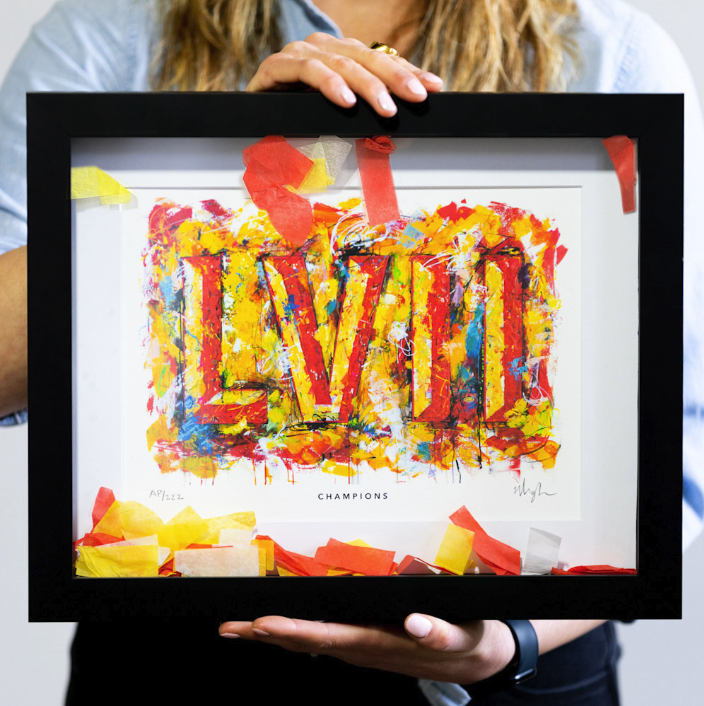 From T-shirts to newspaper clippings to a snapshot of the crowd gathered outside Union Station for the Super Bowl parade, most Kansas Citians have one relic or another to commemorate the Chiefs' victory in Super Bowl LVII. But not many of those items are made with materials directly from the Chiefs' Super Bowl journey. 
Local artist Megh Knappenberger decided to change that by creating 222 limited-edition LVII Confetti Shadowboxes using confetti collected from the field at State Farm Stadium in Glendale, Arizona.
"When I see red and gold confetti, it is a tangible piece of a moment in time, and for me, it's like freezing a moment in time," says Knappenberger. "One of the ways we can do that is by having physical mementos of that moment. We can get T-shirts after that fact but to have a piece of something that was actually there on the field underneath the players while they were making angels in the confetti—there's a bit of magic to that. I think it adds this whole layer of emotion and connection to a piece and helps tell the story."
The shadow boxes feature a replica of a larger piece Knappenberger painted—which also incorporated confetti from the field—and cost $699. The pieces will start shipping in June—Father's Day gift, anyone?
This isn't the first time Knappenberger has infused one-of-a-kind materials into her work. When KU won the NCAA championship last year, she created six framed prints and infused a jar of rock chalk (a limestone powder) into the paintings. This is the first time she's made shadowboxes, though.
"On the original painting, I meticulously glued down the pieces so they would be infused into the original pieces," she says. "What I really wanted to do with these reproductions was create a shadowbox so that the confetti could move around freely within the box, freezing the moment when the confetti cannons went off."
Interested in nabbing one of the shadowboxes for yourself (or to give as a gift)? Place your order here.