This week's roster of notable shows includes two stellar jazz ensembles, a punk-rock fest and farewell shows for two of Kansas City's most popular bands.
Dec. 20 at The Ship: The Matt Hopper Trio
 Hopper, a guitarist, has been part of the Kansas City jazz scene for well over a decade. A graduate of the UMKC Music Conservatory, Hopper fronts his own ensembles and is part of several others, including Chris Hazelton's Boogaloo 7 (see below). Thursday night, he will bring his trio—Hopper, B3 virtuoso Hazelton and drummer John Kizilarmut—to the West Bottoms for a show at The Ship.
KCUR music critic Bill Brownlee calls Hopper "a young man who plays mainstream jazz with the authority of an old master" and said the music of Hopper's trio "resembles the soundtrack of a 1950s noirish detective film."
Show time is 9 p.m. Admission is free.
Dec. 21 at the Green Lady Lounge: Chris Hazelton's Boogaloo 7
Hazelton is an ace Hammond B3 player and an avid disciple of Kansas City legend Everette DeVan. The Boogaloo 7 produces joyful explosions of groovy, taproot instrumental soul jazz—sounds you can hear on the ensemble's latest full-length, The Basement Beat, which has made several "best of" lists for 2018.
The Boogaloo 7's shows at the Green Lady have become legend for their liveliness, even boisterousness. Beat the lines, get there early and plunge into the mirth.
Show time is 9 p.m. Admission is free.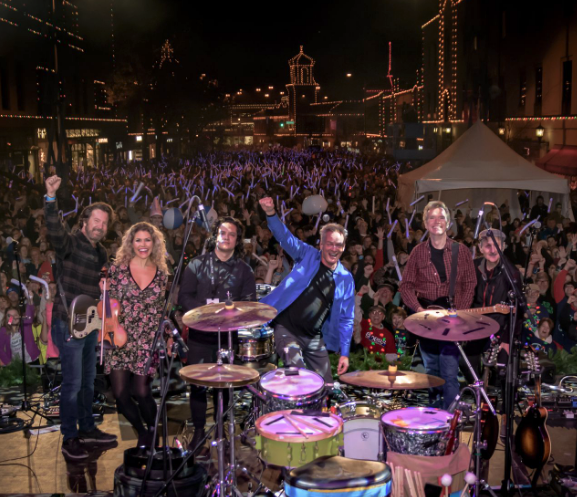 Dec. 21 at Knuckleheads: The Elders
One of Kansas City's longest-running and most successful bands will go on indefinite hiatus starting Jan. 1. Before that, the Kings of the Kansas City Irish Fest and one of the best Celtic rock bands around will perform in the Garage at Knuckleheads on Friday, then at the Kansas City Irish Center on New Year's Eve.  The Knuckleheads show is sold out so if you want in, you'll have to find alternative ways to snag a ticket.
Dec. 21 at RecordBar: Radkey with Drop a Grand and The Bad Ideas
 Radkey is a trio of brothers from Kansas City via St. Joseph who keep ascending into the world of punk, Afro-punk and hard rock. Their core sound bears a few old-school punk influences—especially the Misfits—but lately they have expanded their palette and veered into hard-pop/metal with a side of garage rock.
Nearly seven years after they burst on to the Kansas City music scene, the brothers also have evolved from a novel teenage brothers act into a bona fide trio of young adults who tour the world, opening for acts like Jack White, which they did earlier this year.
Drop A Grand is a a local super-group—a theatrical band of well-known Kansas City musicians who hide their identity on stage as they issue their rebellious, subversive takes on punk and rock.  The Bad Ideas are recommended for fans of straight-up punk: loud, unvarnished, and melodic.
 Show time is 9 p.m. Tickets to the 18-and-older show are $12.
Dec. 22 at Knuckleheads: Katy Guillen and The Girls with Olivia Fox
And yet another band is bidding Kansas City farewell. Katy Guillen and the Girls arrived on the Kansas City music scene in 2012 and within a year had made a big splash: They won the Kansas City division of the International Blues Competition and went on to make it all the way to the IBC finals in Memphis. That propelled them on to bigger stages, including festivals in Montreal and Europe.
Saturday night will be their final show. Each admission comes with a download code to a free digital copy of their dandy brand-new EP Four Walls. Be sure to get there in time to see the openers, Olivia Fox, a folk/roots trio making big waves of its own in Kansas City.
Show time is 8:30 p.m. Tickets are $20.
OTHER SHOWS TO KNOW ABOUT
Trans-Siberian Orchestra, Dec. 26 at Sprint Center: The annual holiday rock spectacular comes to Kansas City the day after Christmas. Once again, it'll be an audio-visual bonanza.
Samantha Fish, Dec. 29 at Knuckleheads Saloon: Earlier this year, Fish signed with Rounder Records, one of the world's biggest independent roots labels. It fits with the trajectory of the Kansas City native's career, which soars onward and upward and into a variety of genres (blues, roots, garage rock, soul).
Madisen Ward and the Mama Bear, Jan. 26 at the Truman: The son-mother duo and their band will headline a rare hometown concert, showcasing their latest EP, The Radio Winners, which the Associated Press named one of the best recordings of 2018.
Kelly Clarkson, Feb. 7 at Sprint Center: The winner of the inaugural American Idol competition continues to make dynamic records filled with arena-ready pop/soul/R&B tunes. Pop-country star Kelsea Ballerini is also on the bill.
I'm With Her, Feb. 27 at the Folly Theater: The folk trio comprising Sara Watkins, Sarah Jarosz, and Aoife O'Donovan released See You Around, one of the most acclaimed albums of 2018.