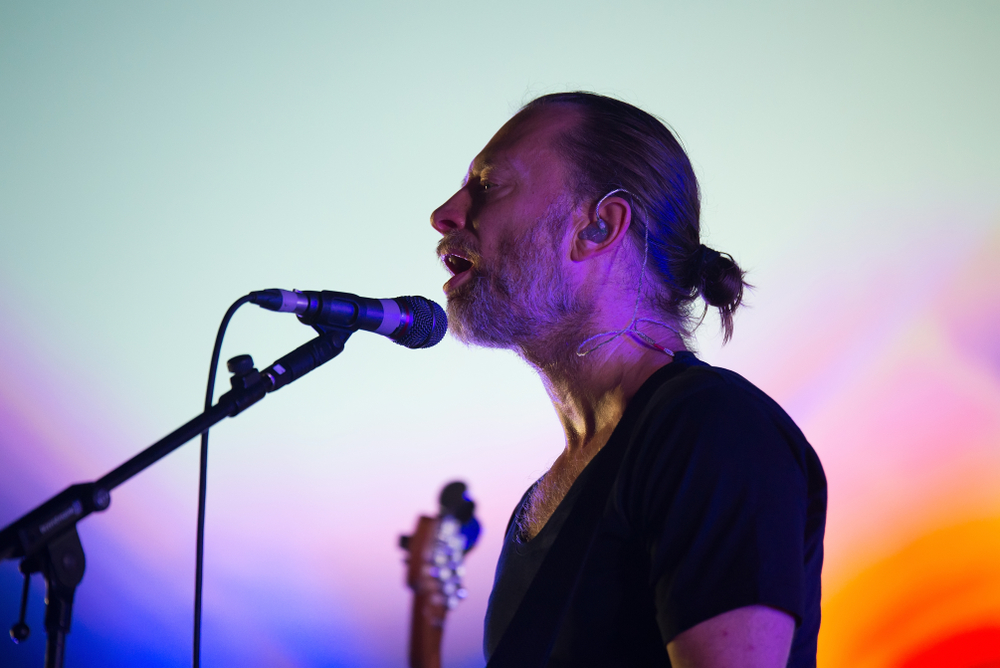 The 2,200-plus people who showed up at the Arvest Bank Theater at the Midland on Sunday night seemed adequately prepared for what would be unleashed upon them: a two-hour pageant of lavish sights and adventurous sounds courtesy of Thom Yorke, Radiohead's frontman now on a solo tour.
In October, Yorke released the soundtrack to the horror film Suspiria, but that album played but a one-song role in Sunday's show: He closed with the celestial piano/vocal hymn Unmade.
Before that, he took the crowd on a ride that visited other solo projects, primarily The Eraserand Tomorrow's Modern Boxes, performing five tracks from each, plus two tracks from AMOK, the lone album by his experimental super-group Atoms For Peace.
The stage looked like a slick tech startup space or a makeshift Genius Bar at an Apple Store. Yorke was accompanied by longtime Radiohead/Yorke producer Nigel Godrich, who commanded a console of digital equipment and gadgets that provided a trove of soundscapes—the canvas upon which Yorke applied his trademark haunting but angelic falsetto; and by audio-visual maestro Tarik Barri, who splashed colors, shapes and other graphic elements across the five large screens that spanned the stage, loosely choreographing them to the music.

Yorke had an electric piano and a guitar at his disposal, but he spent much of the night singing and dancing impishly or bouncing joyfully–having as much fun as anyone in the place.
Most of the crowd seemed familiar with the Eraserand Modern Boxes material: Songs like Interference, A Brain In a Bottle, Atoms for Peace and Black Swan inspired dancing and peals of recognition. Likewise the Atoms for Peace songs Amok and Default were welcomed boisterously.
The set list included several unreleased songs, like I Am A Very Rude Person, a long, amorphous drip of skittish beats, atmospheric keyboard sounds and a hypnotic electric guitar riff over which Yorke chanted meekly; and The Axe, a miasma of jittery electronic sounds embellished by Barri's compelling noirish visuals.
Other highlights: Two Feet Off The Ground, propelled by a rib-rattling bass line; and Default, the cold, elegiac number that closed the first encore.
Yorke called this The Tomorrow's Modern Boxes Tour, but billed it as a "live mix" experience.  The prospect of making an electronic music performance—guys with gadgets– feel warm and organic seems daunting if not unlikely. But Yorke and his collaborators managed to pull it off, making the experience seem intimate and humane. And their large audience seemed ready, willing and able to enjoy the ride.
SET LIST
Interference; A Brain In A Bottle; Impossible Knots; Black Swan; Harrowdown Hill; Pink Section; Nose Grows Some; Cymbal Rush; The Clock; Two Feet Off the Ground; Amok; Not the News; Truth Ray; Traffic; Twist. Encore: I Am A Very Rude Person; The Axe; Atoms For Peace; Default; Unmade.