More than 10 years had passed since the Jonas Brothers last visited Kansas City: In July 2009, they headlined a show at the Sprint Center, drawing a sold-out crowd of more than 17,000.
A decade later, the boys are adults (and husbands) trying to navigate the tricky transition from teen idols to adult pop stars. So far, all is going spectacularly well.
Sunday night the trio returned to the Sprint Center, packing the place again primarily with screaming girls and women, especially 20-somethings, who were teens and pre-teens the last time the boys came through town.

They are touring on Happiness Begins, their fifth studio album, which was released in July, more than 10 years after its predecessor, Lines, Vines and Trying Times.
Happiness would hit the charts at No. 1—their third No. 1 album—and accumulate the most first-week sales (more than 400,000) of any album in 2019 and the most for any album since Taylor Swift's Reputation in 2017.
The brothers spent their hiatus working on solo projects and other endeavors. The time off, apparently, made their fans ravenous for their comeback: The capacity crowd, which included Chiefs quarterback Patrick Mahomes, was ecstatic all night, singing along in full throttle when they weren't shrieking.
This was no nostalgia act, however. The set list focused heavily on Happiness—the brothers and their seven-piece band performed nine of its 14 tracks. Despite its newness, fans appeared familiar with each one, especially Sucker, the album's first single, which has become a blockbuster hit.

The nearly 100-minute show was a visual spectacle: flashpots and other pyrotechnics, confetti, and a nearly two dozen video screens that broadcast a tide of graphic elements, including several video interludes, many of which addressed the show's theme: the brothers' graduation from adolescence to adulthood. There was also a secondary stage, a lighted runway, and elevated platforms that contributed to the show's manic pace.
That was all gravy on the show's meat and potatoes: the songs—catchy, hook-laden, guitar-driven pop anthems that drove the big crowd into fits of sing-along euphoria. None was louder or more euphoric than the response to the cover of Busted's Year 3000, a breezy, hard-pop song that ignited unbridled singing and dancing from the floor to the rafters.
They paid tribute to their earlier days with a medley that included older favorites like Mandy, Paranoid, and Got Me Going Crazy. The trip back in time and memory-revival prompted even more delirium across the arena.
Other highlights: Jealous, a track from Nick Jonas' solo catalog; Only Human, which swayed to a reggae groove; Cake by the Ocean, a track from Joe Jonas' project DNCE; and Lovebug, a bouncy pop tune from the A Little Bit Longer album.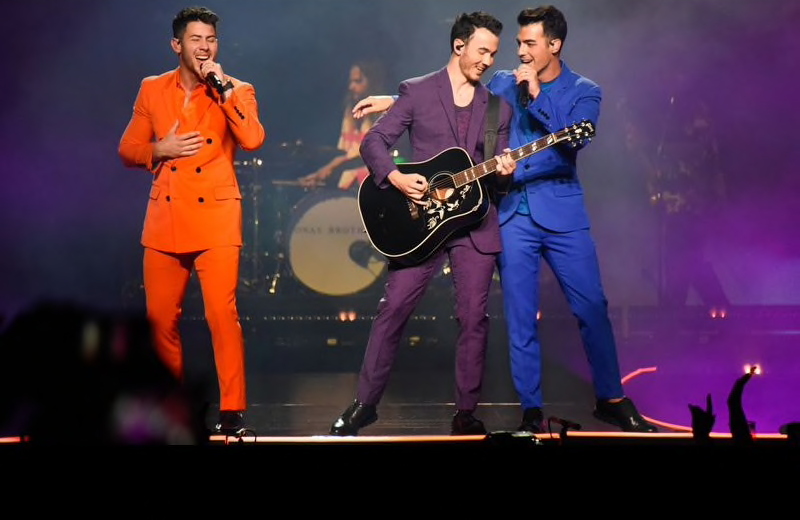 They closed with an incendiary two-song encore: Burnin' Up, another Little Bit song, which featured waves of simulated flames burning around the brothers; then Sucker, a declaration of infatuation that borders on obsession and which instigated another boisterous sing-along.
Sucker is the brothers' first and only No. 1 hit and another sort of profound declaration: The boys are back, older but as relevant as ever.
SET LIST
Rollercoaster; S.O.S.; Cool; Only Human; Strangers; That's Just the Way We Roll; Fly With Me; Used to Be; Hesitate; Games; Gotta Find You; Jealous; Cake by the Ocean; Comeback; When You Look Me in the Eyes; I Believe; Mandy/Paranoid/Got Me Going Crazy/Play My Music/World War III/Hold On/Tonight; Lovebug; Year 3000. Encore: Burnin' Up; Sucker.