Accurate or not, the reputation that precedes Billy Corgan is not a flattering one: truculent, self-indulgent, egomaniacal, overconfident, zealously ambitious. His band, the Smashing Pumpkins, broke up for six years and then navigated several personnel changes for several reasons, most attributed to Corgan's uneven temperament.
But Corgan is also a gifted musician and songwriter, composer of heavy, leviathan guitar-rock anthems that often aim for the sky and usually penetrate the stratosphere. And, as it turns out, Corgan can be a sentimental fellow, a trait that was on display Thursday night at the Sprint Center.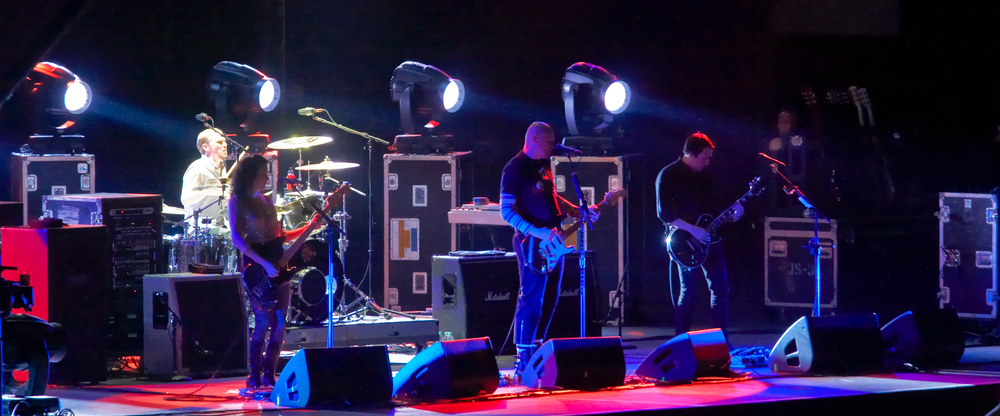 In February, the Pumpkins announced they would celebrate the band's 30th anniversary with a tour, one that would reunite three of the band's founding members: Corgan, guitarist James Iha and herculean drummer Jimmy Chamberlin. Apparently unable to unhand the grudge she still holds with Corgan, D'Arcy Wretzky, the original bassist, declined to join the tour.
It's a reunion that once seemed highly unlikely. Corgan, Chamberlin and Iha had not performed together since the Pumpkins broke up in 2000, a split that lasted six years and ultimately started a string of lineups that were more Corgan and Co. than bona fide Pumpkins.
But bygones are now bygones, and the music world is better for it. Joined by longtime guitarist (and former Iha stand-in) Jeff Schroder and the adjunct touring duo of Katie Cole (keyboards, vocals) and Jack Bates (bass), the Pumpkins launched the pretentiously titled Shiny and Oh So Bright Tourin early July. Nearly two dozen performances in, they are fine-tuned, well-rehearsed and in shape to deliver more than three grueling hours of loud, hard and uber-dynamic rock songs that helped define music in the 1990s.
The show itself could use some editing and trimming, starting with the superfluous videos in which Mark McGrath (Sugar Ray) portrayed an annoying carnival barker. Corgan deployed those as a chance to change his garish wardrobe (lots of capes and robes), but they deflated the mood both times. And one of the giant backscreen panels failed and was rendered immobile, a mishap that inspired the only time Corgan said anything to the crowd.
But those are petty complaints. This concert was an unqualified victory and unabashed success because of (or in spite of, depending on your perspective) its many excesses.
As the show opened, those backscreens parted and Corgan emerged, then paused for a long moment to let the frenzied ovation from 9,000-plus fans rain upon him. Accompanied by some off-stage percussion and a display of well-worn photos and videos from Corgan's childhood, he performed a solo/guitar version of Disarm, a nugget from their breakthrough Siamese Dream album, now 26 years old.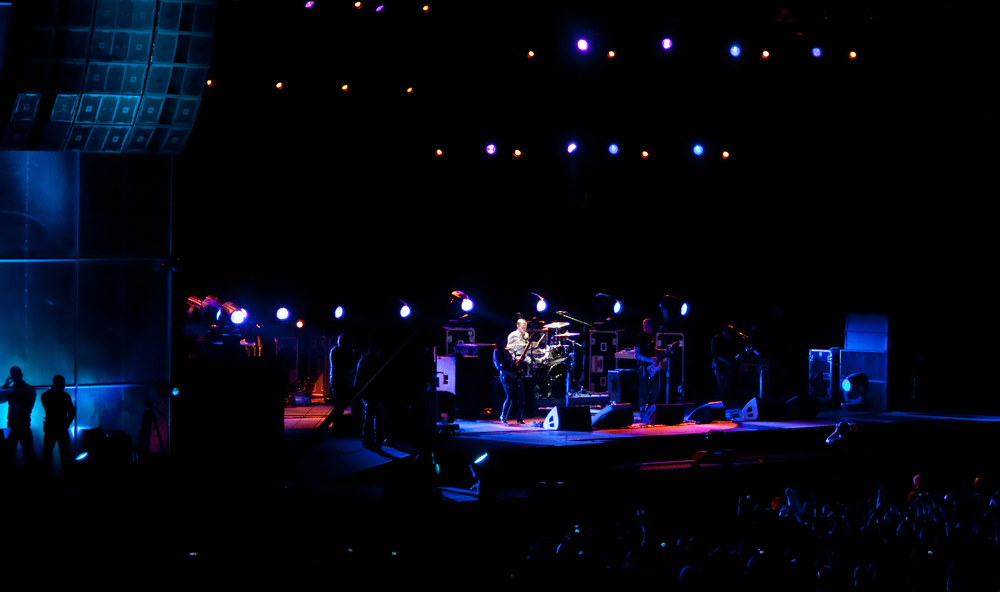 The set list heavily plumbed the Pumpkins' first four albums and was built for both the casual fan and the diehard – an array of hits, favorites and deep album cuts. From Disarm they jumped to Rocket, then Sivaand then one for the diehards, the Gish track Rhinoceros, an eerie parade of minor chords accompanied by a ghostly video on the giant screens.
Corgan has a keen knack for arranging gargantuan guitar-rock songs rife with bold, shifting dynamics without suffocating a song's melody, and that was on display all night. So was were his prowess as a guitarist and that love-it-or-leave-it voice, which impressively withstood 195 minutes of exertion.
The sing-along to 1979 was sweet and charming and displayed a bit of Corgan's nostalgic side. And it was a bit amusing to watch so many men in their 40s and beyond sing along so sincerely to the cover of Fleetwood Mac's Landslide.
They would also deliver a middling, downtempo cover of David Bowie's Space Oddity that erupted late into a tropical storm of guitar noise, and then an unnecessary, note-by-note revival of Led Zeppelin's Stairway to Heaven, during which a devotional statue was inexplicably paraded across the floor.
The mood relaxed a bit during Porcelina of the Vast Ocean, which went on for more than 10 minutes, thanks to an extended jam, but there were plenty of memorable highlights amid a set list that exceeded 30 songs. Among them: the jackhammer blast of The Everlasting Gaze; the jaunty, country-tinged Blew Away (with Iha on vocals); Zero; Mayonaise; Tonight Tonight  (the line "Believe in me as I believe in you" prompted a loud, long roar); and my favorite of the entire evening, the cosmic, show-stopping Bullet With Butterfly Wings.
That would have made for a perfect ending, but Corgan had something else up his sleeve. Or inside his robe. They returned for two more: Solara, a new song that felt at home with the old stuff and gives promise to any potential new recording, and then Baby Mine, from Disney's Dumbo film, released in 1941.
It's tempting to view that odd choice as Corgan's way of refuting convention, ignoring expectations, and doing things his way—being Billy. But before that he thanked those who remained in the crowd and seemed genuinely appreciative and grateful to have shared the evening with them. Apparently, humility is also among his better traits.
SET LIST
Disarm; Rocket; Siva; Rhinoceros; Space Oddity; Drown; Zero; The Everlasting Gaze; Stand Inside Your Love; Thirty-Three; Eye; Soma; Blew Away; For Martha; To Sheila; Mayonaise; Porcelina of the Vast Oceans; Landslide; Tonight, Tonight; Stairway to Heaven; Cherub Rock; 1979; Ava Adore; Try, Try, Try; The Beginning is the End is the Beginning; Hummer; Today; Bullet With Butterfly Wings; Muzzle. Encore: Solara; Baby Mine.