Plenty of superlatives come to mind when  attempting to describe what Justin Timberlake unleashed Thursday night at the Sprint Center.
Spectacle. Extravaganza. Marvel. Relentless. Rapturous. Visual pageantry.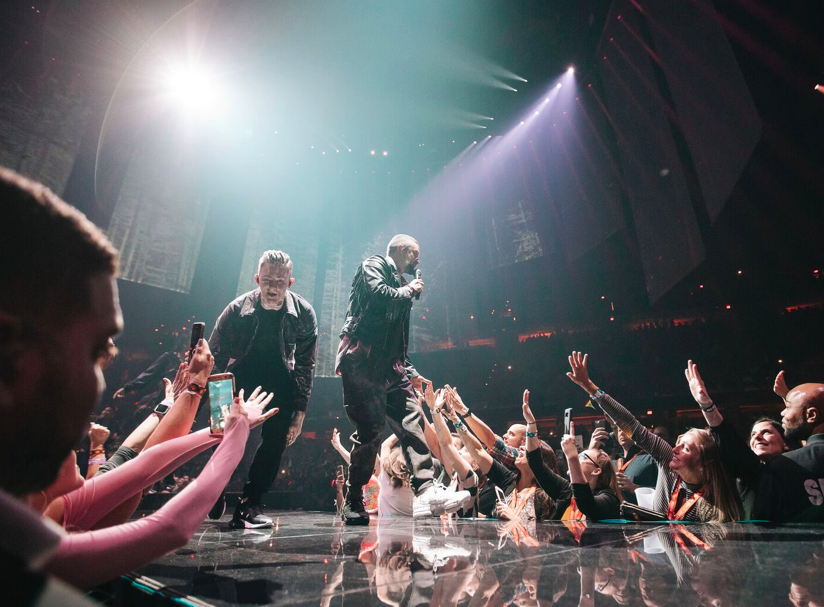 For nearly two hours, Timberlake,  his fabulous  band, The Tennessee Kids, and an ensemble of singers and dancers brought to life songs from a catalog that comprises five albums and more than a dozen Top 10 singles.
The singing and dancing were entertaining all night but the show's vibe was elevated stratosphirically by a spare-no-expense production that turned the nearly full arena into a dazzling theater—a setting that was pastoral and high-tech.
A runway that snaked from the main stage across the floor to a satellite stage at the back of the arena was flanked intermittently with tall, fake trees;  a patch of long grass swayed at the  end of the satellite stage, not far from where Timberlake and crew would assemble around a real campfire for a sing-along.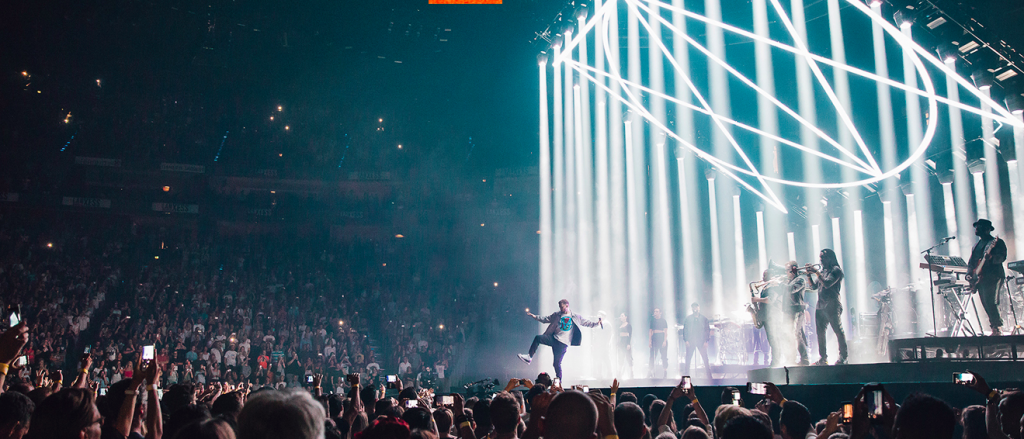 There were lights galore, spotlights and lasers. Throughout the arena, large ribbons of fabric descended from the rafters to serve as screens upon which images (lots of wilderness scenes) and live footage were projected.
The barrage of visuals approached sensory overload, but Timberlake managed to keep the music the primary focus. There was plenty to focus on.
He is touring in support of Man Of The Woods, his latest album—thus the bucolic stage décor.
They opened with Filthy, that album's first single, establishing a gameplan that would prevail all night: Assail the crowd with flurries of music, choreography, and other eye candy that would keep nearly everyone on their feet, singing and dancing or both.
The set list included hits and favorites like LoveStoned, SexyBack and Suit & Tie. The one-two punch of Cry Me A River and Mirrors, one of many highlghts, provoked fervid dancing and singing throughout the arena.

Timberlake showed off his versatility, vocally (his Bee Gee falsetto was on-point) and instrumentally (guitar, keyboards), all the while keeping up with his troupe of dynamic (and younger) dancers.
The mood flagged slightly during the campfire performance, which included  the yearning Morning Light, but the crowd went with it, maintaining the enthusiastic vibe despite the slower pace.
They would finish with a flourish, returning to the 100-mph pace they started in. Say Something was transformed into a celestial arena-sized anthem, in a U2 vein. Rock Your Bodyand Like I Love You were greeted with raucous ovations.
The place was still nearly full when they lit the fuse on the funky Can't Stop the Feeling, the show's closer, which gave the crowd one more chance to dance, sway, and sing-along with gusto.
Timberlake has been a live entertainer for more than two decades, going back to his days with the Mickey Mouser Club and then NSYNC.
He's now a husband and father, in his late-30s, but is showing no signs of shedding or altering the traits that have made him one of the most dynamic performers in live music—a guy whose reputation, like the show he delivered Thursday night, is worthy of superlatives, too.
SET LIST
Filthy; Midnight Summer Jam; LoveStoned; SexyBack; Man of the Woods; Higher Higher; Señorita; Suit & Tie; My Love; Cry Me A River; Mirrors; Drink You Away; Until the End of Time; Morning Light; What Goes Around … Comes Back Around; Say Something; Montana; Summer Love; Rock Your Body; Supplies; Like I Love You; Can't Stop the Feeling.