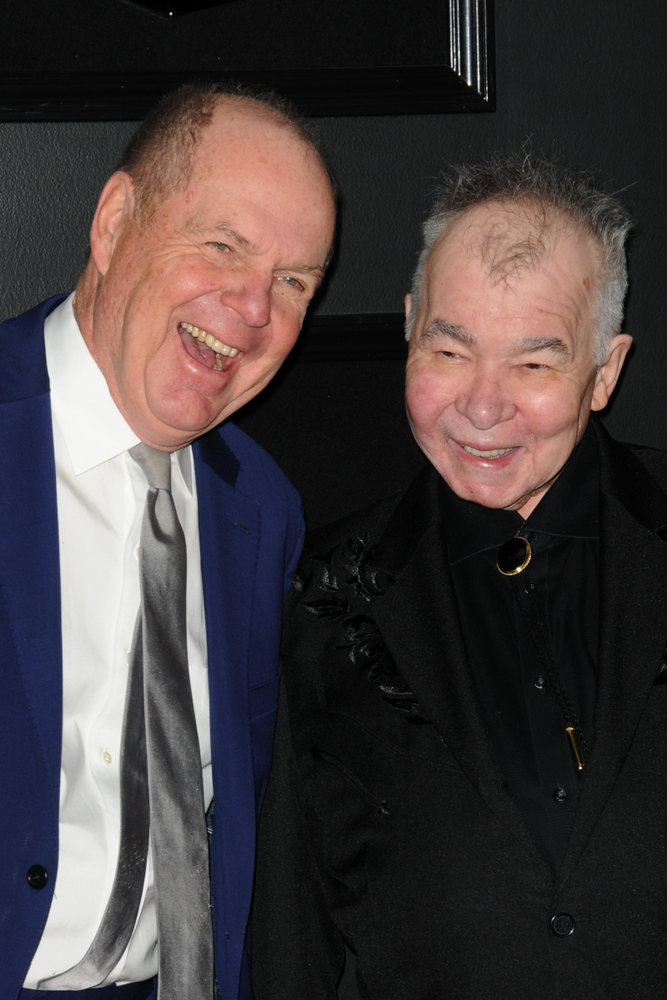 John Prine danced at his own concert Friday night.
As his band vamped the end of Lake Marie, Prine laid down his guitar and jigged slowly and happily offstage to the delight of a sold-out crowd at the Arvest Bank Theater at the Midland.
He would return, though, because, it seems, John Prine always comes back.
Prine is touring on The Tree of Forgiveness, his first album of all-original material in more than 13 years—a comeback album of sorts and a reaffirmation of Prine's unparalleled gifts as a poet, philosopher and astute observer of the human condition.
He would play all but one of its 10 tracks, nestling them among the timeless, classic songs that made him legend.
Prine typically tours with other well-known singer-songwriters, usually of another generation. Amanda Shires (joined by husband Jason Isbell) opened Prine's previous Kansas City show in March 2017, also at the Midland.
This evening was no different. He brought along Conor Oberst and his stellar five-piece Mystic Valley Band, which wielded an array of instruments (piano, accordion, pedal steel, trumpet, standup bass, drums, guitars) during his lively and much-appreciated set.
Oberst performed several songs from his 2017 Salutationsalbum (which reworks its predecessor Ruminations), including Afterthought, A Little Uncanny and Till St. Dymphna Kicks Us Out and dropped in the occasional Bright Eyes tune (Landlocked Blues).
He was a fitting opener for Prine. Though on the spectrum that runs from Bob Dylan to Dashboard Confessional he is closer to the latter than the former, he is a clever wordsmith who renders thoughtful lyrics and tells stories that resonate. He would join Prine on a few songs during Prine's set.
Prine was his usual witty, humble, self-deprecating self, full of sly, humorous stories and intros. Or poignant, if need be.
He's 72 and decades removed from the neck and lung cancer he conquered, but there remains contusion in his voice, the sound of a deep bruise or freshly skinned knee—a gritty, weary instrument that suits the lessons and wisdom conveyed in his songs.
Prine sings them all as if for the first time: with warmth and conviction, whether it's Sam Stone, Angel From Montgomery or Six O'Clock News—his set's opener, which prompted the first of many sing-alongs. Later, he invited the crowd to take over Illegal Smile and nearly everyone in the place obliged, with gusto.
Likewise the closer, Paradise, performed before a  large black-and-white portrait of the general store/post office/gas station in his father's hometown, a coal-mining hamlet called Paradise, Kentucky, that no longer exists.
To a lambent waltz groove, the song laments the town's demise and with much poetic grace spins memories of its existence: Well, sometimes we'd travel right down the Green River / To the abandoned old prison down by Airdrie Hill / Where the air smelled like snakes and we'd shoot with our pistols/ But empty pop bottles was all we would kill.
As soul-satisfying as it was to hear those songs yet again, in the inimitable voice of the man who wrote them, it was just as redeeming to hear the new ones, especially Summer's End, which even Prine declared was one of his saddest songs. It's another lament: the mourning of summer's impending departure and a plea for a loved one to come back home.
It's one of several memorable songs on the Tree album, as is Knockin' On Your Screen Door and Caravan of Fools, which Prine co-wrote with Dan Auerbach of the Black Keys. Some of these will join his long list of classics.
So much time had lapsed since Prine had released an album of original material it was natural to wonder if the poet had surrendered his muse. Hardly.
Tree feels like a homecoming, and Friday's bucket-list show felt like a hero's valiant return—an affirmation that, whether it's from cancer or writer's block, John Prine always comes back, dancing merrily part of the way.
SET LISTS
John Prine: Six O'Clock News; Knockin' On Your Screen Door; Bruised Orange (Chain of Sorrow); Your Flag Decal Won't Get You Into Heaven Any More; Caravan of Fools; Egg & Daughter Nite, Lincoln, Nebraska, 1967 (Crazy Bone); Lonesome Friends of Science; Grandpa Was a Carpenter; Hello In There; Boundless Love; Summer's End; I Have Met My Love Today; Ain't Hurtin' Nobody; Angel From Montgomery; Clay Pigeons; Illegal Smile; Way Down; All the Best; Sam Stone; God Only Knows; Lake Marie. Encore: When I Get to Heaven; Paradise.
Conor Oberst: Afterthought; Cape Canaveral; We Are Nowhere and It's Now; Mamah Borthwick (A Sketch); A Little Uncanny; Artifact #1; Next of Kin; Till St. Dymphna Kicks Us Out; Landlocked Blues; I Don't Want to Die (In the Hospital); At the Bottom of Everything.