The last time Kansas City saw George Strait it was January 2014. He was closing his show with the usual valediction: The Cowboy Rides Away, which was also the name of that tour, which, Strait had announced, would be his final road voyage and thus his last appearance in this town.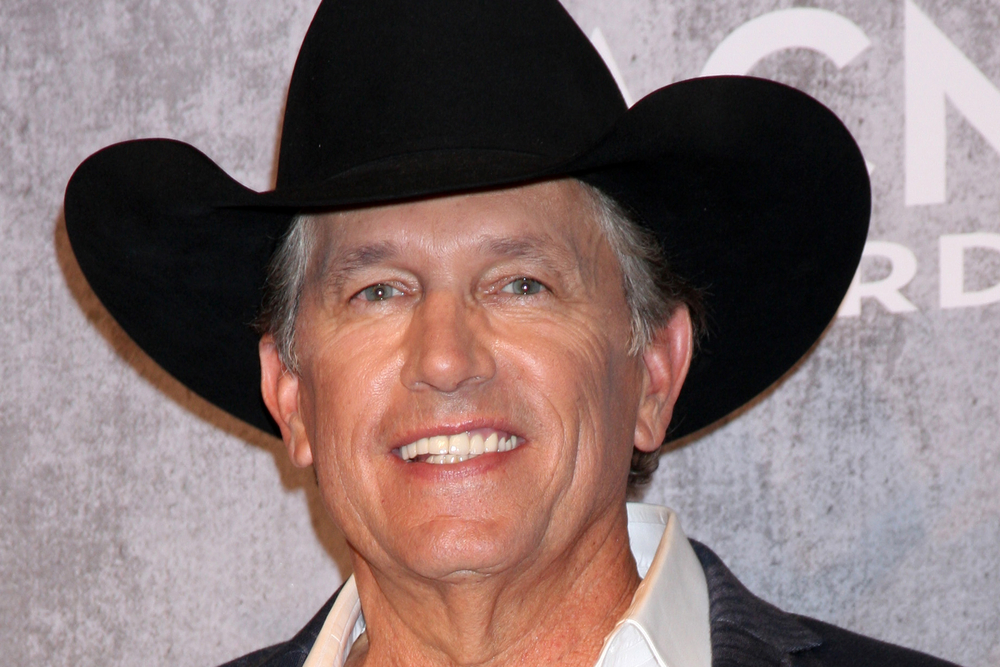 But somewhere in the interim, the cowboy got the urge to ride again, and in May 2019, Strait announced he was returning to the road, and the Sprint Center was atop his itinerary—the tour's second and third shows after an opening night in Wichita.
Saturday night he and his 11-piece Ace in the Hole Band performed the first of those two shows, and six years later, it sounded like the cowboy and his ranch hands had never gone away.
The show was set the round, as in the square stage was in the middle of the floor, so every seat in the 360-degree radius of the arena was available—and, it appeared, nearly all were occupied.  All night, Strait would mosey from one corner to the next and serenade that part of the venue, keeping everyone satisfied.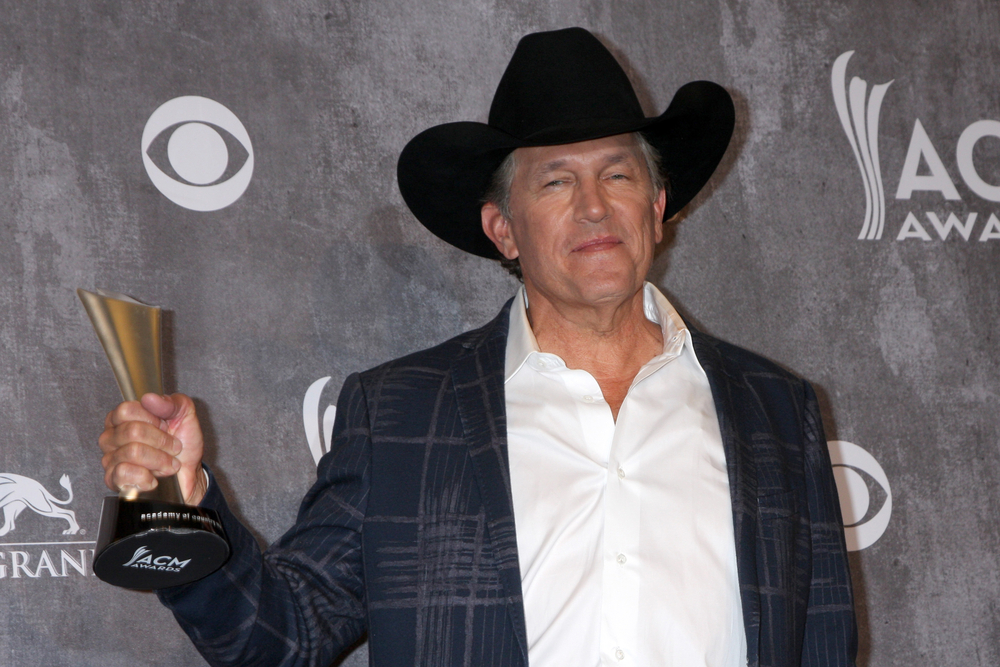 The 18,000-plus in attendance got just what they paid for: an evening of hits and favorites performed with enthusiasm and virtuosity.
He also gave them the usual pageantry and rituals befitting one of the most beloved and admired artists in music.
First, his 11-piece orchestra arrived to the sounds of Are Your Sure Hank Done It This Way. Then, after a brief pause, a spotlight shone on an entrance to the floor and, with much fanfare and to the sounds of Deep In the Heart of Texas, Strait regally took the stage to a prolonged ovation.
After he waved to the crowd in all four quadrants of the arena, Strait and the band lit into Stars on the Water, a jaunty Rodney Crowell tune, launching a spirited and methodical two-hour-plus odyssey that tapped into a catalog that goes back nearly 30 years, that comprises 30 studio albums (including 2019's Honky Tonk Time Machine, an impetus for this tour), and that has produced more than five dozen No. 1 country songs.
The set list would pull songs from 16 of those albums, going as far back as Unwound from his debut, Strait Country (1981).
He'd perform three from the Time Machine album: Código, a bouncy, three-minute commercial for the tequila-maker Strait has invested in; The Weight of the Badge, which honors first responders; and the rousing Every Little Honky Tonk Bar, which refreshes Toby Keith's love letter to favorite watering holes, I Love This Bar.
Each of those elicited loud responses all around the arena, even some singing-along, but nothing like the outpourings incited by classics like I Can Still Make Cheyenne (which came early), Here for a Good Time, Check Yes or No, Amarillo By Morning—which, he declared, was probably his favorite of all his hits—Give It Away, The Chair, The Fireman.
At times, the singing from the crowd threatened to overtake Strait's, and he seemed to revel in the response. He would toss in a surprise or two, deeper cuts like High Tone Woman, an uptempo shuffle about a cold-blooded gal who will "cut up your heart like an old credit card." Even that one prompted a rowdy reaction.
One of the loudest cheers of the night wasn't for a song. It came after Cheyenne, when Strait asked the crowd if they were feeling "the fever … Super Bowl fever," which ignited a prolonged and widespread "Chieeeeeeeeeeefs" chant and chops. When that subsided, he said: "I'm rootin' for ya." Cue the bedlam.
He would sustain that mood for most of the night, which was no small feat. For as long has he and his band have been together and for as many hundreds of times as they have played most of these songs, they nonetheless appear to appreciate the opportunity to perform every night in such a special, electric environment, displaying a camaraderie and enthusiasm for performing reminiscent of great rock bands like Tom Petty and the Heartbreakers, a connection that would come into play later.
Strait is the point man for all this, a warm, mannered performer with a low-key charm—genuinely folksy—and an expressive, inimitable voice that makes the most of its strengths and limitations. He is also a true cowboy from rural Texas, evidenced by the many photos and videos of him on a ranch and in rodeos. So there's not a jot of pretense or role-playing in his performances.
And he's a U.S. Army veteran, an inspiration no doubt for the ceremony that took place halfway through the show: A veteran who survived serious wounds while deployed overseas received keys to a new home for himself, his wife, and his five children.
All that was just a lead-up to the show's final act, which included a succession of prime material. The first set ended with Troubadour, then an unbridled version of Unwound. After the briefest of backstage breaks, they all returned for a stellar four-song encore, starting with a gleeful version of All My Ex's Live in Texas, performed like Hank would have done it.
Next came the warm-hearted Heartland, from the Pure Country soundtrack, which prompted some swaying, slow-dancing and vocal accompaniment throughout the crowd.
Many of them didn't recognize the intro to the next song. But when Strait started the vocals—"Tonight we ride, right or wrong / Tonight we sail, on a radio song"—the place went ballistic for Petty's You Wreck Me.  It was flawless, performed with much respect, admiration, and gusto and was a perfect fit, right in Strait's vocal wheelhouse. And it gave the band a moment to stretch and rock-out.
He closed the evening like he always does and like he did the last time he was here, with The Cowboy Rides Away, a melancholy song about setting suns, sinking hearts, and last goodbyes. Six years ago, it resonated deeply, like a eulogy or an impending loss. This time it felt like a different ending to a different movie, the one where Shane comes back, at least for a day or two. And all feels well.
Asleep at the Wheel: If you're going Sunday night, don't doze on the opener, a venerable Grammy-winning Western swing octet from Texas via West Virginia.
Ray Benson is a commanding frontman, tall and witty with an effusive, silvery beard, and a subterranean basso profundo voice. "Take that Trace Adkins," he said after issuing a so-called "brown note" during a dandy cover of Bob Wills' A Big Ball in Cowtown. And he's surrounded by a posse of absolute ringers that had no trouble raising a ruckus and enrapturing a big, arena crowd.
Other songs performed in their 45-minute set: Route 66, San Antonio Rose, Bob Wills is Still the King, I Guess I'll Call It a Day Tonight, Milk Cow Blues, and Big River.
GEORGE STRAIT SET LIST
Stars on the Water; I Can Still Make Cheyenne; I Saw God Today; Here for a Good Time; She'll Leave You With a Smile; Check Yes or No; Pancho & Lefty; My Life's Been Grand; Cold Beer Conversation; Waymore Blues (Part II); Arkansas Dave; Give It Away; Every Little Honky Tonk Bar; Somewhere Down in Texas; The Weight of the Badge; Código; The Old Violin; Amarillo By Morning; The Chair; The Fireman; Run; High Tone Woman; I'll Always Remember You; Troubadour; Unwound. Encore: All My Ex's Live In Texas; Heartland; You Wreck Me; The Cowboy Rides Away.