Ed Sheeran may have set a couple of records at Arrowhead Stadium on Saturday night.
Not for concert attendance. Though he drew more than 50,000 fans, his pal Taylor Swift shattered that record last month, drawing nearly 59,000.
But Sheeran surely drew the largest Arrowhead crowd ever by a one-person act—a lone troubadour supported only by his guitar, his voice and a "loop station" that helped him produce backup sounds (harmony vocals, percussion, bass lines) and turn his intimate folk-based songs into fully orchestrated chamber-pop tunes.
For 100-plus minutes, like a busker in a subway station, Sheeran plied the huge, multi-generational crowd with 19 of his velveteen, uber-romantic ballads and pop tunes, igniting hearty and heartfelt sing-alongs to nearly every song.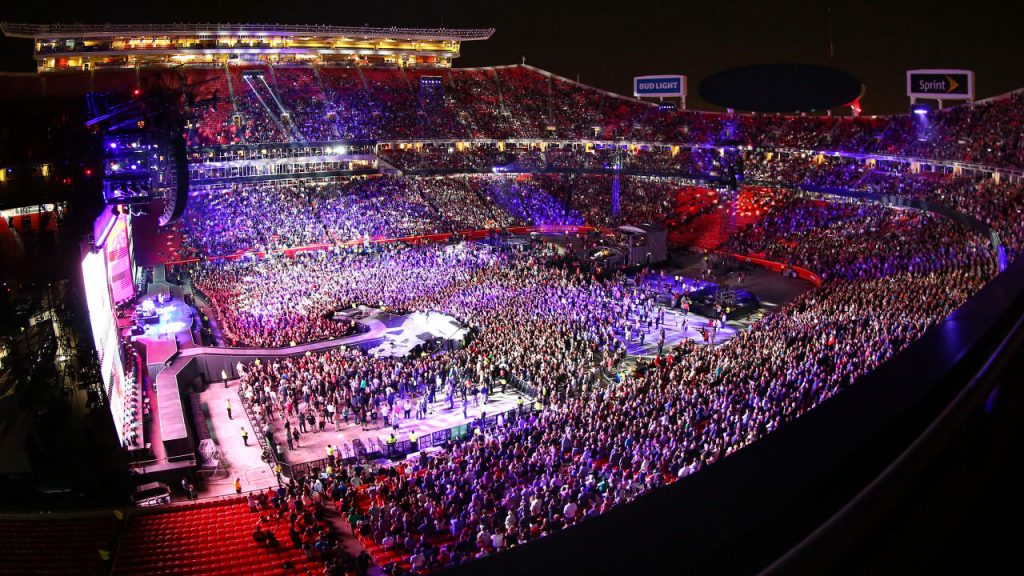 His visual support was a gargantuan video console that issued hails of animation and other images and, on the two enormous video screens that flanked the console, broadcast live stage footage to fans all over the stadium.
He opened with Castle on the Hill, a wistfully nostalgic ballad about the youthful days of yore, days spent drinking, smoking, running from the cops, and nursing heartache. It name-checks Tiny Dancer but Sheeran's style is more Cat Stevens than Elton John. Or Nick Drake—if Drake wrote sappy, puppy-love songs for teenage girls, but cast in the key of sunshine, not gloom.
Like anyone his age would, Sheeran, 27, tinkers with hip-hop, as he did on Eraser, the evening's second song, a mostly spoken-word number set to rolling folk rhythms. He followed that with The A Team, an outlier for Sheeran: a grim tale of a drug addict who prostitutes herself to pay for her habit.
Sheeran is a cheery, chatty, self-effacing sort. He prefaced several songs with stories or observations, thanking the boyfriends and "super dads" in attendance who tolerated his music as they accompanied and chaperoned the women and children for whom attendance was mandatory.

He also spent several moments encouraging fans to unleash their spirits, to sing loudly and dance uninhibitedly—"No one is watching or judging you"—although he admitted that when he attends shows, he's more apt to stand still and watch in silence.
The crowd obliged, dancing and singing all night, especially during favorites like Bloodstream, which started one of the loudest singalongst, and the jiggy, Celtic-ish numbers like Galway Girl and Nancy Mulligan, both of which could get confused for songs by the Elders.
In a stadium that has set (ersatz) world records for crowd noise, Sheeran may have set a record of his own: fewest decibels. Before Tenerife Sea, he asked for silence, to make the stadium feel like an intimate folk club, the kinds he used to play. Nearly everyone complied, filling the place with a palpable hush.
This wasn't Sheeran's first performance at Arrowhead. In June 2015, he opened for the Rolling Stones, a moment he recalled Saturday night, admitting he wouldn't have dreamed then of headlining his own stadium tour. But he is now. The guy newly christened as the wealthiest solo artist in music (over Swift and Adele) is now one of the world's biggest pop stars, though he hardly acts like it. And that everyday, every-man personae has much to do with his success.
He closed with two more favorites: the world-beat-ish Shape of You and I Don't Need You, You Need Me, both of which received jubilant responses. But Sheeran had stoked the mood before singing a word, taking the stage in a red No. 15 Chiefs jersey—a tribute to another young phenom, Patrick Mahomes. And till show's end, Arrowhead sounded as record-breaking loud and raucous as it has on recent Sunday afternoons.
SET LIST
Castle on the Hill; Eraser; The A Team; Don't/New Man; Dive; Bloodstream; Happier; Tenerife Sea; Galway Girl; Feeling Good/I See Fire; Thinking Out Loud; Photograph; Perfect; Nancy Mulligan; Sing. Encore: Shape of You; I Don't Need You, You Need Me.