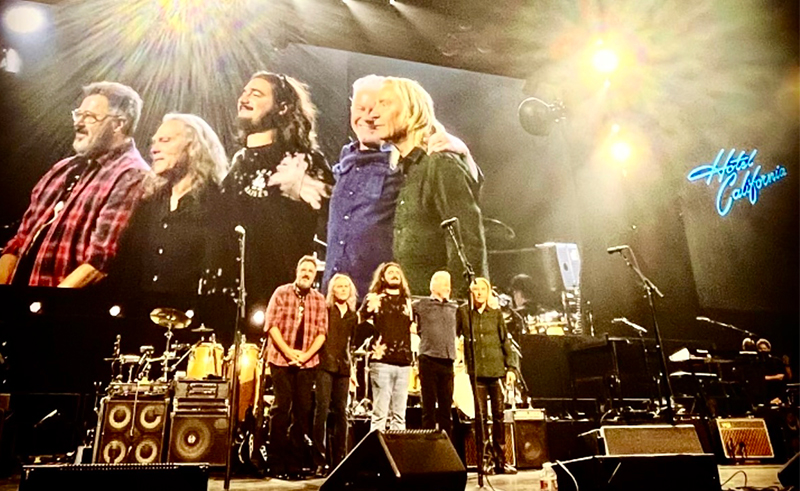 The year 2022 signifies two significant milestones for the Eagles: the 50th anniversary of their debut Eagles album and the 45th anniversary of their most successful album, the classic-rock mainstay Hotel California.
To commemorate that, the band announced a transcontinental tour—one that will continue well into 2023. On Thanksgiving Eve, the band checked into the T-Mobile Center, where, for three hours (including an intermission), they gave a full arena something to be thankful for: a nostalgic and euphoric voyage through nearly 30 songs.
The evening began ceremoniously: a blond woman in a dark gown emerged to cue up a copy of Hotel California on a turntable. Then came the unmistakable guitar intro to the album's title track, and the Eagles appeared. They would play the entire album from start to finish, pausing once to ceremoniously flip the album from Side 1 to Side 2 after Wasted Time.
Only three members of the band remain from the recording of that album: Don Henley, Timothy B. Schmit, and Joe Walsh. After the death of Glenn Frey in 2016, Vince Gill became a touring member of the band—adding more elite vocal and guitar firepower. 
They and four other touring members, including guitar ace Steuart Smith, had no trouble re-creating, note-for-note, the sounds and moods of a lyrically dark and introspective album. Henley's voice hasn't changed much, and Gill seamlessly filled Frey's vocal vacancy on New Kid in Town and other tracks.
Hotel California is the band's blockbuster album, reaching sales into the 20 millions. But it's not their most consistent. Some of the deeper cuts are ballads that—when performed live—lack the verve and inspiration of favorites like the title track Life In the Fast Lane and Victim of Love. 
But the Eagles wisely fortified some of those deep cuts with the help of a large ensemble of violinists, violists, cellists, and other string players, plus a 24-piece choir—all some of the best musicians and vocalists from the Kansas City metro whose contributions to the evening cannot be overstated. They transformed The Last Resort, the album's finale, into a dynamic, transcendent anthem (think of Foreigner's I Want to Know What Love Is.)
After the dust had settled from that gust of elation, Henley addressed the crowd. He apologized that the first set was short, but reminded everyone: Albums could only be about 40 minutes long back then. "And based on what I hear today," he wisecracked, "they should be even shorter." Then: "Forgive me; I'm a bitter old man."
He then introduced and praised the string orchestra for its contributions: We could have re-created those sounds synthetically, he said, but "nothing replaces the sound of wood instruments." Amen.
Everyone would leave the stage for a 20-minute intermission, then the Eagles returned for a whirlwind two-hour set of greatest hits, starting with a stunning rendition of Seven Bridges Road. The band's multi-part vocal harmonies sparkled all night, but these were impeccable.
For the next song, Deacon Frey joined the band, son of Glenn, who was a full-time member for the previous tour but a guest this evening. The only thing stronger than the physical resemblance between father and son is the vocal resemblance. He stayed for two songs, both timeless: Take It Easy and Peaceful, Easy Feeling. 
And from then on, the crowd, its attentiveness and its reactions were full-throttle. The orchestra returned to elevate Take It to the Limit into the stratosphere. Gill's lead vocals were stirring, and the crowd sing-along was loud and joyous.
Witchy Woman was given a slower, grittier bluesy vibe, and Walsh's guitar solo was feverish. Gill commanded lead vocals on two more Frey classics: Lyin' Eyes and Tequila Sunrise. Then Walsh took over. He announced proudly that he'd turned 75 two days before, that he was from "across the river, Wichita." After a few one-liners and goofy crowd-participation exercises, he led the house into the novel, auto-biographical travelogue Life's Been Good to Me.
Henley, who jumped from drums/percussion to guitar throughout the show, then delivered one of his own hits, Boys of Summer, and the line "you can never look back" felt a bit ironic. That was the point of the entire evening.
The set ended with Walsh's extra-jammy version of the James Gang's Funk #49, then a rousing, up-with-people, clap-along, sing-along rendition of Heartache Tonight.
But 14 greatest hits wouldn't nearly be enough. There would be more looking back: a four-song encore that opened with Rocky Mountain Way. Then, with the orchestra behind him, Henley reprised a version of Desperado that everyone there will always remember—at least the several thousand who sang along and, on cue, roared back the song's signature "let somebody love you."
Deacon Frey returned to take lead on Already Gone, which featured some zesty dueling solos between Gill and Walsh. They closed with Best of My Love, during which the large video screens broadcast slow-dancing or embracing couples in the crowd. After that, the band with Frey, lined up, some with arms around another's shoulder, and took a bow.
The Eagles have been somewhat infamous for a stage presence that always seemed arid, aloof, and detached: a little conversation with the audience and weak connection among band members. This night, things were different. It wasn't a deep-warm Tom Petty and the Heartbreakers vibe, but it was adjacent to it. Perhaps there was a reason for that.
Before the final song, Henley addressed the crowd again, thanking everyone for all the support they'd received over the past 50 years. This was something like their 16th or 17th concert in Kansas City, going back to their first, at Municipal Auditorium in June 1972, for the Eagles tour. He, like Walsh and Schmit, is 75, so when he implied that this could be their last show here, you could feel and infer the sentiment and sincere gratitude in his voice.
If that turns out to be so—this was their farewell to Kansas City—they can all walk away satisfied, knowing they performed as it could be.
SETLIST
Hotel California, New Kid in Town, Life in the Fast Lane, Wasted Time, Wasted Time (Reprise), Victim of Love, Pretty Maids All in a Row, Try and Love Again, and The Last Resort. Intermission. Seven Bridges Road; Take It Easy; Peaceful Easy Feeling; One of These Nights; Take It To The Limit; Witchy Woman; In the City; I Can't Tell You Why; Lyin' Eyes; Tequila Sunrise; Life's Been Good; The Boys of Summer; Funk #49; Heartache Tonight. Encore: Rocky Mountain Way; Desperado; Already Gone; Best of My Love.