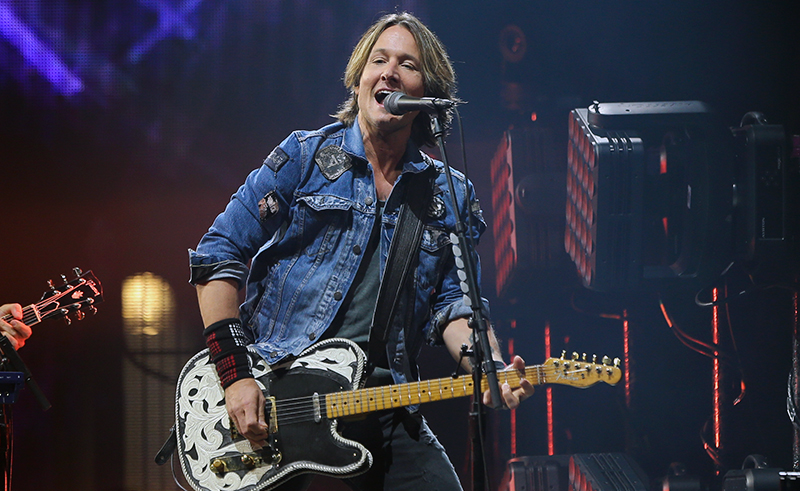 Keith Urban is a registered country artist, but he plays footloose with the term country: His music is all over the genre map, paying little mind to borders—a trait that has served him well.
Thursday night at the T-Mobile Center, he performed in Kansas City for the first time in more than four years. For two boisterous hours, nearly 10,000 fans let him know how happy they were to see him again. And he made it clear the feeling was mutual.
His setlist comprised more than 20 songs, and it plumbed some of his earliest albums, including two songs from Golden Road, now 20 years old. He opened with Tumbleweed from his most recent album, The Speed of Now, Part 1. Like much of what ensued, it showcased his signature sound, a brash and fetching blend of catchy pop and rock and blues with a discreet dash of modern country—as radio ready and friendly as it gets.
Urban exudes humility and charm—all burnished by his Aussie accent—and they were on full display early. Two songs in he scanned the crowd and read some of the many of the handmade signs waving his way. One held by a woman from out of town stopped him: It proclaimed her boss would give her  $20 in gas money if she returned with a selfie of her and Urban. He brought her on stage where she took several pics and even a video and then walked away with a signed acoustic guitar (one of two he would give away). 
He showcased every member of his band, introducing each and giving him a moment in the spotlight to deliver a solo. Nathan Barlowe took things further: On a synthesized device called the Phantom he let loose with a medley that included the Eurythmics' Sweet Dreams and the White Stripes' Seven Nation Army—a spasm of disco/electronic dance music that somehow seemed right in place with the rest of the show.
Urban showed off his gun-slinging prowess on guitar several times, most notably during Long Hot Summer, when he shredded a bit and then orchestrated a few minutes of percussive fretboard and microphone tapping. Turns out he's ambidextrous, too.
The crowd clearly thirsted for his hits and he quenched all that abundantly, including Somebody Like You, Days Go By, You Look Good In My Shirt, and the soulful Blue Ain't Your Color. Even his latest single, Brown Eyes Baby, provoked a loud response. 
He was joined virtually by two pre-recorded guests: On the enormous video screens behind Urban and his band, Pink chimed in on One Too Many and, several songs later, Carrie Underwood joined him for The Fighter. It all felt as normal and organic as a Zoom conference.
Urban showed his appreciation for music of other genres and eras a few times: During Kiss A Girl, he dropped in a sample of Ed Sheeran's Bad Habits. After One Too Many, he joined the crowd in a first-level section to perform a few measures of John Denver's Thank God I'm a Country Boy. And after Somebody Like You, he directed a widespread singalong of The Lion Sleeps Tonight. It's worth noting that, among a crowd that spanned three generations, everyone seemed very familiar with all of those songs.
It all suited what Urban said was the purpose of the evening. To paraphrase: He's not trying to change the world or fix what's wrong with it. Rather he's more modestly trying to give his fans a place to go and forget about all that, to indulge in the joys and rewards of live music. Mission accomplished.
SETLIST: Tumbleweed; Days Go By; John Cougar, John Deere, John 3:16; Wild Hearts; Kiss A Girl; Brown Eyes Baby; Long Hot Summer; Never Comin' Down; Somewhere In My Car; Sweet Thing; God Whispered Your Name; You Look Good In My Shirt; Before You Go/Sweet Dreams/Seven Nation Army; One Too Many; Thank God I'm a Country Boy; Better Life; You'll Think of Me; Somebody Like You/The Lion Sleeps Tonight; Blue Ain't Your Color; The Fighter; Wasted Time; Stupid Boy.