Not too places in the world are farther from Limerick, Ireland,  geographically or culturally than the Great Plains of the U.S. But that's the leap Nick Carswell took in 2011 when he and his wife left their native Ireland for Lawrence, Kansas. 
He arrived as a working musician with a master's degree and a new album in hand. Carswell immediately connected with one of Lawrence's better-known and busiest musicians, and soon Carswell was steeped in the city's music world. Among his projects: the band Carswell & Hope, which just released Sign of the Times—an album born during the pandemic that became both a challenge and inspiration to the band.
Carswell recently answered questions from IN Kansas City about his "idyllic" upbringing, affection for all genres of music, adjustments to life in the Midwest USA, and how family inspires profound meaning in just about everything.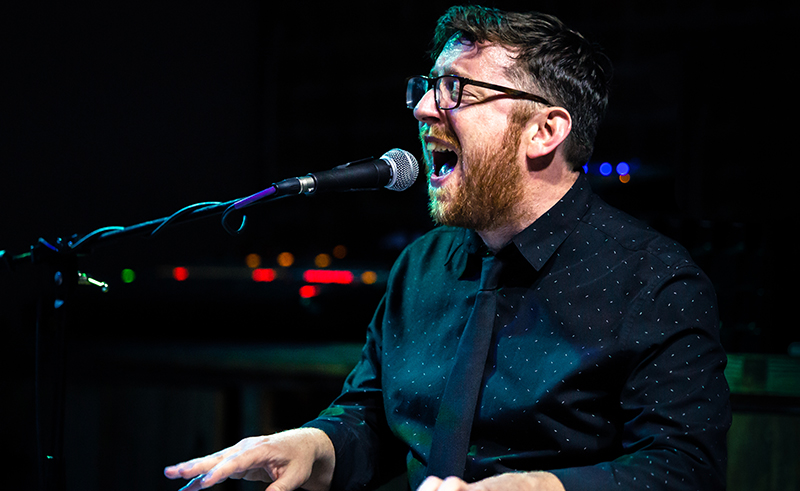 You were raised in Limerick, Ireland. What was your childhood like?
My childhood in Limerick in the '80s and '90s was a very happy one. There were tons of kids in our neighborhood; I remember epic neighborhood-wide games of hide-and-seek, lots of soccer, and tree-climbing. It was a bit idyllic, honestly. 
There was always plenty of music at home, but I also realized later how much time and space we had to explore whatever interested us. I would make mix tapes from the radio and create my own radio shows using a tape recorder. I began learning the popular songs of the day, playing along and picking out chord changes on the piano. I also got into the music of the '60s at a young age. I remember my two older brothers busting me for jumping around and rocking out to the Animals or the Kinks—pretending to be a rock star. I guess I'm still at it. 
Traditional Irish music is beloved around the globe. How much did it influence you?
Irish people don't really distinguish when it comes to songs we love. There is a line that runs from the Clancy Brothers to Bob Dylan to Van Morrison and U2. But we also make detours to Elton John or ABBA or Burt Bacharach, or wherever we find a good song. So, in the sense that the songs and stories of Irish music are in our blood, I guess that influence was always there. 
Who were the first bands/artists you listened to? The first albums you bought or owned?
On a camping trip to France when I was about five or six, we had a cassette tape with the Beatles' Rubber Soul on one side and Tea for the Tillerman by Cat Stevens on the other. I'm sure we wore that tape out, and both of those albums were deeply ingrained in me. I definitely listened to every Beatles song I could find soon after that. The first album I remember buying for myself was OK Computer by Radiohead, which also opened up a lot of new possibilities. When I started playing and writing music Tom Waits, Paul Simon, and Neil Young albums were the sounds I first tried to emulate. 
British pop bands like Oasis and Blur became favorites and influences when you were a teenager. What about them appealed to you?
Musically, they seemed to be following on from what I had heard in the music of the '60s and '70s and the Beatles, etc. The Britpop era was also just a huge sensation in Ireland and the UK at the time—basically a cultural phenomenon, especially for teenage boys. And if you had aspirations to pick up a guitar, you were spoiled with these relatively simple, immensely singable songs that everyone was into at that time. 
The music of contemporary Irish artists like the Frames and Damien Rice—very different from Brit-pop—also meant a lot. What was so attractive about them?
By the time I went to college in Dublin, those bands and a ton of other homegrown acts like them were just cranking out great music. It was fresh. It expanded the singer-songwriter thing into bigger rock sounds, and those Irish artists were getting prime airplay on national radio, headlining big festivals. A short hop on the bus from my college flat and we could be in the legendary Whelans in Dublin. We were really spoiled for music in Dublin in the early 2000s—I've never lived in a homegrown scene like it. Plus, I was in a band at that point, and we were able to get close enough to these acts that were so influential and that everyone in Ireland knew and loved. 
Talk about your first band, Elective Orchestra, which included cousins of a member of the Frames and the Swell Season.
The Elective Orchestra was the first collection of songs that we toured and released as an album. Very much inspired by Irish acts, but also bands like Wilco and Sufjan Stevens. We tried to use acoustic guitar, piano, and strings—played by sisters Deirdre and Kate Cussen on cello and violin, cousins of the Frames' and Swell Season's violinist Colm Mac Con Iomaire—to create the textures and arrangements for the songs. 
I feel like by the time we were putting out our album much of the scene had moved away from the acoustic singer-songwriter thing, but there were still plenty of audiences that enjoyed it and lots of rooms to play to. The album also became a labor of love that grew into more than a straight collection of songs with lots of ideas from that time captured in our debut and only release. 
Not long after Elective Orchestra released its debut album, your wife got a job offer in Lawrence so you moved to Lawrence. What do you remember about your reaction to the news you were moving to the Midwest, USA?
As unlikely as it seems, I have very little memory of our decision to move here or any recollections of being daunted by the change of scene. We had spent more than a year backpacking around the world and living in Australia in the mid-2000s and had been looking for another adventure by the time 2011 arrived. We also both finished master's degrees and got married, as well as touring the new album right before we left Ireland. So, it was a bit of a whirlwind. I barely remember stopping to think about it, honestly. 
How did Lawrence impress or surprise you initially?
We'd been in the states several times before—including a student summer in South Carolina, but we'd never really seen the Midwest. I do remember the first day we drove around Lawrence and spotted the strip malls, car dealerships, and big box stores, and for a second, thought we'd made a huge mistake. Then we stumbled into downtown Lawrence and felt immediately relieved to find what we recognized as the life of an actual town. As we got to know the venues, shops, and restaurants, we just slotted right in!
You immersed yourself in the city's vibrant music community. What was the first important move you made, and how did it accelerate momentum for you?
I met Jason Slote. He was playing drums in a jazz quartet outside Pachamama's restaurant. I approached him and told him I had just arrived from Ireland, I was a musician, and I was looking to play. I had a brand new CD that I had just released a few months earlier, so we had a good place to start. We worked on my music, wrote new material, and played a whole bunch of other gigs together. Jason is so well-known in Lawrence and Kansas City, it was an incredible way to get started here, and we've been collaborating for more than 11 years now.
In 2019 you presented Changing Shades, a multi-media installation about your life as an immigrant in the Midwest. Talk about creating that and how it was received.
This project combined my songwriting with some of the video and multimedia design work from my master's degree. I used two large projector screens and lighting design to create a different visual look for each song. It was also a way to add additional layers to the songs, with visuals, footage, text, color, and abstract images. 
The decision to base the songs around themes of immigration and belonging added yet another element that was new to me, as well as playing a solo performance, using loops, samples, and sequencers. In this project, I took it all on myself, but it was well-received and well-funded through a grant from ArtsKC. It was thoroughly challenging and rewarding. I plan to find more ways to create that kind of work.
You have been very active with the Kansas City Irish Center. What has that meant to you?
I've loved being part of such an active and vibrant Irish community. It means a lot to stay connected and celebrate our culture. Part of it for me is also to try to represent what Ireland is today, as well as our shared history. I'm an Irish musician who plays more than Celtic or traditional music, and similar to other issues of identity and belonging: we are more than just one culture or one "thing." It's important to remember that as we celebrate the Irish in America.
Describe the music of Carswell & Hope.
I find this difficult at the best of times! As a group, we have hugely eclectic influences, and honestly, we don't worry too much about where that takes us. We're comfortable building indie-folk songs around an acoustic guitar. We sometimes have two distorted electric guitars hitting full-tilt, with pounding drums. We'll dip into alt-country if we're moved that way. One thing that people often note is that we are a band of five dudes who all sing. It's not hard to do, but it seems to add something that resonates—especially live. We definitely have vintage sounds and sensibilities, and we're generally careful and intentional in the kinds of textures and songs we craft. 
The band just released a new album. Talk about it and how it exhibits the band's evolution.
It's hard to avoid it: This is our pandemic album. The recording process was unlike anything we've done before, with a mix of pre-pandemic studio sessions, adding tracks in our garages and basements during lockdowns, guest performers who wrote and recorded their parts remotely, and new songs we built in the studio in the last six months. A couple of songs grew from demos that were floating around for as long as seven or eight years. 
This album might have some of the heavier alt-rock moments we've created, and it also has some of the shortest songs we've recorded to date. I'd like to think we get to the point quicker than we have on previous records. That might be a symptom of the crazy distortion of time we've all experienced in the last few years. But the songs still have things to say—that hasn't changed.
What do you like most about Lawrence and Kansas City?
The connection and the sense of community. Also, people's openness to giving you a shot or hearing what you have to say. Maybe there is something to the whole "land of opportunity." Check back with me later on that.
This interview has been lightly edited for length and clarity.