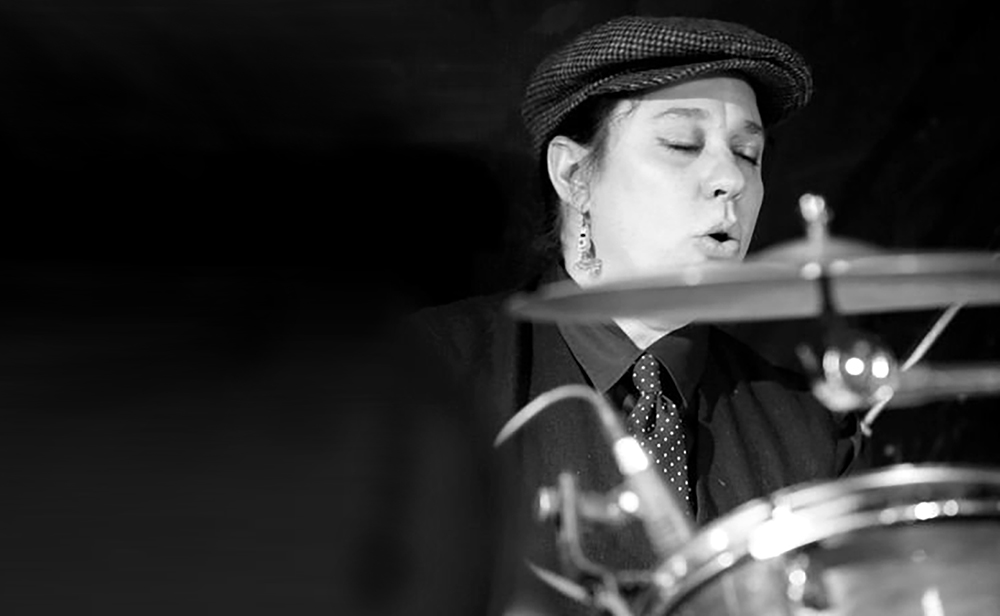 Lisa McKenzie's love for rhythm is so deep and adventurous it inspired several trips to Africa to study traditional drumming and dance—skills and knowledge she now applies to her newest band.
Since she was 18, McKenzie has been part of the Kansas City music community, playing drums for several groups in several genres, including Cher UK, The Grand Marquis, Djama, Alex Abramovitz & His Swing 'N' Kansas City Jazz Band, Sycamore Grove, and the Ragged Few.
She's busy these days with Bantaba, an Afrobeat band she co-founded that celebrates African legends like Fela Kuti. On Oct. 17, Bantaba will headline Fela-Bration, a celebration of Kuti's birthday.
McKenzie is a Kansas City native who lives in rural western Wyandotte county with her husband, Dylon, and their children plus "our dogs, horses, goats, and poultry. We grow food and keep bees, too."
She recently answered questions from IN Kansas City about her favorite drummers, her pilgrimages to Africa, her new band, and her fondness for Fela Kuti and Afrobeat.
When did music first enter your life?
My father played in bands while I was growing up. Both of my parents were extremely supportive of me playing music. They made sure I got lessons, had a space for band practice and tolerated hours of individual practice and rehearsal time.
I first started playing music when I was about 15. I started on clarinet. I really wanted to play saxophone, but the band director needed a clarinetist. I then switched to drums at about 16. My father bought me a drum set and it just stuck. I loved it. I loved the rhythm and just playing.
What drummers influenced you early on and what about them appealed to you?
Steve Shelley from Sonic Youth. Stanton Moore from Galactic, and Herlin Riley. Steve, because I love his rhythmic/tribal approach to punk rock/noisy music. Early on I tried to take his style and incorporate it into my own.
Stanton, he just blows my mind. I constantly watch his videos and practice his techniques. Herlin—I love New Orleans-style drumming, and in my opinion Herlin is one of the best.
What music did you listen to growing up? What was the first album you owned?
The first records I bought were the Kiss solo albums. They had them at the grocery store, and I begged my mom for them. She eventually bought them.
How old were you when you first started performing live? What was your first band or serious gig?
I started playing live when I was around 18. My first serious gig was Cher UK. I was serious about playing music before that, but Cher UK was touring constantly.
When and why did you become interested in Africa and its music? What have you learned from your trips over there?
I love rhythm. A former boyfriend bought me a book, War Drum of the Ewe: Godwin Agebeli. Godwin was a master drummer who owned a drumming and dance school in Kopeyia, Ghana, called Dagbe Cultural Arts Centre. It is still going and operated by his son Emmanual Agbeli.
I wrote him a letter expressing my interest in studying with him. He invited me to his school. I went during summers in college for about five years.
In addition to learning Ewe drumming and dance, I learned so much about community. Ghanaians have such a strong, beautiful sense of community and culture. I think that is what really prompted me to eventually adopt children.
In addition to listening and learning traditional rhythms, I also enjoyed listening to Fela Kuti, King Sunny Ade, to name a few, and other types of Afro-jazz, Highlife, etc.
You just started a new band, Bantaba, an Afrobeat ensemble. Where did the name come from? Do you perform original music, covers or both?
The name Bantaba is derived from the word for a large tree, which is called bentennie in the Mandinka language, and is a traditional meeting place for the men of the village.
The origins of the word is from the Mandinka for "tree" which is "Bant" and "aba" means "where to meet" and so the two words combined are Bant-aba.
We liked the name because for us it defined community. We meet to create and celebrate music together. This group of people is truly special. I'm so lucky to be surrounded by such amazing people and musicians. The way the band formed and came together was pretty special. The right musicians, skill-wise and personality, just started appearing.
We perform covers, a combination of Afrobeat, Highlife, and funk. We are working on writing originals and hope to have some recorded very soon.
Bantaba has a big event coming up on Oct. 17: Felabration, a celebration of the great Fela Kuti. Talk about him and what his music means to you.
Fela-Bration is an annual worldwide event created by Yeni Anakulapo Kuti, Fela's daughter, to celebrate his life and music. Fela was the creator of Afrobeat music, a revolutionary and human rights activist, and a Nigerian. Fela-Bration is always celebrated the week of his birthday.
I and others in Bantaba love Fela's music because it is a merging of several different styles, combining traditional rhythms, jazz, and funk. It's so amazing.
Fela was a revolutionary, and in my mind, a genius. His message seems timeless. The message he was speaking in Nigeria in the 1970s is very relevant to modern-day America.
Banataba loves to create a party every show. We want to see people dancing, moving and having fun. We will have special guests: our dancehall friend Nowledge, and our friends from Sunu, an Afrobeat/New Orleans/funkster band from Lawrence.
Fela-Bration will be at the Record Bar on Oct 17. Showtime will be 8 p.m. We really hope Kansas City will join us for this evening and celebrate the music of Fela Kuti.
What has Kansas City meant to you, as a musician and longtime resident?
I love being a musician from Kansas City and have always felt very proud to be a part of the Kansas City music scene. We have so many amazing musicians here. Kansas City is so musically, historically rich. Much of my favorite music comes from Kansas City musicians like Count Basie, Big Joe Turner, Jay McShann, and Bennie Moten. Kansas City is a great place to work as a musician and being in the center of the United States, it's easy to tour from.