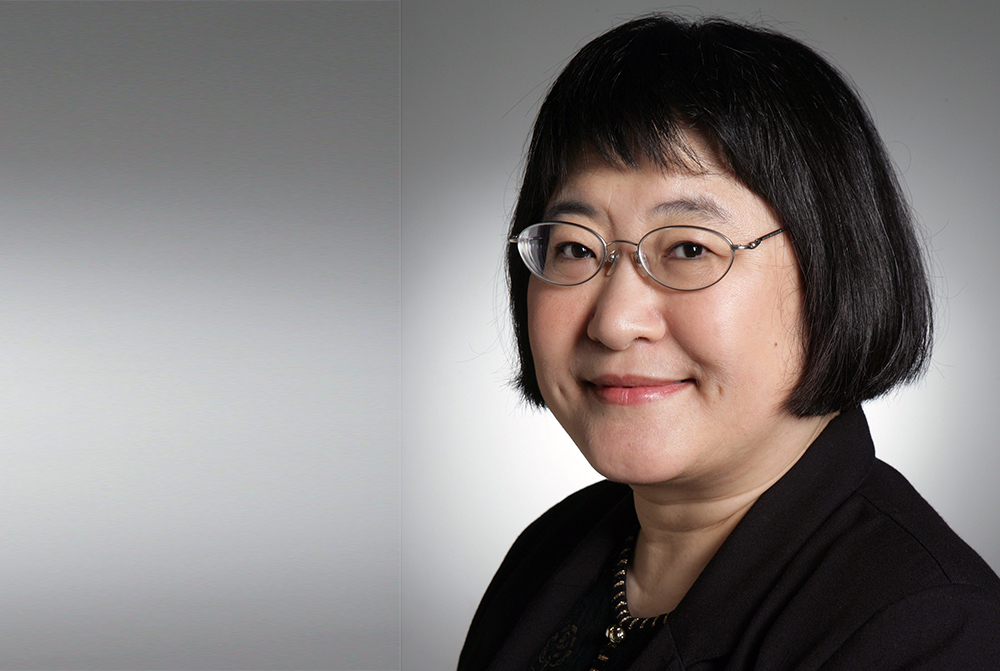 In Kansas City caught up with Chen Yi, a doctor of musical arts and Lorena Searcy Cravens/Millsap/Missouri Distinguished Endowed Professor in Music Composition, at the University of Missouri-Kansas City Conservatory. Chen [following the Chinese custom of surname first] was born in Guangzhou, China, to parents who loved classical music. But during the political upheaval known as Mao Zhedong's Cultural Revolution, which lasted from 1966 to 1976, Chen Yi had to abandon her music lessons to carry rocks up a mountain to help build a military fortress. And yet Chinese folk music and the sounds of Chinese stringed instruments—the yehu and huqin—give her contemporary classical music a vibrant and arresting sound.
Today, Chen Yi is perhaps the most well-known female Asian composer of contemporary "classical" music. Chen was a finalist for the 2006 Pulitzer Prize for Music for her composition Si Ji (Four Seasons), and has received numerous awards as well as fellowships from the Guggenheim Foundation and the National Endowment for the Arts. She has just released a new album, Concertos for String Instruments.
And next month, she will be celebrated at UMKC's annual Crescendo 2019 on November 8 at the Kauffman Center for the Performing Arts—a gala dinner followed by performances by music, dance, and theater students and faculty—all to raise funds for scholarships. 
Your new CD, Concertos for String Instruments, features four concertos that you wrote for different string instruments. Tell us about it.
Growing up as a violinist, when I was a teenage girl my dear father hoped that I could compose music that would be performed by myself and be loved by many in the world. During the past half century, I have composed many original works featuring string instruments. I had a dream to put some of my concertos for solo string instruments onto a CD for my audience to enjoy collectively. The first piece is my second violin concerto, Spring in Dresden, in 2005. The last piece, Xian Shi for viola and orchestra, is my earliest original orchestral work, written in 1983, with the same soloist on the CD, Lizhou Liu, who also gave the premiere performance. It's the first time I tried to use a Western string instrument to imitate the special nasal timbre of a Chinese folk string instrument. The tone color in the high register of the viola is very close to the sound of a yehu (a two-string fiddle with its sound box made from coconut shell), which is the major instrument in the local folk ensemble.
You grew up in China during turbulent times. When you had to leave your musical studies, how did classical music sustain you?
As with many other Chinese "intellectuals" during the Cultural Revolution, my family and I couldn't escape from the suffering of having our home searched, of being compelled to perform forced labor, of having to engage in public self-criticism, and of having to live our lives under the persistent stress of political pressure. The target of the Cultural Revolution was always the people who had an education, especially if they had been exposed to Western culture. At first, I used to practice the violin with a heavy metal mute, and put a blanket between the hammers and the steel frame in the piano in order to be able to sight-read my father's score collection. But this soon came to an end when, in 1968, I found myself bringing my violin with me to the countryside. My family was separated and sent to live and work in five different places. Our domestic possessions were either seized or destroyed, and our home was locked and kept empty in the city. It perhaps was the beauty and the spirit of Mozart's music that helped me to overcome the hardship and all the difficulties during this dark period. I remembered that my father had said to me that from Mozart's music you feel the sunlight and see the composer's happy face, but people don't know the tears of sorrow running down behind his cheeks. This challenging experience brought home to me what my father meant.
How do you compose your music?
I like to absorb all useful elements to get my imagination going for composing, and I want my work to present something of a challenge to regular classical music ears. However, I don't like to catch any wave and match any fashion. I have employed such rhythmic structures and have combined them with my own pitch material (based on Chinese traditional mountain song singing, and the use of atonal composition techniques). Another example was the result of my attending an African American's dance concert. I was amazed by the exciting drumming and the energetic dancing. At one point, they danced in the Chinese red silk dance style, but much faster and stronger, holding not the long red but the shorter and colorful silk in their hands. I was so excited by this that I remember shouting out with tears of joy. Then I returned home to compose my orchestral work Ge Xu (Antiphony), with the passion and excitement of that concert lingering in my head.
What is it about the Kansas City area that nurtures your creative self and your career?The active culture scene here—my home base for the past 21 years—nurtures my creativity and my career. I have worked with Kansas City Symphony, Kansas City Chorale, all UMKC choirs, symphony orchestra and choir, wind ensembles and other chamber ensembles, and dance department. I am grateful for my very supportive colleagues in the Conservatory, and the Conservatory/University administration teams, numerous inspiring students from my composition teaching career and working with performers and other artists. Our students and alumni are everywhere around the world, making their music with achievements in the field. I wouldn't have been who I am without all this support.