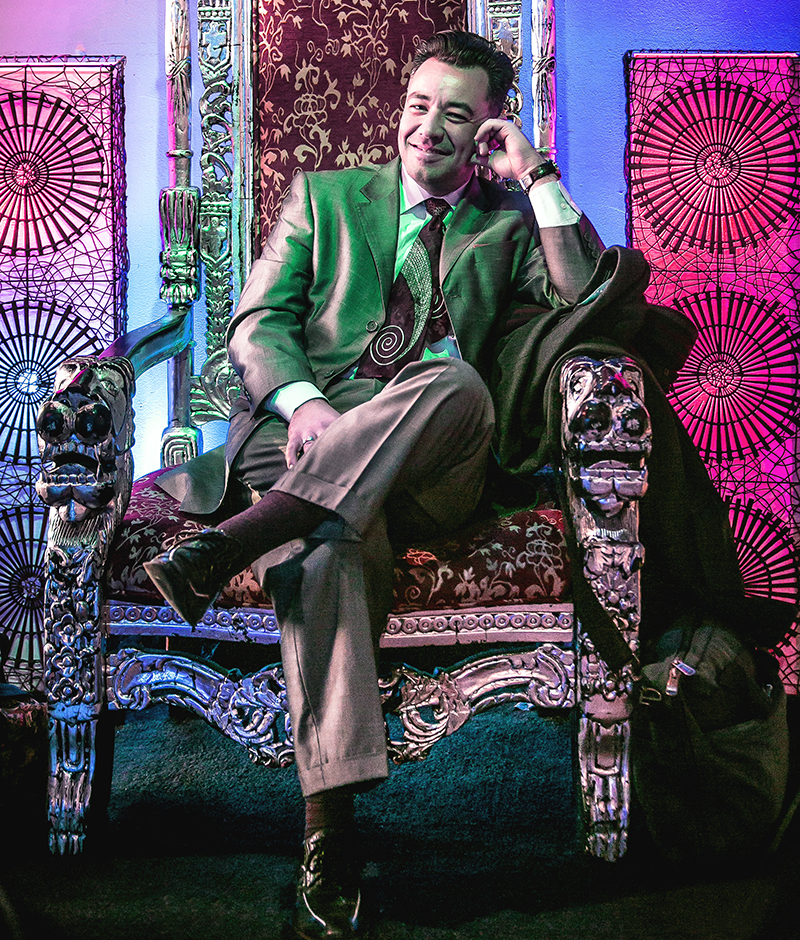 Bryan Redmond was introduced to his callings at an early age, First, religion and faith, brought to him by his Southern Baptist missionary parents. Then music, which filled his environment at every turn. Thanks to a popular Henry Mancini movie theme, the saxophone became his instrument of choice, and after high school, the music department at UMKC, where he was a dental student, persuaded him to put down the drills and other oral implements and follow music as a career.
It has all paid off. These days, Redmond is the frontman for the Grand Marquis, one of Kansas City's longest-running bands, one that has evolved significantly over two decades. Redmond recently answered questions from IN Kansas City about the diverse music history that led him to his roles with the Marquis; about the multi-racial family he and his wife, Shelly, are raising; about the pervasive role faith plays in all facets of his life; and about his hopes and dreams for Kansas City's music community.
Where were you born and raised and what is your education history? Your Facebook page lists the UMKC School of Dentistry under your education. Talk about that.
I was born in Salem, Oregon, but have lived in Mission, Kansas, since third grade. At Shawnee Mission North High School, for musical education, I was fortunate to have Penny Snead teaching band, who challenged, motivated, and taught me how to make music individually and collectively. But she also taught so many more life lessons, like how to be a professional, and how that extends to all parts of life.
I wasn't confident in making a living as a pro musician at the time, and through job shadowing, I found dentistry. I figured I could make some good money and still play music on the side, like jazz bassist Tim Brewer, DDS. UMKC offered a six-year combined BA/DDS, and I was fortunate enough to get in, only to get burned out after two-and-a-half years of taking 25 credit hours a semester and 12 in the summer. 
Truly the most valuable part of that experience was the chance to soak in Kansas City's musical culture and take classes like jazz combo under Mike Parkinson—who predated Bobby Watson—and choir under Charles Robinson and Eph Ehly.
What was your childhood like?
I am the oldest of three. My brother and sister are four and ten years younger. Our parents were Southern Baptist missionaries, starting churches in Oregon until 1979, then dad pastored a church in the bootheel of Missouri until 1983. Mom played piano and led music and taught junior high and high school. I was at every church function, silently, on the front pew, three services a week and dozens of funerals. 
Moving to the Kansas City area was pivotal because it afforded so many more opportunities, and I fell in love with the culture. I'm thankful for the freedom of having been a kid in the '80s because it allowed me the chance to be out of the house on my bike, alone or with friends, exploring and enjoying the lack of supervision. 
Dad worked two jobs because church planting didn't pay squat. He sold prearranged funeral plans for McGilley, then worked as a night custodian for the school district. Although he had a masters of divinity degree, he relished manual labor like his father, who was a west Tennessee farmer—mostly cotton—who had to drop out of school before learning to read in order to work on the farm. I loved spending weeks at a time on my grandparents' farm in Crockett Mills, Tennessee, learning how to pick cotton by hand, drive a tractor, tend a two-acre garden, explore their 70 acres, or shell peas on the porch after dinner with my grandma. 
I also visited my mom's parents a few miles away in the small town of Halls, Tennessee, where they had A/C, I could watch HBO when they weren't paying attention, and drink plenty of Dr Pepper. My maternal granddad played spoons and taught me my first secular song, Blue Suede Shoes, and a bunch of Jimmy Rodgers tunes.
When did music enter your life significantly?
You could say my life has always had a soundtrack. Mom immersed me in music from an early age. Dad can't really match pitch vocally, but it doesn't stop him from singing enthusiastically. I got free rein of their country/pop LP collection as a kid: singing cowboys like Roy Rogers and Gene Autry; plenty of Henry Mancini and George Beverly Shea; 1950s Elvis, Burl Ives, Marty Robbins. Sometimes when the library would throw out records nobody checked out, she'd bring those home, so I got a good taste of everything. WDAF 610 AM "61 Country" was always playing on radios plugged in throughout our house, all day and late into the night. 
In addition to '80s pop country, they played the white guys from Sun Records, and older music like the Carter Family or Uncle Dave Macon. In sixth grade, the McFadden Brothers performed for our elementary school, and it really changed my life. At that moment, I knew I wanted to be an entertainer, not just play a horn. When they came to our high school my senior year, I was one of a few students that got to sit in with them. 
During college I would be out at every club or jam I could get into, listening to all the older cats and sitting in whenever possible: Milt Abel, Sonny Kenner, Speedy Huggins, Myra Taylor, Cotton Candy Washington, Claude "Fiddler" Williams, Dwight Foster, Sam Johnson, Jay McShann, to name a few, and any blues jams like those hosted by Mama Ray and John Paul Drum. 
When I dropped out of dental school, I knew I wanted to make music that blended what I loved most about the two worlds of jazz and blues. Thankfully, musician and mentor Henry Hart of Lonesome Hank & the Heartaches got me into post-WWII R&B and Louis Jordan, etc. When The Gap aired their famous commercial featuring the music of Louis Prima, I was ready to play in a band like that.
Who were your earliest favorite bands/artists?
As a preschooler, I loved watching The Lone Ranger reruns, so mom got me a Longines Symphonette recording that included the William Tell Overture, the show's theme song. She made me listen to the whole overture from the beginning, not just the finale, which was the theme song. The classical and folk music in Looney Tunes was an early influence, but I was always drawn to the music of African-American culture, from gospel worship music to Cab Calloway, whom I first saw on Sesame Street. It was just different enough from the music I was used to, I found it captivating: soulful, authentic, raw, and I couldn't get enough. 
My parents didn't like modern rock/pop in the house, so I just went over to my friends' houses to listen. We'd play Monopoly and spin Michael Jackson's Thriller all day. They didn't let me buy RUN-DMC's Raising Hell, any Beastie Boys, or Guns N' Roses' Appetite for Destruction. Finally, Young MC's Stone Cold Rhymin' was tame enough for them, so that was the first cassette tape I bought. I was 12 when a teacher loaned me The Smithsonian Collection of Classic Jazz, and I dubbed all those records onto cassettes. I got chicken pox just a few days later and those tapes were on repeat in my room the whole time I was sick, like a week or so. That's how I fell in love with and really soaked in a lot of jazz, from ragtime to bebop.
How did you settle on the saxophone? Who was the first sax player to inspire or influence you?
The Pink Panther cartoon theme—Plas Johnson on tenor sax—hooked me at an early age. It was soulful and cool, and that fat tone just really hit me the right way. It seemed like the ultimate instrument through which I could express emotions musically. Sonny Stitt and Dexter Gordon were big influences on me in high school, then I got into Bullmoose Jackson, Illinois Jacquet, Big Jay McNeely—some of those bluesier/grittier players that I really identify with more. On soprano sax, Sidney Bechet is who I pattern my playing after, and on alto, Eddie "Cleanhead" Vinson has this wailing, yet dreamy sound I try to emulate.
What was your first band and what do you remember about them?
In high school I was playing music three to four hours a day, in and out of school. One summer I formed a little side jazz combo called North by Northwest, because all the members went to one of those two Shawnee Mission schools. We played a church picnic and the reception following my Eagle Scout ceremony, and it was a great early learning experience. 
What is your history with the Grand Marquis? What are the challenges of being the leader of many?
I got in on the ground floor as the Marquis were forming. I was 20 when I answered the ad [for a band] that was looking for a sharp-dressed horn player, which was right up my alley. Our sound has really evolved over nearly 23 years: When we started in 1998, we had this frenetic rockabilly-tinged dark, swinging sound, kind of like if Sam Butera and Brian Setzer drank too much coffee with Tom Waits. 
After "Slim" Hanson departed, I started singing, and our sound mellowed into a Kansas City jazz influence, with a great improviser in Chad Boydston on trumpet and Django-inspired Sammy Nicolier's guitar adding their own nuances. When the super-versatile Ryan Wurtz took over on guitar, we got into bluesier songs, inspired by Memphis R&B. Then as Ben Ruth, on upright and sometimes electric bass, picked up a sousaphone, we dug into New Orleans-style traditional jazz flavors. 
In 2017, a big year, drummer and multi-instrumentalist Fritz Hutchison and trombone prodigy Trevor Turla joined the band. We focused on writing good songs and what made the group sound best and less on sticking to a particular style, which was exactly the breath of fresh air we needed. A couple of years later it was a smooth transition to Natalie Bates on drums, who effortlessly swings and/or rocks harder than anyone else.
You'll hear a little more soul in our songs these days, too, but the focus remains on well-crafted original, handmade roots-based music. Everyone in the band is on the same page with nearly everything, and flexible or willing to compromise when there are differences, so it makes being a leader and frontman a lot easier. 
When making decisions I like to already know everyone's point of view beforehand, so I try not to make a decision on behalf of the group that's unexpected or outside their comfort zone. I've learned it's important to listen and make sure everyone feels valued with a seat at the table. When we collaborate, we're better. When everyone is invested, we're that much more committed and that sense of personal ownership of the band extends to giving our best in all areas.
Your faith is important to you. Talk about how it influences your life, personally and as a working musician.
At the core of who I am is both a humility that there is a God and I'm not him, and an empowerment to fulfill my life's purpose: to make the most of this gift of life in every way. I have assurance of an eternal home, but it's nothing I've earned or deserve, and the goal is to live in a way that shows my gratitude.
The times I've followed God's calling have been the most rewarding; times I tried to do it on my own have been the worst. In a nutshell, I'm an imperfect, broken person who has found the right doctor, and I'm happy to share my story. I'm a spiritual person and a lot of it comes out in songs, whether in imagery or little axioms I lift from sermons. I leave the preaching to folks like my dad. I just wave my little banner of experiences around as a cautionary tale, mostly. 
Church was my first opportunity to perform and sing in front of people, and I really love when I get to worship with music. I led worship music for a year at a local church, which was a tough job. God has called people into nearly every profession and walk of life to be his hands and feet and a light to others, and I think part of my calling is being a working musician of faith.
June is Father's Day month. You and your wife, Shelly, are raising two children, one of them adopted. Generally, what has fatherhood taught you and how has it changed you? Specifically, talk about the challenges and rewards of your family situation.
Fatherhood as well as adoption is definitely a calling, and I'm so fortunate it has been mine. It's taught me that you shouldn't take too much credit or blame for your kids' behavior or how they turn out. We thought we were great parents when our first kid was a good baby, obedient kid, etc. But then when our second was the complete opposite and nothing we did worked like it had before, we realized just how little we knew. 
Each child is unique, so the faster you learn their personalities and adjust to them, the better you can parent and the smoother things go in general. Now, Hank is 12 and Eli is just about 16, and we have a close-knit family dynamic because we know how to communicate and get along. 
Adoption was another separate calling, and we've learned to lean on God every step of the way, especially today. It's true that it's never a real issue until it's your own issue. We adopted Hank from Ethiopia when he was seven months old, so having a racially blended family has opened our eyes and hearts in immeasurable ways. It's a challenge to try to raise two boys in a society that makes them play by two different sets of rules, a society who has never fully confessed or repented of its cardinal sin of an often inhumane, pervasive racism that has stained and rendered our nation ineligible to stand on any moral high ground. I'll just stop there because those types of challenges could fill books, and I am still trying to learn, as I go, the best way to navigate those situations. 
The rewarding part is the way Hank fits absolutely perfectly into our family. His personality is a lot like mine, while Eli and Shelly share many traits. Hank's gregarious charm, creativity, and natural charisma make him instant friends with everyone he meets, and he's so easy to love. He's worth any and all of those challenges, and our family is that much richer and stronger as a result of weathering some of the storms we have and will face together. I can't imagine our family looking any more beautiful than how it's put together. 
How did you navigate the pandemic/quarantine, as a father, husband, and musician and bandleader?
It took constant evaluation of many sources of news, trying to use scientific facts to guide us, and we were open to several options and looking to the future even as we were having shows canceled. 
What really strengthened us was our ability to keep our circle of exposure small, so that we felt comfortable practicing and writing songs weekly, and then about one to two outdoor shows a month in the summer. Kudos to folks who worked hard to plan outdoor, distanced events like the WWI Memorial Fundraiser in August and Record Bar/Voltaire for opening Lemonade Park. And to hardworking people like Travis Fields of Westport Saloon, who invested in video and sound equipment so we could broadcast live-stream concerts and make music videos.
At home we enjoyed more time together, and everyone was flexible. We ate outside on the patio and played foursquare, drank a different cocktail every night, and watched birds. We have friends who let me use an empty house as a daytime office, so we were able to avoid "overexposure" to each other. Shelly learned to bake bagels and English muffins. 
But it was rough, too. The never-ending instances of police brutality met with inaction and lack of justice combined with the politicization of the pandemic and the lack of reliable leadership on a national level created a nightmare in every subject. I lost a desire to exercise, drank too much, gained weight, had horrible sleep, felt down and very frustrated at times. Shelly got me to a sleep clinic, where I was diagnosed with severe apnea, and got a CPAP that allowed me to actually rest at night. That started me on the road to getting healthy again, and with some other basic diet/exercise changes I'm back healthier than I was in 2019.
What has the Kansas City music community meant to you? What are its strengths and what could it use more of?
I've always thought our city supported a wide variety of styles and genres well, and the artists support each other. It's nice that people like to see music in their neck of the woods, so we can play consecutive nights on the Plaza and in Liberty, Lenexa, Crossroads, and Westport, and get different crowds. That helps us stay local more often. I see a lot of potential in several younger musicians that have been making good music of late. I think iron sharpens iron, so when we hear a good local record come out, it encourages and challenges us to write better songs in a positive peer-pressure way.
I have a wish that 18th and Vine would be as big an entertainment and live-music district as Beale Street in Memphis, but more like Frenchmen Street in New Orleans in that music indigenous to Kansas City of the 1920s-1950s would be a mainstay, along with any other music that is supported. 
As live performances return, I've really been encouraged by the generosity of fans at every venue who are willing to pay for good music in tickets and cover charges, tip well, and exuberantly welcome us back. I hope and pray those become enduring characteristics of live music.
---
Want more Timothy Finn?
Check out his weekly online-only content, including his Top 5 Not-to-Miss Concerts in the metro and his revered, rollicking, reasoned reviews and commentary.
Email Timothy Finn at tfinn@inkansascity.com