After a memorable kick-off weekend, Open Spaces 2018 is now less than one week into its nine-week arts extravaganza. But now the countdown is on! With so much art to see—over 40 visual artists showing off their creations—where do you start?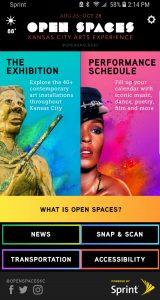 Fortunately, the team at Open Spaces has created a handy-dandy app so you can easily maneuver around the extensive exhibitions. (Start downloading now and you can have it up and ready to go by the time you finish this article. Type in "Open Spaces KC" into your phone's respective app store.)
With 13 art installations, Swope Park is the main hub for you to see and be seen. Not to be outdone, Plaza/Midtown and Crossroads/Downtown areas both have 12 works of art in their arsenal. Remember, there's no fee to view any of the works in the exhibition. If you're lazy, the only charge you may incur is catching an Uber in between works. But as artistic director Dan Cameron says, "Mapping can take you around, but everything is walkable and easy to digest."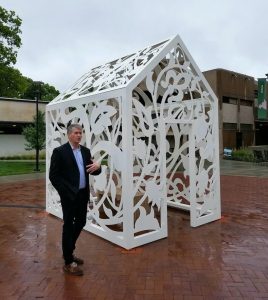 As you're meandering your way through the installations, you may spy a few names that sound familiar. That's because nine of the featured artists have ties to the Kansas City Art Institute—including both alumni and faculty. (If you happen to swing by KCAI, be sure to spy the open-air gazebo entitled "This Is Not A Refuge" by Anila Quaayum Agha.)
Got time to kill over lunch? Out running errands? Keep the app handy because inevitably there's a piece of artwork nearby for you to appreciate. In fact, stop reading this article and go appreciate Kansas City's biggest artistic endeavor in the history of the city. And please wear your sunscreen.