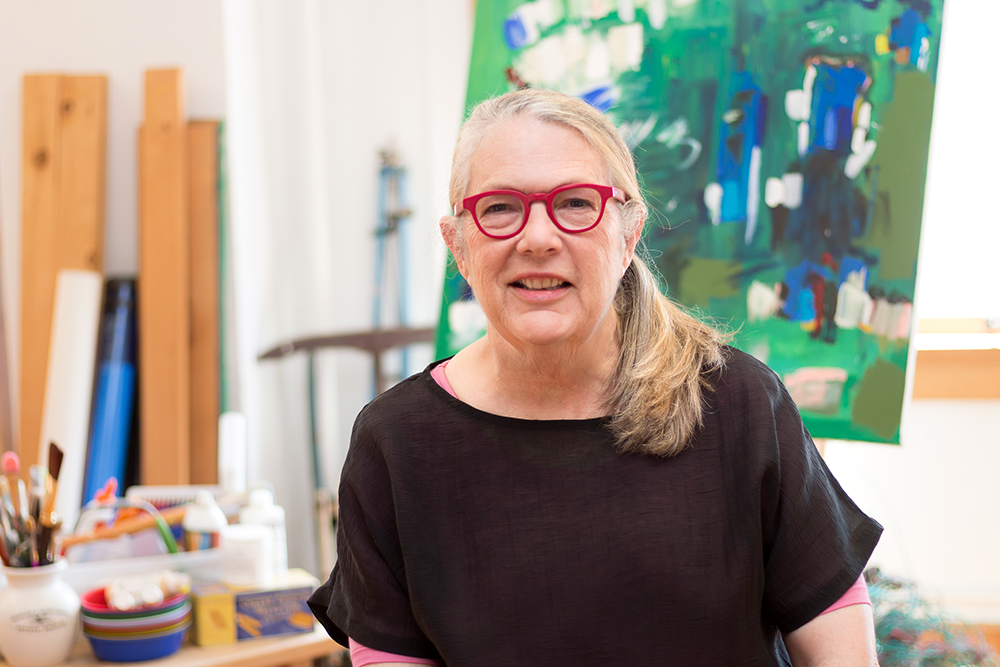 After three decades working and living in New York City, artist Jan Schoonover returned to her hometown four years ago with her husband, environmental scientist Ashok Gupta, to purchase her family home—built by hand by her late father, educator Eddie Schoonover. The Dutch name translates as "beautiful harbor"—and to create a new life in an old place.
After years as an educator herself, Schoonover has chosen to focus on her role as a painter. She has become a familiar figure in the historic Livestock Exchange Building for her signature red glasses and orange BMW. She's glad to be back, particularly in her beloved childhood home: "A little frame cottage in a woodsy section of Merriam, Kansas."
We all need our "beautiful harbor," no matter where it may be.
INKC: You really are glad to be back in Kansas City, aren't you?
Schoonover: I'm a native. I love it here. I now work in a studio space that no one I know could afford in Manhattan. Our game plan was always to come back here. We renovated the house—for a while my studio in the West Bottoms looked much better than our house did. We have a garden now, with a fence of fieldstone rocks that my father built by hand. It includes my grandmother's quince bush. It's small, but very cute. Dad built it in 1949, so when I look at it, it's memories that I cherish.
My father was a teacher at the Pembroke Day School for 35 years, although I attended—at my mother's wishes—public school. My mom, also a teacher, was a big advocate of public education. I graduated from Shawnee Mission North High School and the University of Kansas, before attending the Chicago Art Institute and moving to New York City.
INKC: You were still living in New York on September 11 and it had a huge impact on you.
Schoonover: I was walking home on September 11, 2001 when the towers at the World Trade Center were destroyed. The emotional state influenced me to paint—that very night—my painting "Explosion." I might donate it someday to a museum, or maybe KU. But I still own it.
My husband was born in Northern India. We get asked—a lot—if he experienced culture shock moving to Kansas. The answer is no. We came back here many times while we were living in New York. We love the sense of space here. My art relates to landscape. I'm abstract. I just had a show in Paris, and I have another show scheduled for there.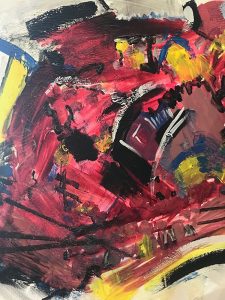 INKC: What has changed the most about Kansas City from when you originally moved away?
Schoonover: The food! There are such great restaurants now. And places to find ethnic foods and spices. The best samosas ever can be found at this wonderful restaurant called Chai Shai near Brookside owned by a Pakistani family. My husband is from northern India, so we love it.
Both of us want to be helpful, and sometimes it's easier to be helpful here in Kansas City. I'm on the Merriam Arts Council now. And on the board of the Paul Mesner Puppets, which I love.
There are wonderful art galleries here, which I think is a newer development. I love the Haw Contemporary gallery in the West Bottoms. And artist Wilbur Niewald has a studio in my building. He's doing such great work in his 90s! Dress designer Sarah Nelson is also there. She studied in London and came back here. She did my outfit for my Paris opening. There's a wide variety of people to meet here. If you're surrounded by a bigger group of people, you can always find people you like.