Sponsored Content
After a long winter and rainy spring, we'll take any excuse to get out to make memories with friends and family. This summer, Park Place is bustling with things to do and places to see—whether you're hoping for a date night, a family outing, or something to occupy the kiddos while they're out of school.
The season is starting out strong with the return of favorite traditions—Guitars & Games, Movies in the Square, and the Summer Concert Series—plus new happenings such as Second Saturdays for Kids! and Wednesday Date Night.
What You Need to Know About Park Place Summer Fun
Guitars and Games kicks off the summer and takes place every Friday night through September 29 at Barkley Square. Get in some friendly competition with giant Jenga, Connect 4, or cornhole while singing along with some of Kansas City's favorite local musicians.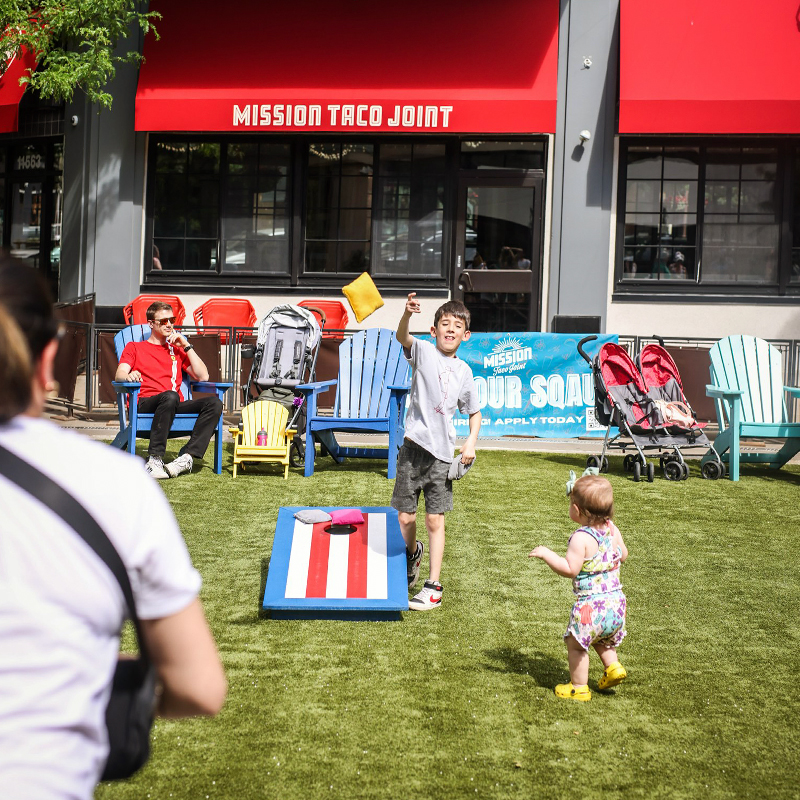 Here's the music line-up:
June
2: Erica McKenzie, 9: Micah Burdick, 16: Drew Six, 23: Jillian Riscoe, 30: Noah Austin
July
7: Nick Nave, 14: Nicki White, 21: Justin Stancil, 28: Night Owls
August
4: Erica McKenzie, 11: Rusty Laffoon, 18: Nick Nave, 25: Jillian Riscoe
September
1: Dylan Guthrie, 8: Drew Six, 15: Micah Burdick, 22: Noah Austin, 29: Night Owls
Every Second Saturday of the month is dedicated to kids when themed entertainment will take over Barkley Square. Check out what's happening each month:
May 13: Flower bar experience and live music
June 10: Bubble party and tattoo artist
July 8: Summer Foam Party!
August 12: Dog Days puppy play with Wayside Waifs
September 9: Bounce house and live music
October 14: Boneyard Halloween marionette show and puppet workshop
Beginning June 3, fan-favorite Saturday evening concerts and movies will take place in Barkley Square for the Summer Concert Series and Movies in the Square. Here's what's scheduled for both.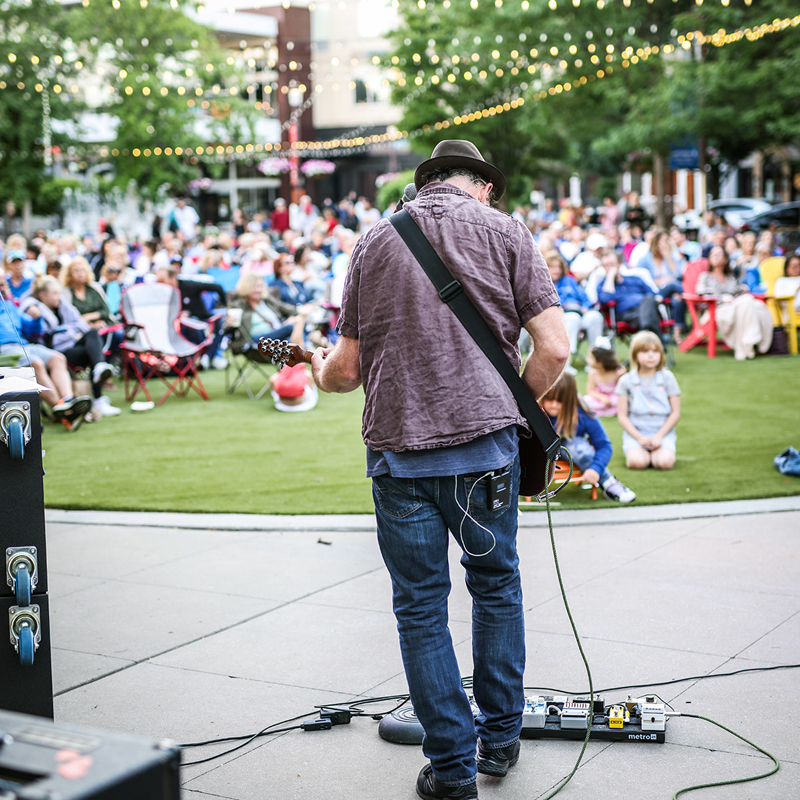 Summer Concert Series:
June 3: The Zeros
June 10: Perpetual Change
June 17: Cherry Bomb
June 24: Stolen Winnebagos
August 5: Phil Collins Experience
August 12: Surfin' USA (Beach Boys Tribute)
August 19: The Suburbans
August 26: Elton Dan and the Rocket Band (Opening Act: CHERished, a tribute to Cher)
Movies in the Square:
July 1: The Princess Bride
July 8: Big
July 15: Fantastic Mr. Fox
July 22: Grease
July 29: Sweet Home Alabama
September 2: Ferris Bueller's Day Off
September 9: Top Gun: Maverick
September 16: The Parent Trap (1998)
September 23: Black Panther
September 30: The Addams Family (1991) 
June will also usher in a new era of Wednesday Date Nights, which are on the calendar every Wednesday through September. Make it a midweek date over happy hours, shopping, and live music in Barkley Square. Bring your lawn chairs for pop cover bands, DJ Joe, jazz, and even reggae!
Wednesday Date Night line-up:
June
 7: "Wednesdays" trio, 14: Holes in Socks band, 21: DJ Joe, 28: Lester Estelle (contemporary jazz)
July
5: "Wednesdays" trio, 12: Gus Duo (cover), 19: DJ Joe, 26: Lester Estelle
August
2: "Wednesdays" trio, 9: Soca Jukebox Duo (reggae), 16: DJ Joe 23: Lester Estelle, 30: "Wednesdays" trio
September
6: Gus Duo, 13: DJ Joe, 20: Lester Estelle, 27: "Wednesdays" trio
Explore What's New at Park Place
Before or after stopping by Barkley Square for any of these Park Place happenings, explore the food, drink, and shopping options Park Place has to offer. Nearly at full capacity, the shopping district has several new storefronts you'll want to visit.
Among the summer's most anticipated openings is Mission Taco Joint, which is set to open in early June. Located right off Barkley Square, their West Coast-inspired street taco menu is perfect for date and family nights. Adults can also sip on specialty beers, cocktails, tequila, mezcal, and their famous tiki drinks.
Looking for a refreshing thirst quencher? Bruú Café opened earlier this spring with a menu of milk and bubble teas, coffee drinks, and Italian sodas.
If you need to answer to your sweet tooth, look no further than Bumblebee Macarons, where you can sink your teeth into delicious, delicate artisanal macarons. The new bakery opened on May 13.
Meanwhile, if you have any tween-aged girls in your life, you'll want to visit Owen & Graham Girl, where you can find the latest fashion items for girls ages 7-14. The new clothing boutique officially opened its doors on May 13 as well.
Wondering what else might be happening at Park Place? Keep up with the latest news and events at parkplaceleawood.com/events.