Sponsored Content
Have you ever looked through your closet before an evening out and thought, "I have absolutely nothing to wear?" Most of us have been there—swapping out tops, overcoats, switching from a dress to a skirt to pants and a blouse and back again without ever feeling satisfied with the outfit.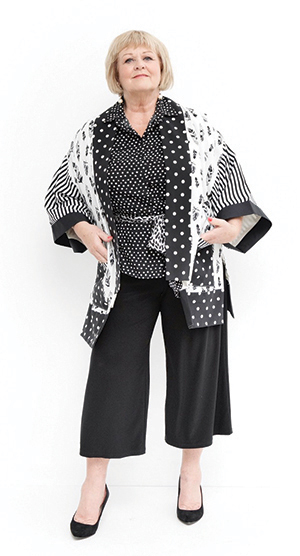 In 2019, Joanne Mullin had tickets to watch the grand finale runway show at Kansas City Fashion Week, and she found herself in the exact spot many are familiar with—she had absolutely nothing to wear. Instead of trying on everything in her closet, Mullin decided to take a different approach.
"I didn't have anything to wear, but I had been sewing for years so I just thought, 'well, I'll make something,'" says Mullin. "So, I made a kimono, and you know what? One of the committee members of KC Fashion Week came up to me and said she would buy my kimono in a heartbeat. It was the first one I ever wore and the first one I ever made, and that encouraged me."
After that, Mullin realized she might be onto something. The kimono could go with just about anything. It could be paired with a dress or a nice pair of pants for a special occasion, worn with jeans and a simple shirt for a casual outfit, or even paired with a swimsuit for a day at the beach. And the best part? The kimono looked good on just about any body type.
To make the kimono she wore to fashion week, Mullin repurposed various fabrics that she had purchased from a local resale shop. Soon after, Mullin founded J.Mullin Apparel Co.
"I love searching for beautiful fabrics and putting them together in unusual yet fabulous combinations. I grew up not having much, and we learned to make do with what we had, so I've had this motto my whole life, 'using what we have to reinvent our lives,' and it drives everything I do," says Mullin. "Each kimono features a unique combination of new and repurposed fabrics, including curated silks and vintage kimono fabrics. The fun thing about designing them one by one is that they have more of an individual personality."
Mullin gives each kimono a name and creates a story behind it. For example, Mullin's Isadora Kimono—a black-and-white number with patterns of polka dots, stripes, and feathers—is inspired by Mullin's vision of Isadora Duncan, a famous dancer known for freestyle movement and artistic expression: "It is in this spirit of fluid movement that we created this one-of-a-kind kimono. We envision a slow-motion scene from a grainy black-and-white movie, Isadora smiles as she floats into the room, wrapped in sleek, fully lined luxury."
Two years ago, Mullin connected with Rightfully Sewn, a local organization that trains and employs seamstresses to supply Kansas City fashion designers with high-quality, locally made garments. The team has been working together for over a year to create three new kimono patterns in two inclusive sizes.
"Our line has evolved, as our production process has been fine-tuned," Mullin said. "Rightfully Sewn is doing more of the production now, freeing me up to focus on curating and combining the fabrics for each piece, as well as the marketing of the line."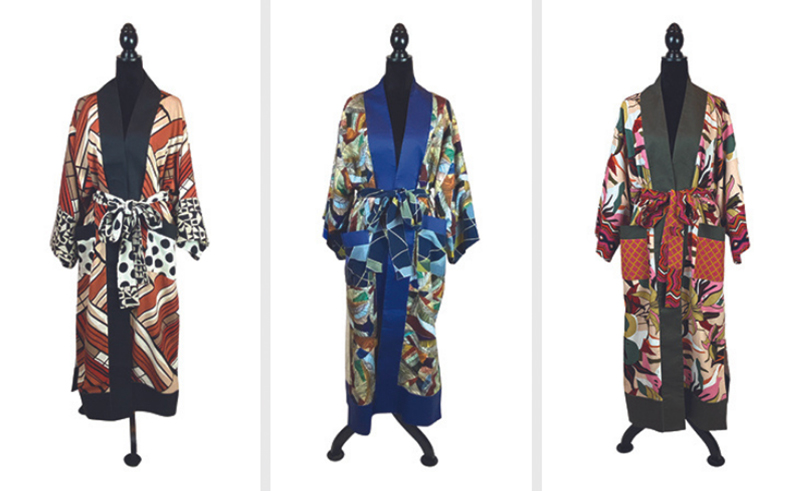 On April 21, Mullin will launch her Spring & Summer Collection featuring kimonos and scarves designed and sewn over the last few months. The kimonos represent a team effort between Mullin and Rightfully Sewn, but Mullin designs and sews all the scarves, which are created entirely from repurposed and vintage fabrics.
The fabrics Mullin chose for the bodies of the kimonos were inspired by Mullin's passion for the soft hand, sophisticated colors, and loose techniques of the French Impressionists—especially Matisse. She also was influenced by the fashions and architecture of the 1920s through the early 1050s. "The fabrics I chose are fresh, modern interpretations of the iconic florals and geometric prints of those magical years," says Mullin. "I love to pair repurposed fabrics with the new fabrics. Some of the combinations are just fabulous. Can you imagine the stories these fabrics could tell? They're probably very much like our own."
"The J. Mullin brand is designed to serve the confident, self-assured woman who lives with intention and panache," says Mullin. "We create garments for the woman who has an elevated style and has curated a lifestyle that she loves. The J. Mullin woman seeks out what inspires her and does not hesitate to invest in herself. She loves wearing an elevated piece that is distinctive and has a story to tell."
Mullin says her mission is to make garments that give a woman a new level of confidence and a sense of being the best version of herself. "We are interested in lifting women up by helping them feel fabulous," she says. "Our brand provides elevated ease for the sophisticated woman."  Mullin went on to explain that all proceeds from the J. Mullin Apparel Co. are donated to not-for-profit organizations that work to lift women up and help them reinvent their lives.
The collection will debut on April 21 at a launch event in the 1900 Building's Fountain Room from 4:30-7:30 p.m. designed to be an elegant cocktail party in a posh dressing room setting. Wine and beer will be served as well as hors d'oeuvres. Guests will have the opportunity to try on Mullin's new kimonos and scarves, which will also be worn by models at the event.
Tickets are free at Eventbrite.com, but limited in quantity, so get them early.