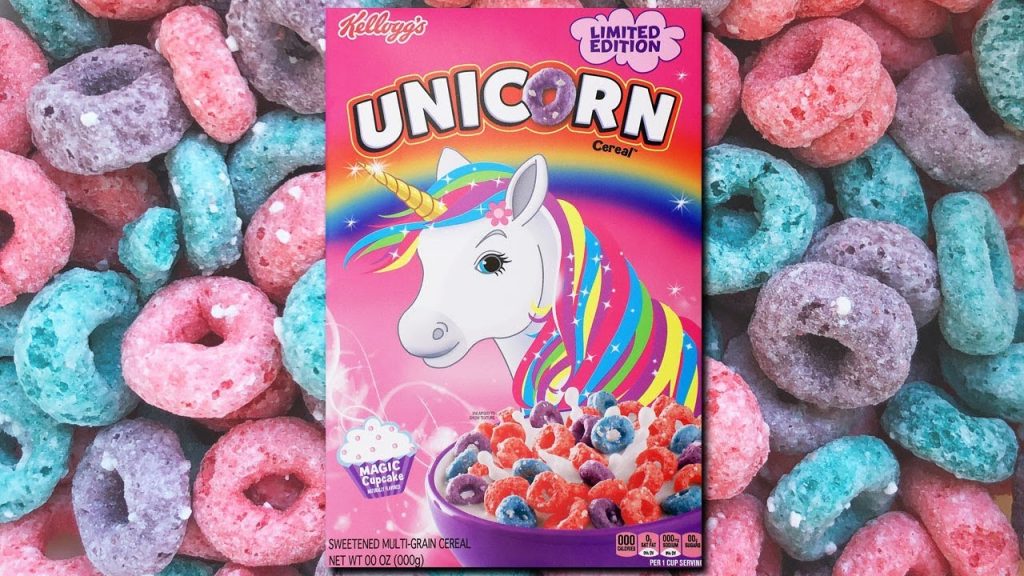 2018 will likely go down as the Year of the Unicorn. From the decadent Unicorn Frappuccino at Starbucks to Unicorn Pop-Tarts, the why-is-this-a-trend trend has been going strong since the first of the year. Kellogg's even tried to capitalize on the frenzy with their diabetes-inducing, limited-edition Unicorn Cereal—which tastes suspiciously like Froot Loops, only sweeter—as if that's even remotely possible. (We tried it. It is.)
The product hit store shelves in early spring. Given its nostalgic '80s Saturday morning cartoon-packaging, it was a big hit out of the gate. But now the item is becoming increasingly difficult to find on stores shelves. Snoop around online and you'll find sellers using panic-inducing words like "RARE!" and "EXTREMELY RARE!!" as they try desperately to hock their sugar-rific wares.
We're not saying this has BitCoin potential, but we did see a smattering of random boxes going for upwards of $40 each on eBay. (Buyer beware, however, Wal-Mart still has them reasonably priced at $7.99 each.) But as the product is only being produced for a few more months, you can rest assured prices will only go up from here.
Forget Toucan Sam. Our money is on Bjorn The Unicorn*. Why invest in stocks when you can impulsively invest in this oh-so addictive cereal? Stockpile now—you can thank us later.
*Not the unicorn's real name. We don't think the mascot even has a name. Bjorn rhymes. We went with it. Don't judge.