Sponsored content:

It's a hotel with a storied, historic past. Of course, we're talking about the Hilton President Hotel located in Kansas City's famed Power & Light District. The locally owned, four-diamond hotel is famed not only for being on the historic register, but for being a legendary beacon of hospitality here in the metro. With so many accolades, we wanted to find out five things about the hotel you might not know.

5) The hotel employs more than 135 employees. Even better? "The associates are engaged in the community. We do lots of community service projects outside the hotel," says Philip Strnad, the general manager. "We do different volunteer projects throughout the year—animal shelters, Ronald McDonald House. Hundreds of volunteer hours." The hotel is mindful to take care of its associates. From adding an employee restaurant within the hotel to starting a childhood literacy program for associates' children, its holistic, employee-centric approach is paying off. Many associates have worked at the Hotel President for well over five years.

4) The hotel—which opened way back in 1926—has quite the backstory. "When it opened, there were 453 rooms and now there are 213," says Sher Wolf, the director of sales. When the hotel closed in the 70s, it stayed vacant for 25 years. "The city wanted to tear it down. We have a local owner who was really passionate about the building and wanted to save it." The hotel was gutted to the bare walls, completely refurbished to the tune of $45 million dollars and reopened in 2006. The 12,000-square-foot property kept many of the nuances of the old hotel. "As a historical property, the hotel carried out the themed look and feel of the 1940's," says Wolf.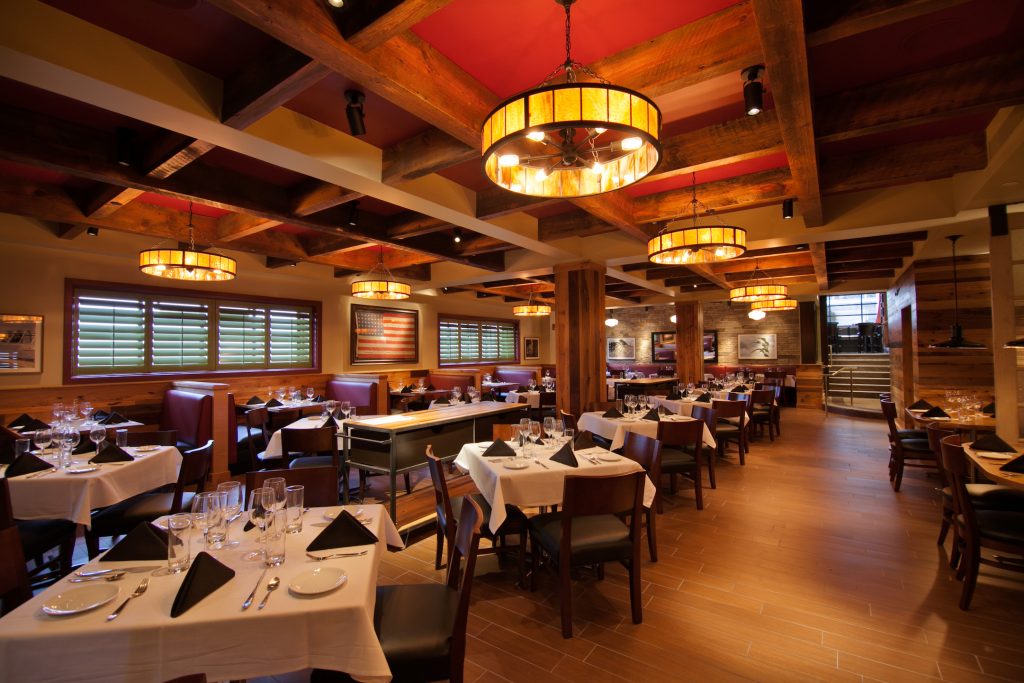 3) Frank Sinatra once performed in the hotel's lounge, The Drum Room."The Drum Room is not just a bar—it's a restaurant with plenty of history," says Wolf. The Drum Room was added to the hotel in 1941 and featured many well-known entertainers, including Sinatra and Patsy Cline. With impressive drink specials during their 4 to 6 p.m. happy hour, the Drum Room has become to the go-to place for many downtowners. "There are lots of classic photos in the place and plenty of craft cocktails that are fun—the Jackie O, The Pendergast, The Calvin Coolidge Fizz," says Wolf.  The newly remodeled Providence New American Kitchen restaurant attached to The Drum Room offers both lunch and dinner to appease your appetite. "It's not your typical hotel restaurant. It doesn't feel like you're in a hotel—all the reclaimed wood makes it very unique," says Wolf.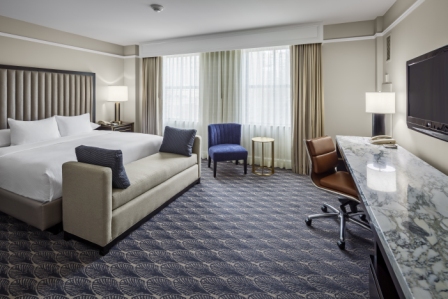 2) The building may be pushing a century, but inside the Hilton property, it's one of the most modernized hotels you'll find in the metro.The entire building is lit by LED lights. Thermostats are controlled by the guest, "but are smart and know to turn down the heat when a room is vacant. It's essentially a new building—very technologically advanced," says Strnad. Not only are the rooms much bigger than you'd expect from a boutique hotel, everything is designed to be user friendly. "All our door locks are controlled by your phone," says Strnad. "And this is all in a hotel that's basically 100 years old."

1) It's a magical destination to get married. The Hilton President Hotel held a select 45 weddings in their historic 12th floor ballroom last year. With so many premium amenities available, it's one-stop shopping for any bride and groom. "The ballroom has panoramic views on three sides, the original terrazzo floors from 1926, and replicas of the original chandelier," says Wolf. "The space is obviously very unique, a full-service property." With a dedicated in-house catering team and banquet team, the hotel is ready to cater to any whim. "It's turn-key. We're a very experienced operation, says Strnad. "We assist with outside vendors. It takes a lot of stress off the bride and groom. We offer many different wedding packages and bar packages as well."
As the only hotel in the Power and Light district, the Hilton President Hotel is the perfect destination for a weekend staycation or after a concert at Sprint Center.And keep an eye out, because you're likely to spy someone famous while you're there. "We have celebrities who stay here almost every week. If you are here on any given weekend, you'd probably see someone you'd recognize," says Strnad. "Celebrity spotting is high at Hilton President Hotel."
(An offer for IN Kansas City readers: Come on down and see this great hotel for yourself and enjoy 15% off an entrée in Providence New American kitchen. Just mention IN Kansas City Magazine. Good through 3/31/19.)