Sponsored content
Well, that certainly didn't take long. In fewer than four years, Firminio, a line of purses and other glam-posh accoutrements, has taken Europe by storm. The Italian co-owners, who are cousins, launched the company being touted by fashionistas as the next big thing in designer handbags. The bags have graced the covers of Glamour Italia, Vogue Italia, Marie Claire Italia—and the list goes on. Not too shabby for a fledgling fashion company, given Europe's penchant for designer labels.

Now their luxury line has hit the States—specifically Park Place in Leawood. Oh, and did we mention it's the only one in the country? "People love our bags—period. They think they're beautifully made, very artistic, very colorful," says CEO Kim Wilkie. "Many people comment that they remember seeing our bags while they've been traveling out of the country."
How did the metro score such a fashion coup? One word: family. "It's a family business that's keeping it in the family," says Wilkie. "Angelo Catenacci—a businessman here in Johnson County—is a cousin of both owners in Italy and wanted to bring the line to the States." Since September, Firminio US has been dazzling customers with their myriad of exquisitely designed, made-by-hand wares. "Go to our website or Instagram—you'll spy the craftsman cutting the leather, the suede, and doing all the stitching by hand. Even the hardware, the handles, and straps are individually created in Italy."
What sets Firmino's bellísimo line apart, you may ask? First and foremost, the price point. While we wouldn't call them inexpensive, the price tags certainly aren't astronomical. Customers are often gobsmacked at how reasonable the bags are—given the jaw-dropping attention to detail afforded to each and every purse.
And the second? Colors galore. (Fuchsia! Teal! Magenta!) "Shoppers in the States gravitate towards neutral-colored handbags," says Wilkie. "We're bringing a little taste of Italy to the States because Italians love bold colors." In fact, when the collection crossed the pond they didn't have a single black bag in their entirecollection. They went back to the leather mill (and the drawing board) to create a line of neutral colors from scratch.
With so many bags from which to choose, here's what you need to put on your wish list:

1) The most popular bag sold in Italy? The Sibel L. "It's a handbag and an elbow bag," says Wilkie. "You can wear this bag four different ways. Plus, with its classic shape, it can fit everything—wallet, day planner, phone, and still have room left over. It distributes the weight evenly. Everybody is buying this and you can see why." $319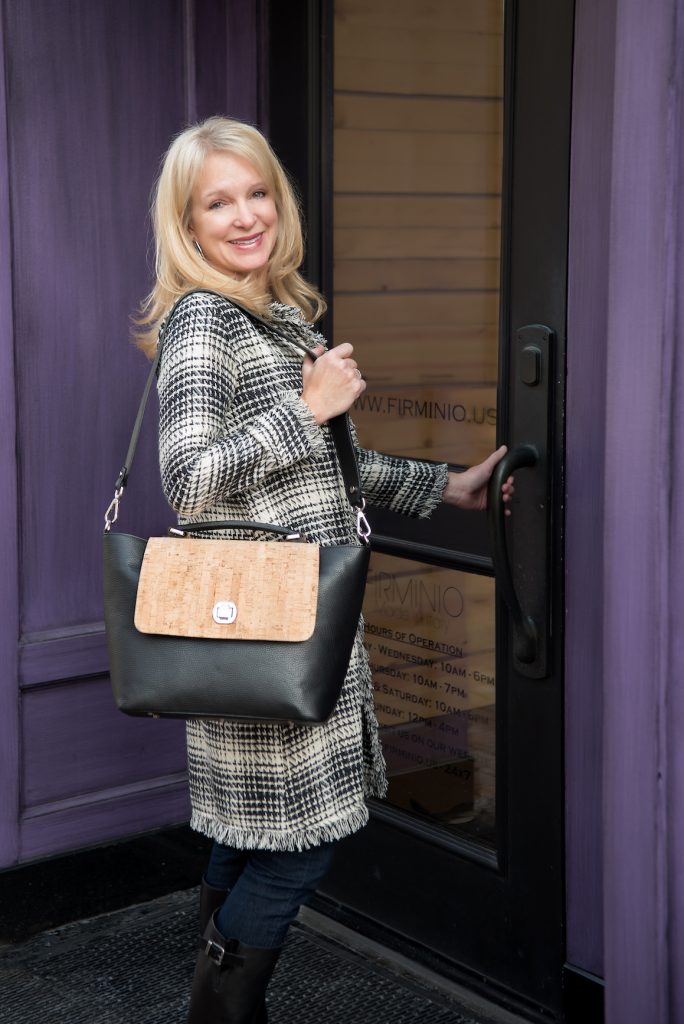 2) Next up—the QR 0.2. With its telltale cork flap, this purse will turn heads—guaranteed. Available in a variety of colors and two sizes.  "This one features a wider strap so it fits very comfortably—no more digging in to your shoulder," says Wilkie. "Notice the comparison of the cork against the pebbled leather. It's perfection, as is the hardware. And it also has a zipper, which makes it super secure." Prices range from $423-$470.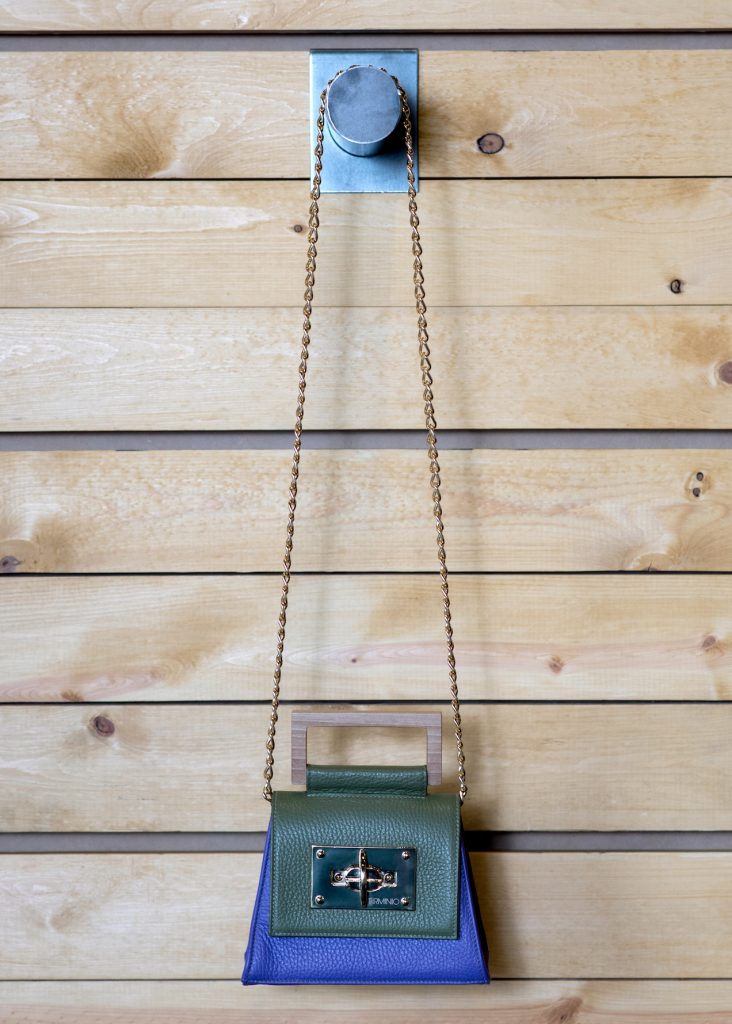 3) Third on your must-have list? Introducing the V 0.1. We love the dual tones of purple and army green. And the statement clasp does just that—makes a statement. "This is a perfect little evening bag with a black dress," says Wilkie. "The hardware comes with a handmade walnut handle crafted personally by Angelo's cousin, Roberto." (Shout out, Roberto!) "The upside-down V-style with the gold-metal strap is eye-catching—especially if you're headed out to an elegant event." $325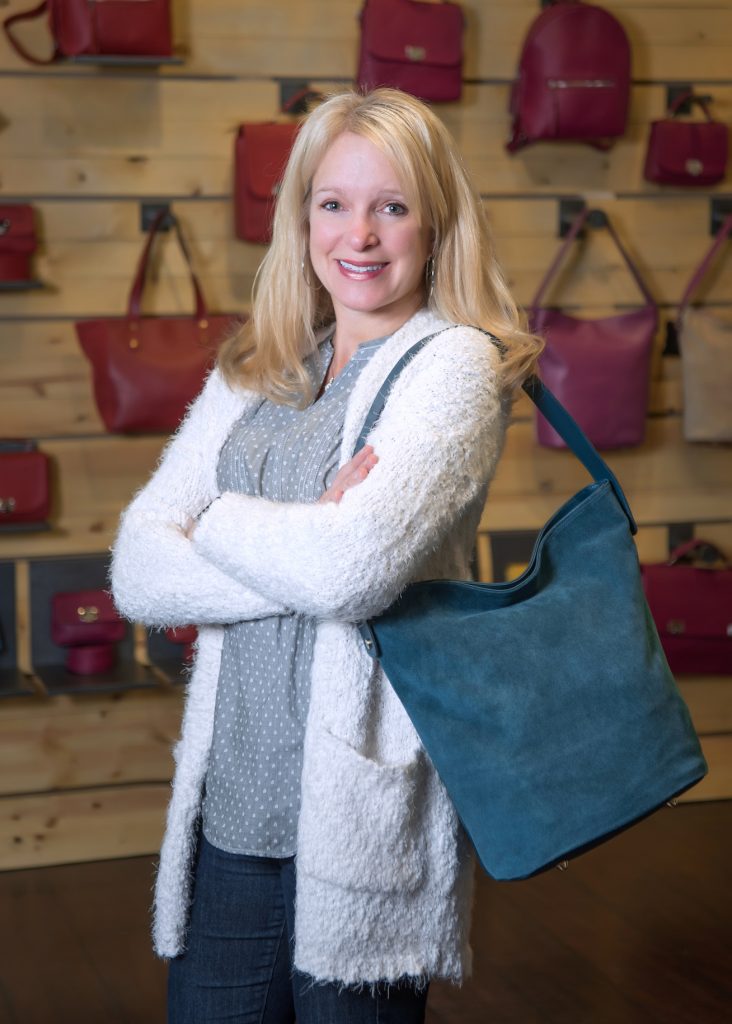 Editor's pick: Remember when we mentioned Firminio's bold, vibrant offerings? Well, it's no wonder we picked the Antonia, a memorable shoulder bucket bag. "What makes it so unique is there's soft suede on one side and beautiful leather on the other," says Wilkie. "No matter which way you wear it, you're creating a look. Some even have contrasting colors—like fuchsia and khaki." $349.
If the stunning design of these handbags isn't incentive enough, the team at Firminio has a 20 percent-off special on everything in the store through Christmas. Drop our name.