Sponsored content:
Last year, Kansas City-based Clovr began creating quality cannabis products for Missouri's medical marijuana patients—everything from gummies and vape pens to concentrates and beverages. One thing that was missing in their cannabis-infused collection was chocolate. And Clovr didn't want to feature any chocolatier, they wanted Christopher Elbow to helm their efforts.
As is typically the case in Kansas City, introductions weren't that difficult. "Our attorney knew his attorney," says Bethanie White, the director of marketing at Clovr. "It was a no-brainer that his name came up in the first place."
That was nearly two years ago.
Coincidentally, Elbow had been quietly snooping around for a collaborative chocolate/cannabis consortium. "When Missouri had passed marijuana for medicinal purposes, my door was being beaten down by lots of suitors who wanted my expertise in some way," says Elbow with a laugh. "I had done a bit of consulting experience in Colorado, and it allowed me to understand what kind of partner I wanted to be associated with.
Elbow adds that whatever partner he ultimately chose would need to check quite a few boxes. "To really reach an audience that knows my brand was ultimately the goal on my end," he says. "I wanted a company that had a level of expertise and that was very, very important. And they needed to have the right team together—experts on their staff who knew their industry. Clovr was the clear frontrunner with all of those items— which made my job a lot easier."

The only problem was what would Elbow and his team create. The options were endless. "Bonbons were obvious," he says. "And our chocolate bars use the same quality of chocolate and ingredients and craft, care, and attention to detail. It's no different. The standards are just as intense as they would be at our shop."
Turns out, creating cannabis-infused chocolate "was simpler than you would think," quips Elbow. "I've been making chocolates for 18 years—so it was our product, my recipes with the addition of high-quality cannabis. We wanted a boutique, artisan experience for the medical marijuana patient and to have this great tasting, special product while they are using the medication."

Clovr's partnered with a company to secure a license for a new Belton location less than a month ago and began unveiling Elbow's products to appreciative patients. Products include both salted vanilla caramel and citrus caramel bonbons. (Starting at $16 for two-pack of 20 mg bonbons.) Chocolate bars feature either a crème brûlée or Venezuelan dark-chocolate version. (Starting at $36 each for 100 milligrams bars.)
Consumers are loving the medicinal treats. "Perfect flavors and you can't taste the cannabis. There's not a harsh aftertaste, either," says Clovr customer Megan Brooks. "I've had Christopher Elbow's regular chocolates and love them, so I had to try these, too!"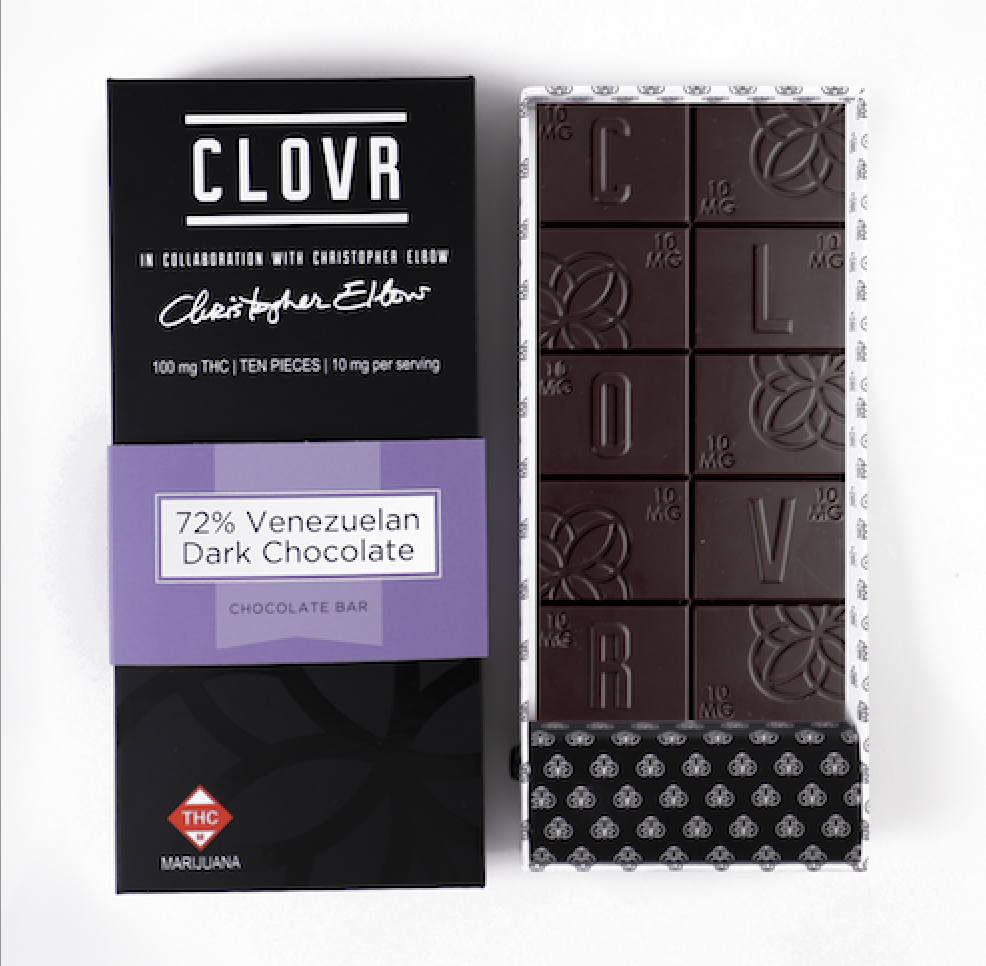 For now, Clovr is focusing solely "on Missourians who have their medical card and use our product for medical purposes," says White. "It's the Christopher Elbow experience that we're bringing to the medical cannabis industry. That's why it's a higher price point."
Even though Clovr just launched Elbow's brand, they're already eager to expand the line. "We're looking at malted milk balls and chocolate-covered almonds, but those will take a while to get the efficacy and consistency down. That's been the most challenging part," says Elbow. "Once we get our feet under us and production rolling, we'll start branching out with new products and flavors."

When we asked what product was on both White and Elbow's wishlist for their patients, they both paused. "Chocolate peanut-butter cups," they said in unison. Seems chocolate and peanut butter is the perfect combination—not unlike Clovr and Christopher Elbow. "I'm a proponent of medical marijuana and my craftsmanship lends itself to the industry," he says.