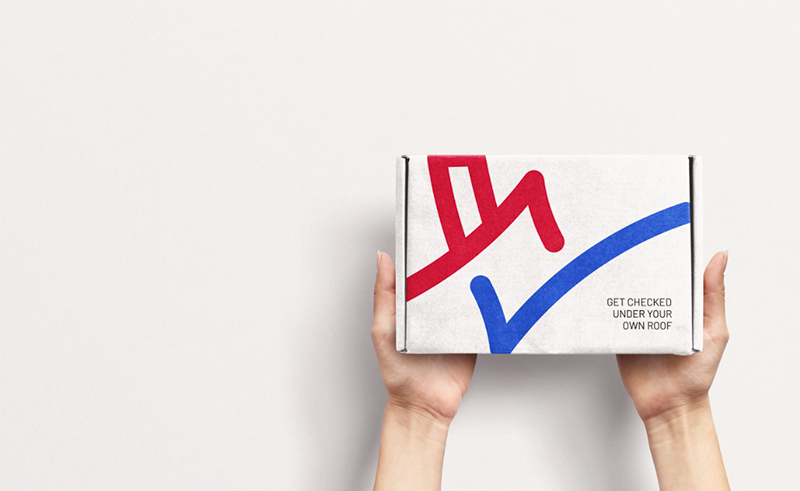 Sponsored Content
If there's one thing we can appreciate from these last few years, it's the shift toward convenience. Whether it's ordering groceries for curbside pickup or having fresh meals dropped off at our doorsteps, we've learned how to get everyday tasks done quickly and efficiently. 
Even healthcare has become less of a hassle as more doctors add telehealth options that allow patients to see their physician over video chat in the comfort of their homes. The only downside to that added convenience is that those appointments often end with a request for lab work—which even today is not so easily done from home.
The lack of quick, easy, and accurate options for at-home bloodwork inspired Jerred Mann to co-found a new company that set out to create a convenient way to get those important labs checked off the to-do list.
"When you have to spend a couple of hours at the hospital, lab, or processing center to get your blood drawn, that takes away the convenience factor," says Mann. "That's the premise of MyHomeLabs. We bring the laboratory to you."
Through MyHomeLabs, customers can order the blood test they're interested in and have it delivered directly to their home. After the kit arrives, all that's left to do is schedule an appointment for a licensed phlebotomist to come to the home or office and collect the lab sample. 
"It's a customer-first fusion of old and new healthcare models," Mann explains. "We're offering a full 360-degree in-home health experience that integrates the convenience of digital healthcare with the doctor-grade accuracy of traditional lab work."
After customers complete a 15-minute appointment with a certified medical professional, the blood samples are sent directly to a CLIA-certified lab for testing. Customers then receive a notification when results have been uploaded to their private online portals. 
Convenient For You and Your Doctor
While designing the concept for the Overland Park-based company, Mann and his team of scientists, doctors, and health and wellness professionals at MyHomeLabs set out to reinvent the wheel.
"There are companies that provide fingerstick blood testing, but the problem is the collection process of a fingerstick is just not as accurate. If patients come to me with a fingerstick, I'm going to say we have to do it over again because I can't make any decisions on that alone," says MyHomeLabs Chief Medical Officer Neal Erickson, a family medicine doctor who's been practicing out of St. Joseph Medical Center since 1995, and the team physician for Sporting KC.
"With MyHomeLabs, they send a phlebotomist to you, and they'll draw a true venipuncture stick," he says. "Then when you come in with this data, we can have an honest discussion about how to manage your symptoms and what you can do to maintain your general health."
By completing lab work ahead of time, doctors can get to the bottom of a patient's symptoms more quickly, rather than instructing the patient to get bloodwork done after their initial appointment and then ordering further testing or prescribing medication after that bloodwork is completed.
"We talked to hundreds of primary care physicians who have said if a patient would walk in with these results ahead of time, they could get so much more done in the 20 minutes they have with their patient," Mann says. "From a patient standpoint, it's preventative healthcare that saves time, money and frustration. We're taking our healthcare into our own hands and creating the accessible, on-demand system patients deserve."
A Variety of Lab Tests on Your Time
With MyHomeLabs, customers can choose from a comprehensive list of common lab tests they can get delivered straight to their homes:
Test kits arrive in two to three days and range from $99 to $349. The cost of each kit includes the phlebotomist appointment and can be paid for with FSA and HSA accounts or by credit card.
After the blood sample is collected, customers receive test results within three to four days. Customers who have questions about their results can schedule a telehealth appointment through MyHomeLabs within 15 minutes of receiving results, or they can have their results shared with their primary care physician.
"All of the kits are so convenient," Mann says. "You get your box, scan your code, register your kit, and the next thing you know, you have a phlebotomist at your doorstep and within three or four days you have actionable results."