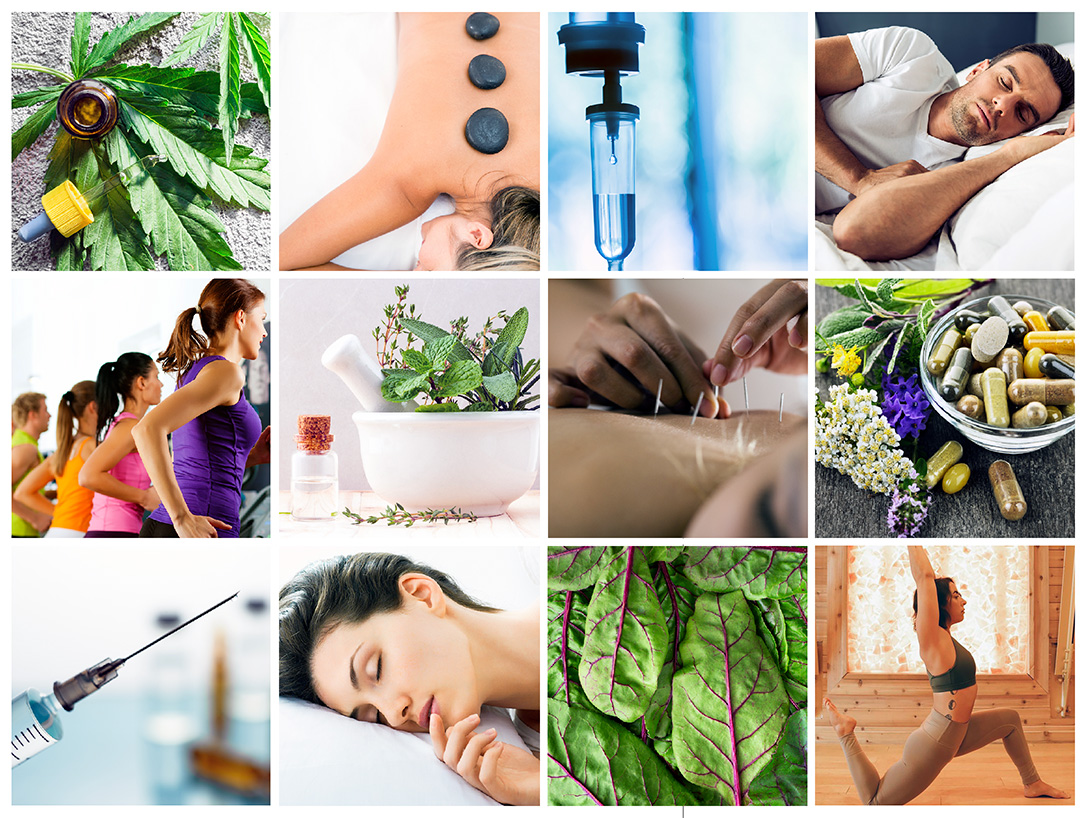 The world of modern wellness weaves a tangled web. Proponents claim better connection and improved health, energy, sleep, and more, while skeptics see an elitist industry based on fads, profits, and pseudoscience. But one thing's for sure: the deluge of wellness offerings—essentially all the things that can help you feel and function better emotionally and physically—shows no sign of letting up. Here, a report on the latest happening in KC.
The Rise of Holistic Approaches
Treatments like acupuncture and botanical remedies are popping up at reputable hospitals and healthcare institutions. While not historically a part of mainstream medicine, they're showing promise with managing pain, stress, and chronic diseases.
"Conventional institutions are recognizing that some of today's most common and consequential health problems—cancer, diabetes, and Alzheimer's disease, for example—don't have a singular, obvious cause," says Yoon Hang "John" Kim, a physician at Integrative Health at The University of Kansas Health System. "It's helpful to have an approach that considers all potential factors."
Which is what Kim and his staff at Integrative Health do. They look at the whole person, not just a specific illness or symptom, and explore how each aspect (such as diet, physical activity, sleep, and mindfulness) may be connected to and influencing their health.
They then prescribe a personalized blend of therapies that include conventional, alternative, lifestyle, and traditional Chinese medicines. Integrative medicine does not attempt to replace Western medicine—if you break your arm, for example, putting it in a cast is probably still best, says Kim. It acknowledges that sometimes other therapies may work just as well as, or better, than mainstream ones.
"As long as health problems with complex causes continue to be a problem, patients will benefit from integrative approaches."

–Dr. Yoon Hang "John" Kim
Chronic pain is one area where integrative approaches may be advantageous. Prescription pain medications can be highly addictive and pricey, while over-the-counter pain pills can have serious side effects when used long term. Drug therapies treat the pain itself and not what's going on in your body that's causing the pain, according to Kim. "We look for the root cause of pain, with the idea that stopping it at the source can bring long-term relief," he says. "We also teach mindfulness techniques so patients can learn ways to react to their pain should it return."
Acupuncture, specifically neuroanatomical acupuncture, which combines the latest scientific evidence with the ancient Chinese practice, is also used to help with stress, fatigue, depression, hormone-related symptoms, infertility, sleep problems, and dry eyes and mouth, says Kim. Food as medicine, understanding how diet affects you, and integrative oncology—working with medical oncologists to manage the side effects of cancer and cancer treatments—are additional therapies used at Integrative Health.
Shawnee Mission Medical Center (now AdventHealth) and Meritas Health North Kansas City Hospital are also implementing holistic and complementary therapies.
AdventHealth staffs naturopathic doctors who prescribe herbal and botanical preparations, dietary supplements, and lifestyle counseling (exercise, sleep, stress, nutrition) to treat digestive disorders, skin conditions, and hormonal imbalances. They also prescribe cancer treatments to complement those recommended by a medical oncologist.
Meritas Health North Kansas City Hospital reports that acupuncture, acupressure, massage, and herbal medicine are available to help manage pain and treat a wide range of conditions.
Are these approaches—designed to ease stress and encourage healthy behaviors—the future of medicine? "As long as health problems with complex causes continue to be a problem, patients will benefit from integrative approaches," says Kim. And, the more people in Kansas City learn about and understand them, "the more they're willing to consider them."
CBD Explosion
Chances are, you've noticed cannabis products are everywhere. You may even know someone who rubs CBD balm over their sore muscles or adds CBD oil to their smoothie. But what exactly is CBD and why is it so popular?
For starters, it won't get you high. CBD stands for cannabidiol. It's an active ingredient that can come from two different cannabis plants, the hemp plant or the marijuana plant. CBD products tend to be derived from the hemp plant—the same plant used to make hemp textiles and seeds—which contains only trace amounts of THC (the psychoactive ingredient in marijuana that causes a high).
So what can CBD do for you? It's gaining popularity as a treatment for a variety of health issues including anxiety, insomnia, chronic pain, and muscle relief. While research to confirm these medical benefits is ongoing, anecdotal reports and observations of CBD's healing properties are surging.
The strongest scientific evidence is for CBD's ability to treat seizures associated with epilepsy in children. This summer, the FDA approved the first ever CBD-based drug for children with this condition.
Given the explosive demand for CBD, products are sprouting like weeds. The rush, along with inadequate product regulation, has resulted in a market that's a bit like the Wild West. Research published in the Journal of the American Medical Association from 2017 found widespread mislabeling of some CBD products sold online. There was both under labeling—the amount of CBD in jars was less than quoted on the packaging—and over labeling, where products contained more CBD than labels said they did.
Efforts are being made to establish standards and best practices for growers and processors of hemp, says Vince Sanders, founder and CEO of CBD American Shaman, a local company with more than 20 stores around the metro. Beginning on January 1, 2019, products that have completed the U.S. Hemp Authority Certification Program—meaning they've met standards set by the U.S. Hemp Authority and undergone a third-party audit—will be able to use the Certified Seal of the U.S. Hemp Authority. The goal, according to their website, is to give confidence to consumers and law enforcement that hemp products are safe and legal.
Two liquid CBD supplements made with nanotechnology are the most popular products sold by CBD American Shaman. The nanotechnology makes them more easily absorbed by the body so they're faster acting and longer lasting than non-nano formulas, according to Sanders. The Water Soluble Full Spectrum Hemp Oil can be added to any drink and the VG Cloud Tincture—CBD & Terpene Rich Hemp Oil can be dissolved under the tongue or vaped, says Sanders. Both are available in THC-free versions.
Next up for CBD: beverages. American Shaman partnered with The Roasterie to create a CBD-infused cold-brew coffee that will launch in this month. Sanders predicts energy and sports drinks that contain CBD will reign in 2019.
Embracing the benefits of hemp is not new. "Humans have known the incredible ability of these cannabinoids for thousands of years. To see it embraced at the level it is today," says Sanders. "Wow."
Vitamin and Hydration Boom
Vitamin shots and IV infusions are about as easy to find as a manicure with the number of walk-in boutiques and mobile units now open in Kansas City. No longer just for nursing hangovers, menus boast vitamin combinations to de-stress, boost energy, improve hair, skin, and nails, relieve migraines and muscle cramps, recover from a marathon, and more.
Vitamin infusions flow directly into a vein in your arm from an IV bag that contains a blend of saline, vitamins, and maybe minerals, depending on which treatment you choose. They take 30 to 60 minutes to complete. Vitamin shots are quick—requiring just enough time to push one syringe into a large muscle—and are released into the body more slowly than those injected into a vein.
What's the payoff for getting poked? The body better absorbs vitamins given intravenously or intramuscularly compared to supplements we swallow, explains James Mirabile, a physician and medical director of Mirabile MD Beauty, Health & Wellness in Overland Park. This is because injections bypass the gut/GI system.
Mirabile has seen patients gain increased energy, weight loss, and neurologic function from the shots he offers (B12 and B6/B1). Injection schedules vary depending on the patient, but range from once a month to twice a week.
But while people experience post-infusion perks, skeptics of vitamin injections often cite a lack of well-designed, double blind studies that can conclude they're beneficial and safe, and that explain the mechanisms behind how they work.
As with any elective medical treatment, there are risks. Overdose with fat-soluble vitamins A, D, E, and K can lead to toxicity, which is serious, says Mirabile. Minor risks include injection site discomfort, inflammation and infection. Do your homework and choose a trusted practitioner before an IV injection or infusion is administered.
Fitness/Wellness Hybrids
While large fitness gyms with amenities such as steam rooms and juice bars are nothing new, boutique exercise studios are now implementing health and wellness extras directly into classes themselves.
The yoga and fitness sessions at Sweatheory, set to open in the Crossroads in this month, take place in a cedar room that's warmed by FAR infrared heat and that has a wall made of pink Himalayan salt.
FAR infrared heat uses long, light-based wavelengths that penetrate skin more deeply than air warmed by traditional wood and steam saunas. This allows the body to sweat more vigorously at lower, less stuffy temperatures. Sweatheory's creative director, Olivia Doneff, says this helps the body detox and stretch more easily and boosts your mood (endorphin levels have been found to increase after infrared-heat exposure).
"It's important to us that everyone who walks in feels refreshed and a sense of wellbeing."

–Olivia Doneff
Pink Himalayan salt, a natural anti-inflammatory, may allow for a deeper, more soothing breath during classes.
Kansas City's Sweatheory will offer sessions similar to those at the L.A. flagship—a mix of yoga, Pilates, meditation, resistance training, and a crystal and reiki class—plus a new, signature Sweatheory method. They'll also have a  shot bar that offers—yep—vitamin injections.
Sweatheory aims to be a one stop shop for all things healthy, says Doneff. "It's important to us that everyone who walks in feels refreshed and a sense of wellbeing."
If one wellness therapy is good, is layering more on top even better? Time will tell. As some continue to push for more proof through research, those who question convention will keep seeking alternatives. The bottom line may simply be it's important to stay open. After all, treatments that used to seem obscure are now accepted or showing promise. If one of them leaves you feeling better, that's worth something, right?