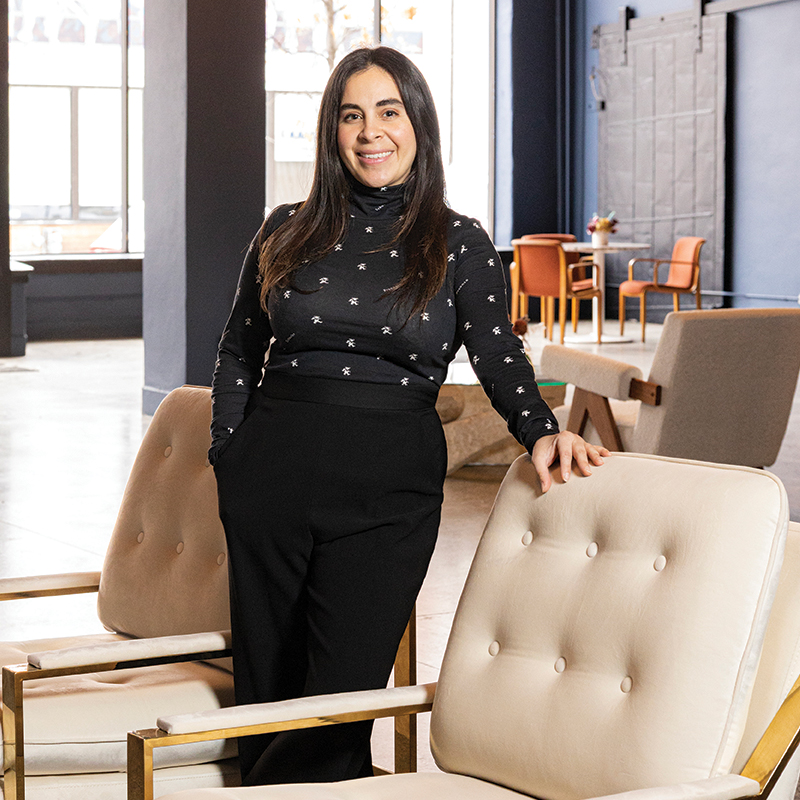 The Women in Business series is presented by UMB Women and Wealth
A few years ago, The Nelle was merely a hopeful glimmer in the eye of founder Lauren Saks Merriman. She wanted to build a city club in Kansas City, a welcoming, membership-based, social mecca created with women and the LGBTIA community in mind. It was similar to clubs she'd spied in much larger cities like New York and London. Merriman likens it to what she calls "a third space"—an outlet between home and work where members can find inspiration in each other but also a space that enhances members' lives as they relax, connect, disconnect, workout, and socialize.
Long before Merriman had a physical space for The Nelle to call home, she had two very important things going for her: buzz and plenty of movers and shakers who wanted to help make her visionary plans a reality. "Women have always been extremely supportive of this concept, which has gotten us to where we are," she says. "We had so many women invest early on—our founding members are how we've gotten here. Their finances have helped build the space it is now." After several pandemic setbacks, The Nelle opened on January 20.
Arts and community are primary pillars at The Nelle which only complements the diverse membership and program offerings. "At least 25 percent of the programming we offer will have something to do with the arts. And at least one of every four members will be part of our artists' residency program," she says. Those members are gifted membership for a year—and it runs the gamut, "maybe a painter, a beadmaker, or someone in textiles," says Merriman.
Merriman wants guests to come plug in and connect with others—or do your own thing. "We have a gym, a movie theater/screening room which doubles as a presentation room. We have a private dining room that doubles as boardroom. And our mezzanine is kind of like our library. Bliss Books—a local women-owned bookstore—helped source many of our reads. It's just a fun spot to gather, relax, and catch up on what's happening."
Throughout the process of creating The Nelle from the ground up, she says she "had a ton of pushback. As a women entrepreneur, my dad said no, my husband said no. Everyone around me that was a male in my life was saying, 'No, you'll never be able to afford this,'" she says. "I'm really thankful for the community of women who believed in me and invested in me. It's been so monumental; I have no words. I'm so grateful for it. I would have taken those no's from those men long ago and probably wouldn't be here right now opening this space for all these women."
And while The Nelle is a novel concept in the metro, Merriman welcomes any and all potential competition. "I'm so excited for Kansas City to have something that cities like Chicago, London, and Los Angeles already have going on," she says. "There's so much room for it here. I want to see this city flourish and options for people who already live here or are thinking about possibly moving here."
For now Merriman is relishing in the fact she's created a space that celebrates diversity and the personal accomplishments of The Nelle's members. She's also proud of how The Nelle works hard to run the business in an exceptionally sustainable manner. "Everything comes from fair trade, artisan. We compost with a female-owned business, Compost Collective, another 'Nellie.' We switched to wind power. Even though it costs more, it's worth it. We're trying to be as green as possible. We even purchased vegan paints for the space. We're trying to be thoughtful in every single thing we do." (Fun fact: Even The Nelle's mobile app was designed and coded by a full women's team based out of the U.S. and Thailand.)
Accolades aside, the mom of six says The Nelle opened because her sheer perseverance paid off. "I'm trying to set an example for my kids every day. For years, they've heard me mention I'm going to open this—and they've seen me through all my struggles," she says. "I wanted to show my four daughters and two sons you can do anything you want. It's been a labor of love and one of the hardest things I've ever done."