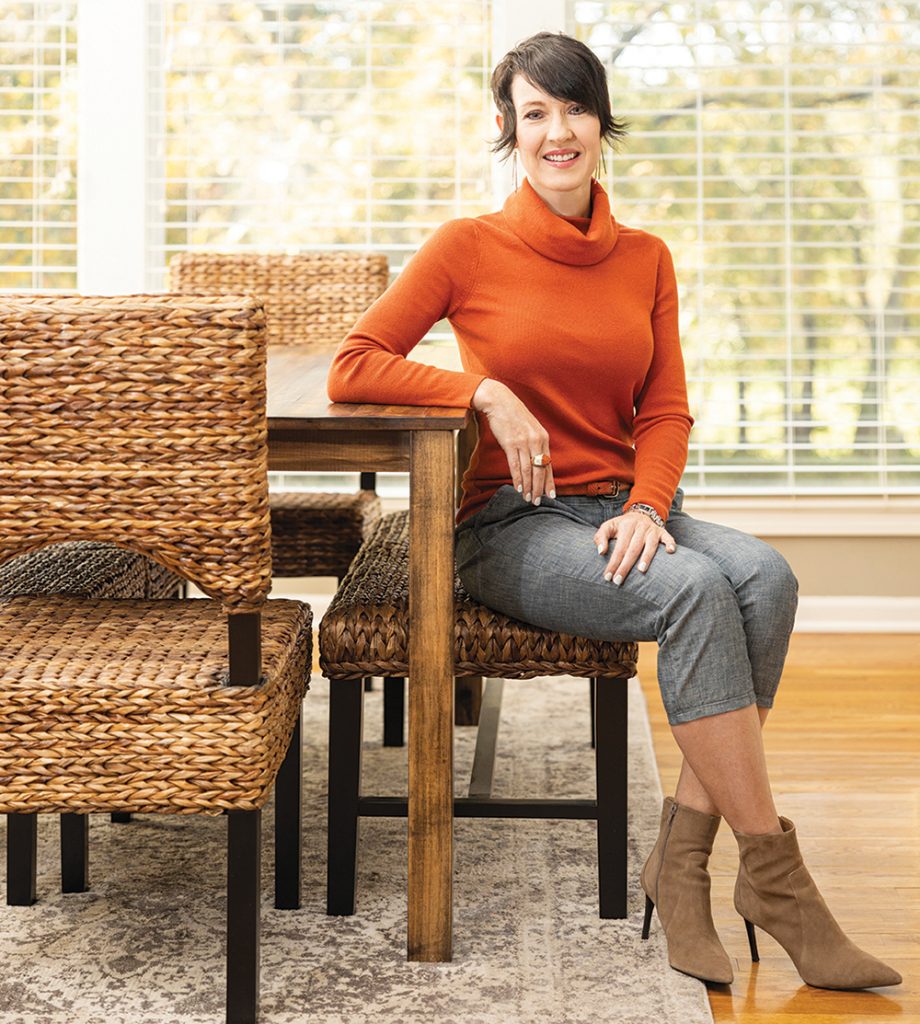 Women in Business series presented by UMB Women and Wealth
In 1997 and fresh out of college, Jennifer Spencer knew she wanted to pursue a career in advertising. "I was really motivated, really go-go-go. Every ad club or activity, I was in it to win it," she says. However, once she landed her first gig at an advertising firm, she soon became disenchanted. "I wasn't allowed to lead anything. I felt like I was a glorified executive assistant," she laments. "I got bored and reached out to a couple of recruiters in town. I thought maybe I needed to be at a different agency."
Turns out, serendipity was definitely on her side.
Her zeal for advertising during the interview impressed the recruiter so much, he asked her to work for his company specializing in—you guessed it—advertising and marketing. "So I quit the ad agency and decided I'm going to try this recruiting thing—except I didn't know what recruiting was," she says with a smile. "You don't go to school to be a recruiter. But I'm a studier—so I jumped in and learned everything I could."
She's not kidding. Spencer beat down the doors at countless agencies and asked to watch how various marketing firms chose their personnel. "I'm not afraid to ask questions. I said teach me everything about all the positions I was hiring," she says. "I wanted to know what makes a good art director, a good designer, a good writer. I wanted to be educated. I didn't have one person turn me down when I asked, 'Can you show me your ways?'"
And before she knew it, Spencer started making a name for herself in her niche world of recruiting. Well, more specifically, a nickname. "I hustled, hustled, hustled—and the more people got to know me, that's when Jennifer Spencer became JenSpen," she says.
After a few more stints at recruiting firms, Spencer says she was ready to fly solo. Her eponymous company The Spencer Group, Inc. was born in late 2001. "At the end of the day—if you boil down what this job is—it has a sales aspect to it. But the difference with a really good recruiter is that we really genuinely care about the people we work with," she says. "I'm not trying to place someone in a job they're clearly not suited for. I don't want to force anything. I care about the candidate and the company—and building deep, long-lasting personal relationships."
At the beginning of her career, Spencer was often the only woman holding court during high-level discussions. "When I first started, it was heavily male-dominated. Anyone at the top was a guy—creative directors, account directors. There were very few women," she says. "For me to be a female in recruiting in the late 90s/early 2000s was pretty crazy." Fortunately, her authenticity and sheer ability to match ideal candidates with companies was her calling card. "I'm fast and connect people really quickly. I have a weird ability to understand what a company is looking for and what a team needs."
With 20+ years of experience, she's also become savvy at salary negotiations—especially when it comes to women being paid what they're worth. "I have 22 years of salary information—so I have definitely helped a lot of women negotiate more because I knew what a guy was making. Back in the day, if you had a sneaking suspicion, you're being underpaid, there's a good chance you were. Today, salaries are much more equal than they used to be."
More than anything, Spencer says she's proud of the work she's done for small businesses and companies—many of whom end up being clients for life. Her sagest piece of advice? "Never stop networking. Do not become complacent," she says. "Authentic networking will carry you through when you get laid off."
Early this year, Spencer was on track to having her best quarter ever. That is, until Covid hit. "In mid-March, it all stopped. Everything was on hold. Companies were not letting anyone go, but they were not hiring," she says. The last few months have been challenging to say the least, but Spencer is seeing a light at the end of the proverbial pandemic tunnel and she's learned to accommodate accordingly. "It's fundamentally changed office dynamics—how people were meeting, interacting, and how you interview for a job. Let's just say, the interview process got totally turned upside down."
For now, the hiring brigade seems to be back on the uptick. And Spencer is back to doing what put her on the map—aligning people with their dream jobs. "I get what companies need and what the candidate needs. I'm a really good matchmaker," she says. "Maybe I should open a side business for dating?"