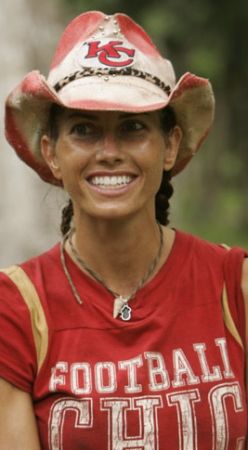 It's been 13+ years since Danni Boatwright cleaned up on Season 11 of "Survivor". She ultimately outlasted, outwitted and outplayed her competition, winning the $1 million grand prize in the finale. But what has she been up to since? Turns out—everything and then some, including motherhood, creating her own sports-centric clothing line and—Shhhh!—a secret she's been dying to tell.
So, it's been well over a decade since you emerged victorious on "Survivor: Guatemala". What have you been up to since taking your $1 million victory lap?
"I married former Chief and Iowa Hawkeye Casey Wiegmann and we have two vivacious kids—Bo (10) and Stone (7). We live in West Shawnee. I'm a country girl so I had to be close to the sticks. I literally travel every weekend for competitive baseball."
Do you still get recognized—and how do people think they know you?  
"Of course, locally I get recognized. Lots of people know me right away from 'Survivor', but it's funny because some people know my face, but can't remember from where. I like to mess with them and say we've probably run into each other at the store or something."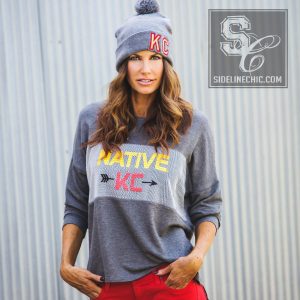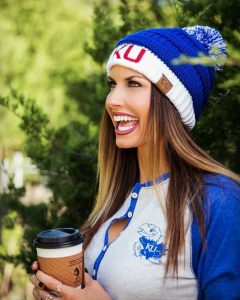 Score! You've got your own sport-rific clothing line?! How did Sideline Chic come about? What was the genesis behind it? 
"I started Sideline Chic alongside my good buddy Julie Zitlow. I wanted fun/stylish game day apparel to wear to games. I got so tired of the mass-produced options you see everywhere. I want Kansas City fans to look the most fab! Now Sideline has licensed Kansas and Kansas State men's and woman's attire. You can find us at Scheels, Bunker, RazzelBerry, Pink Charming, ShananiGanns, Eccentricity on Mass St. and, of course, Sideline Chic in beautiful downtown Bonner Springs."
You've got some some big news you want to share. What's happening in October? Dish!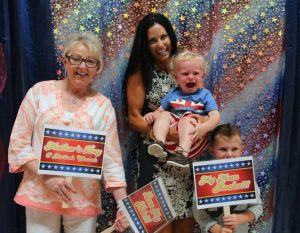 "Check this off the bucket list! I've just finished writing a series of children's books. The first of five books will be out this October. I love kids and wanted to write a series about overcoming adversity. Kids need to know that no matter what they face, they can overcome it and go on to do great, mighty things! I love ALL kids and want to motivate them to dream big and fearlessly. Adults suck, but kids are awesome!"
Recently, Survivor got renewed for a 37th and 38th (!!!) season. 'Fess up—can you believe it's still on the air? Why is it still so popular? 
"I cannot believe it's still on, but thank God it is! It's still my fave show. 'Survivor' is real reality. Most shows seem so staged, but I can tell you 'Survivor' is legit. It really is as tough as it looks. Hopefully I'll be playing again soon!"
Ooooooooh—how's that for a tease? Did she just drop another secret? Sounds like a bombshell from our resident Survivor bombshell. Stay tuned!