Sponsored Content
The next time you visit the Harry S. Truman Presidential Library & Museum in Independence, you won't have just any tour guide. In the museum's new visiting exhibit, former President George W. Bush will guide you through 66 full-color portraits and a four-panel mural he painted to honor our nation's service members.
While you won't see the former president in person, Bush recorded the stories behind each painting, now featured on an app that guides visitors through the Portraits of Courage exhibit. The app is programmed so that it only works when you're at the Truman Library.
"Most of the paintings are closely cropped portraits that I hope give viewers a sense of the remarkable character of these men and women," Bush writes in the exhibition's companion book, Portraits of Courage: A Commander in Chief's Tribute to America's Warriors, which is available for purchase at the museum. "I wanted to show their determination to recover, lack of self-pity, and desire to continue to serve in new ways as civilians."
You probably don't recall the former president having an aptitude for painting art—and rightly so. Before 2012, Bush had never picked up a paintbrush for anything other than painting a wall.
After reading Winston Churchill's essay, Painting as a Pastime, the former president asked an artist friend, Pam Nelson, for advice on how to begin painting. After a few years of taking classes and painting fruit, plants, and portraits of world leaders, Bush revealed real artistic talent. 
In 2015, Bush asked Sedrick Huckaby, a painter who had recently been honored in the National Portrait Gallery's Boochever Portrait Competition, for advice on his technique. The famed artist told Bush he should paint people he knew, but others didn't. So Bush began to paint the 98 men and women featured in Portraits of Courage.
"One of the main responses we've heard is something along the lines of, 'Wow, President Bush is a really good artist,'" says Alex Burden, executive director of the Truman Library Institute. "That has surprised them. They walk in thinking any president who paints is going to have some fame and acclaim because they were a president, but he's actually a really good artist."
The Story Behind the Service Members
Snag a ticket to the Truman Library and Museum from now until December 31, and you'll not only have all-day access to a self-guided tour of the museum, but admission to Portraits of Courage, too.
This is the first chance the public has had to see the portraits up close and personal while hearing the stories behind each man and woman depicted since 2020.
"People who visit feel the gratitude, the patriotism, they feel the hope for America related to these men and women who served our country and continue to serve our country," Burden says. "There's so much admiration for their willingness to fight for our freedoms and our democracy as visitors learn these individual stories of heroism, tragedy, service, and sacrifice. It makes it feel good to be an American."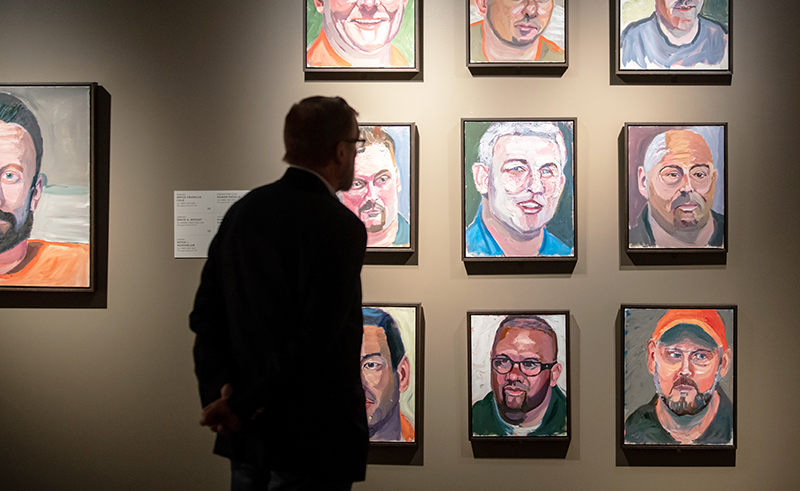 In addition to the portraits, the exhibit includes information and resources created by the Bush Institute's Military Service Initiative so visitors can learn how to better support post-9/11 warriors in their communities. These resources are intended to help bridge the military-civilian divide.
A Fitting Setting
Portraits of Courage is the first visiting exhibition at the Truman Library and Museum since the 2021 completion of a $29 million renovation.
"We wanted to kick things off with our temporary exhibit strategy with a huge bang," Burden says. "We have a planning process we did five or six years ago and doing things like this major exhibit was part of it. We started looking for which exhibit would be the best to take off this new strategy with, and Portraits of Courage was the perfect fit."
In the museum's year-round exhibit, visitors are directed along a path that takes them through Truman's time in the military during World War I and the actions he took as president and commander-in-chief during World War II, the Cold War, and the Korean war, among other important points in the late president's life. 
Burden says one of the largest visitor groups the museum sees are veterans, who can visit the museum for free until December 31.
"In most photographs, you'll see Harry Truman wearing his service pin from World War I, it was really important to him," Burden says. "Through the rest of his life, he oftentimes appeared at wreath laying ceremonies on Veterans Day, installations of new monuments honoring veterans around Kansas City, and he'd march in Veterans Day parades. It was something very important to him throughout his life."
Get tickets to visit the Truman Library and Museum at www.NewTruman.org, where you can sign-up for more event and exhibit news.