The. Chiefs. Are. Going. To. The Super. Bowl.
And Kansas City is collectively losing their ever-lovin' minds. We scoped out the interwebs and various social media channels to find out who's saying what about yesterday's epic AFC win: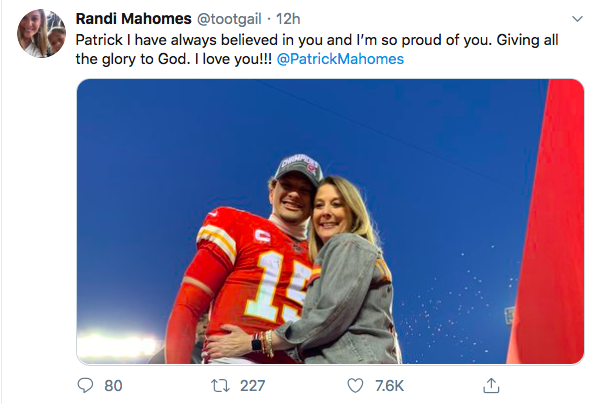 "Patrick I have always believed in you and I'm so proud of you. Giving all the glory to God. I love you!!! @Patrick Mahomes" – Randi Mahomes (Patrick's mom) on Twitter
"It's 3:30 in the morning and my husband is up tweeting about the win. At 3:30. In the morning. It's never gonna end with this one @KrisKetzKMBC … Thanks a LOT @PatrickMahomes, @Chiefs" – Dana Wright, KMBZ Radio on Twitter
"They must not know who I am yet. They gonna find out sooner or later when I got that ring on my motherf***ing finger. At the end of the day, we're f***ing champions. AFC!" – Chiefs defensive end Frank Clark during a televised interview.

"THANKFUL." – Chiefs safety Tryann Mathieu on Twitter
"Mahomes." – Steven St. John, Sports Radio 810 on Twitter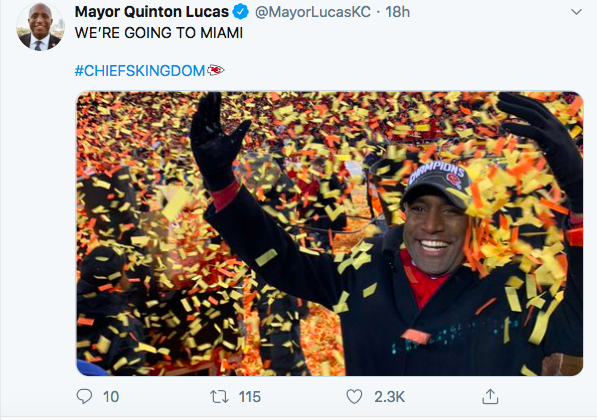 "WE'RE GOING TO MIAMI! #CHIEFSKINGDOM" – KCMO Mayor Quinton Lucas on Twitter
"Oh, yeah, baby. Unreal. This is unreal. This is unreal. Look at me. Look at this stadium. This is unreal." – Eric Stonestreet in an interview with FOX4
"I love this mf team!!!" – Chiefs wide receiver Tyreek Hill on Twitter
"Go Chiefs. I feel very strongly about this #SuperBowlLIV" – God, @TheTweetofGod on Twitter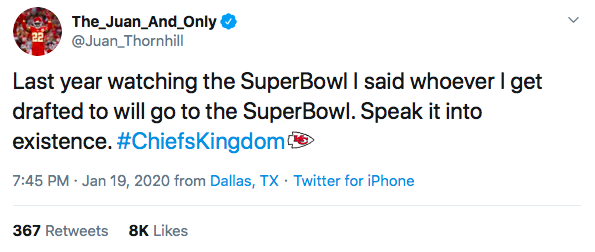 "Everyone has a backstory of why this is so important to them. It's okay to sports-cry." – Dani Welniak, KCTV5 Sports Director and host of KCTV5's Locker Room Show


And our fave? Well, it needs no words. Brad Pitt at the SAG awards last night wearing a Chiefs hat thrown to him by an adoring fan on the red carpet. Bless.