Dearest Patrick,
Happiest of birthdays!
Did you know Emmy-award winning actor Kyle Chandler (Friday Night Lights) was born on September 17th—as was poptart Anastacia? It's also the DOB for Elvira, Mistress of the Dark's Cassandra Petersen and Old West ruffian Billy the Kid. (Poor Kid, we hardly knew ye.)

But it's also your special day—our beloved Chief's quarterback. Can we start calling you Patrick the Great? Already done. You started your birthday week by hurling four touchdown passes in a pitch-perfect second period that led your team to a 28-10 victory over the Oakland Raiders on Sunday. Not a bad way to start your 24th rotation around the sun, young man.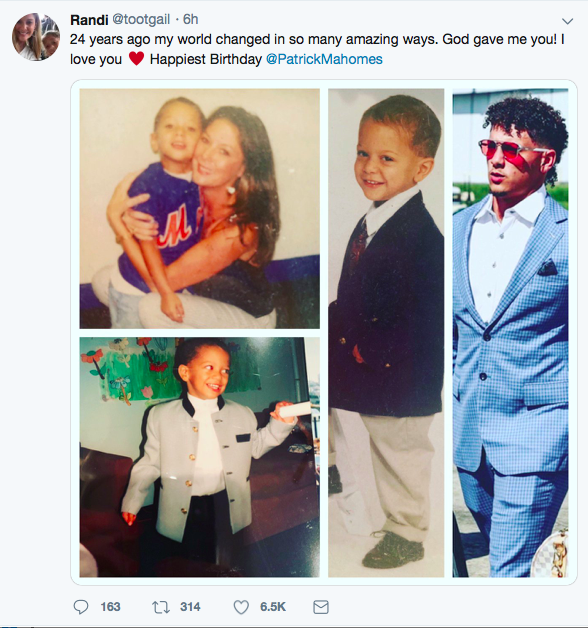 Yes, a mere 8,766 days ago, who would have known that bouncing baby Mahomes would eventually become such a beloved, behemoth player in the NFL? We hope you started off your morning with a big bowl of Mahomes Magic Crunch cereal. We know we did.

Oooh—and you're a Virgo. A quick check of your astrological chart says you're on a trajectory path for "progress, adventure and opportunity." (Well, duh.) And given that sapphire is your birthstone, we're considering all our options before deciding on the perfect jewel-encrusted accoutrement to get you. (We're leaning towards a resplendent sapphire headband. Deal?)
We also noticed that on this day back in 1630 Boston was founded. Mickey Mantle scored his 2000th (and 2001st) hit in 1964. Oh, and in case you were wondering Bewitched premiered back in 1967. All fairly significant happenings, we guess—but none compare to IX • XVII • MCMXCV, your date of birth, our friend.

May today be filled with laughter, love, and copious amounts of ketchup. Enjoy your day and then some.
All our very best,
IN Kansas City