With more than 30 years of photojournalism experience, David Eulitt knows the importance of telling a story or capturing a moment via his camera lens. Eulitt worked for over 15 years at The Kansas City Star and his storied photography career has allowed him to shoot two World Series, four Summer Olympic Games and countless Chiefs games. In 2017, Eulitt won a regional EMMY® award from the Mid-America Chapter of the National Academy of Television Art and Sciences (NATAS) for a video story he shot for the Star. Earlier this year, Eulitt became a corporate photographer for Midwest Health, based in Topeka, Kansas.
While he's not a sports photographer per se, Eulitt has photographed more than his share of action from the sidelines. When asked about his all-time fave pic, he waxed nostalgic. "Arrowhead Stadium opened on August 12, 1972—my seventh birthday. My dad took me to my first football game," says Eulitt. "I felt like the stadium was a present to me from the city. Ever since that day, I've been a football fan. I'm also very passionate about architecture, so maybe that fits in with this photo I'm writing about." Here's his recollection about his favorite photo: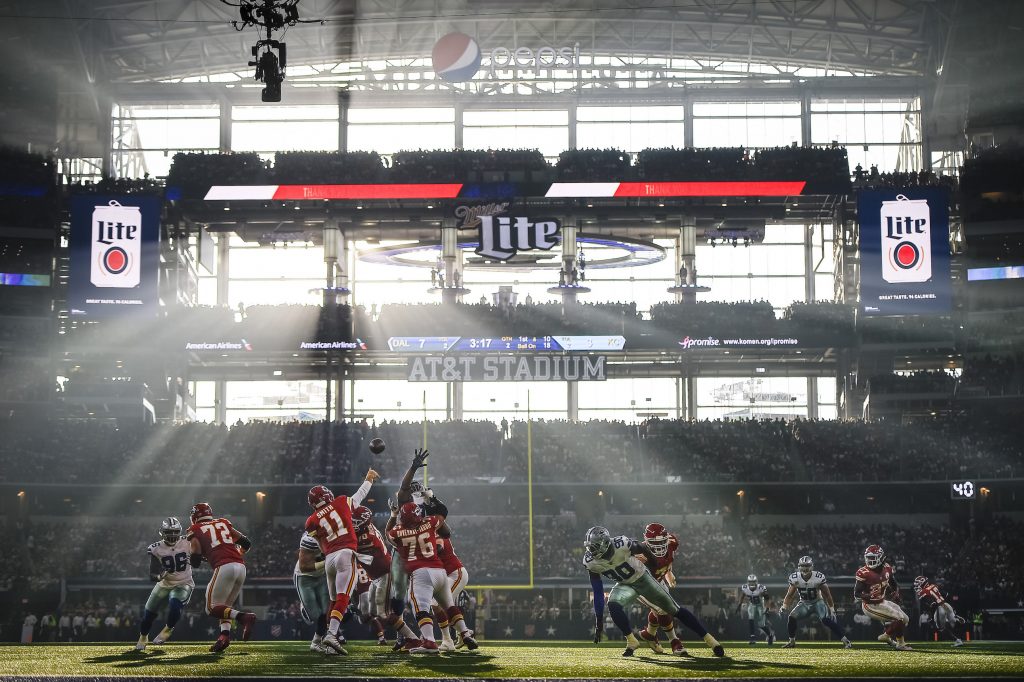 "During part of my 15-year career at The Kansas City Star, I had the good fortune to be the staff photographer assigned to cover the Chiefs for the season. That included training camp and practices, along with both home and road games. I've been a lifelong fan of professional football, so the work was a personal passion of mine. In addition to countless games at Arrowhead, I traveled to all of the other 31 NFL teams' stadiums, including some that are no longer in existence.
Last year, the Chiefs played the Cowboys in Dallas, and due to a quirk in the NFL schedule, the road game was the first time Kansas City had played in the Cowboys' new stadium.
One of the prominent features of AT&T Stadium in Arlington are the mammoth windows that stream sunlight inside the domed stadium. Most indoor stadiums have flat, even lighting so I was interested to see how a day game would look from field level through my camera.
As the first quarter ended, the sunlight was starting to land on part of the football field, however the teams weren't in the right place to take advantage of that. Near the end of the second quarter, the Chiefs were backed up to their own 18-yard line after a punt. The sun was streaming into the stadium through those big windows and the smoke haze from the pre-game fireworks still lingered in the air. I laid down flat on my stomach in the end zone and shot one play with my 70-200 lens.
What I liked about this shot—in addition to the light—was the football leaving quarterback Alex Smith's hand, the outstretched fingers of a Cowboys defender and almost all the players on the field being visible. And that includes receiver De'Anthony Thomas, at the very far right, who just made his cut to catch a 22-yard gain. I felt like this picture made the viewer feel like they were on the field, watching the action."