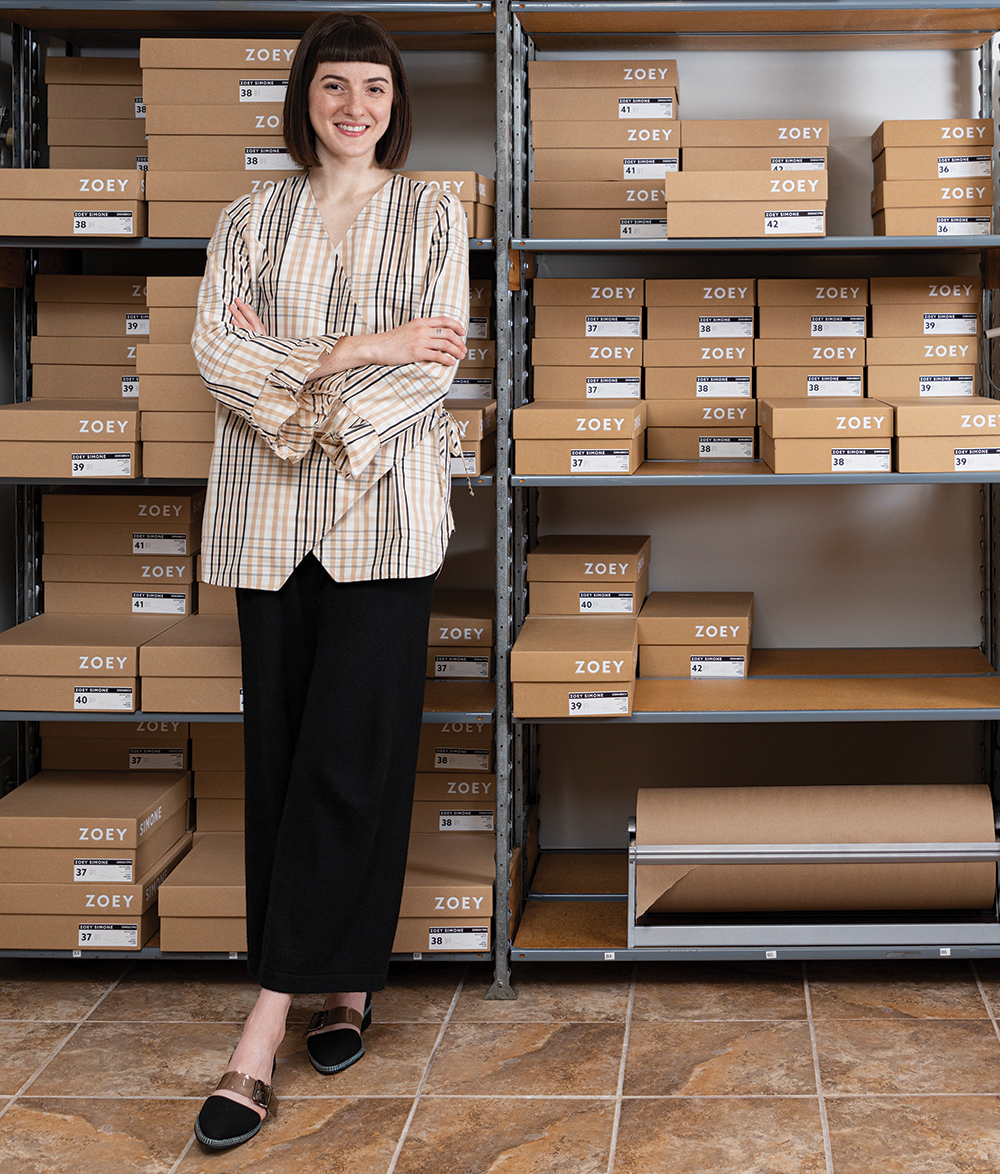 A Kansas City native, Zoey Chamberlain grew up in the Northland. She's been a designer at heart since grade school, where, in 4th grade she did a year-long research project on '70s fashion. She attended the Fashion Institute of Technology, spending half her time studying abroad at the school's FIT in Florence, Italy program. After receiving her degree in fashion design, Chamberlain moved back to Kansas City and worked for a local fashion brand as a womenswear designer. Her focus on technical design and working with overseas manufacturers developed her skills to launch her own brand. As a lifelong animal lover and vegetarian since the age of 5, her life and career are about connecting the dots between lifestyle choices and commitment to animal welfare. After becoming a vegan and cutting out animal-derived products and ingredients, Chamberlain discovered a disappointing lack of footwear available for the ethical and stylish individual. So she launched Zoey Simone—shoes and boots handcrafted in Portugal of quality, non-leather materials.
---
Zoey's essentials…
Favorite Design From Zoey Simone's Fall/Winter Line: This feels a little like picking a favorite child, but I'm going with the Block Heel Boot in Cyan Plaid. It is such a fun shoe and always catches someone's eye. I never leave the house in them without having a conversation about my boots!
Cocktail of Choice: Always a Negroni. Il Lazzarone makes a delicious one.
Dining Out: Taj Palace is my tried and true. They make a special off-the-menu vegan Navratan Korma with coconut milk if you ask and it is fantastic. I am always in the mood for rich, warm comfort food and this satisfies every single time.
Favorite Candle: I recently bought a Lake candle in "Fairway Fir" from Made in KC and it has been the perfect way to ease my home into fall. It smells so crisp and makes me want to curl up with a mug of Louisburg apple cider.
Made IN KC: In an effort to reduce plastic waste, I no longer allow myself to buy liquid soap. My favorite bar to keep in the shower is the Lavender Cedar Body Bar from Wild Wash Soap Co. It's vegan, palm-free, and comes in recyclable paper packaging. Win-win-win!
Date Night: There is no better way to spend an evening than by having dinner at Café Gratitude and then heading over to Fairway Creamery for vegan soft serve! Bonus points if we can squeeze in a movie at The Rio.
Fav Shop: Finefolk does such an amazing job of bringing in designers that you can't find anywhere else in Kansas City. I love their value of quality over quantity, and let's not forget that the shop itself is absolutely gorgeous!