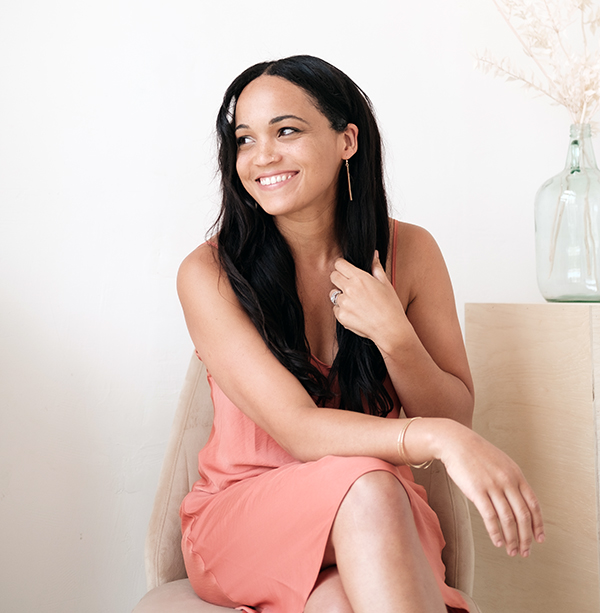 When Nikki Affholter founded Tirza Design in 2020, she wanted to use the business as a platform to make a difference in Kansas City. After spending time as a fashion photographer in Kansas City, Affholter met a handful of models who were survivors of human trafficking and domestic violence. "After seeing so many women overcoming situations of adversity, such as human trafficking, domestic and drug abuse, and poverty, there was a desperate need for safe and supportive employment and the ability to provide for themselves while working through recovery and getting back on their feet."
Through Tirza Design, Affholter hires survivors to handcraft jewelry and other products for the boutique—what she likes to call fashion with a purpose. Formerly located on the Plaza, Affholter is securing a new location for the boutique's retail location. Until then, she's offering merchandise at tirzadesign.com, and you can follow the boutique on social media @tirzadesign. "I love how strong the small business community in Kansas City is," she says. "We really are a team that champions each other's accomplishments and extends a hand when one is down. Shopping small is a growing part of KC life."
Nikki's essentials...
Local Artist: Anything Yaya Kieu puts on her paintbrush turns to gold. I love her hand-painted mural at West Bottoms Plant Company.
Morning Brew: I always love a spicy golden latte at Prefix Cafe in South KC. It's filled with turmeric, so I can feel somewhat healthy the more I drink it.
Self-Care Sesh: Spirit of Health in Grandview has all-natural products. I love to go there for all my self-care and physical health needs. The staff is very informative and caters to your individual needs as a customer.
Shop Local: I love Pancho's Blanket. They have a similar mission [to Tirza Design)]centered around helping people in need in such a practical way. Their style is unmatched. I have their Heritage print jacket and have my eyes on their new leather bags handmade in Mexico.
Comfort Food: One of my favorite local restaurants is Housewife Cafe in Grandview. Their avocado toast and haleem soup are my go-to comfort food. Plus, the atmosphere is family-run and down-to-earth.
Nightcap: For date night, I like a Ruby Red Slipper at Third Street Social in Lee's Summit.
Spring Fling: My family enjoys going to the Overland Park Arboretum & Botanical Gardens. Our kids love the annual spring blooms, and I look forward to spending time together as a family looking at all the flowers.