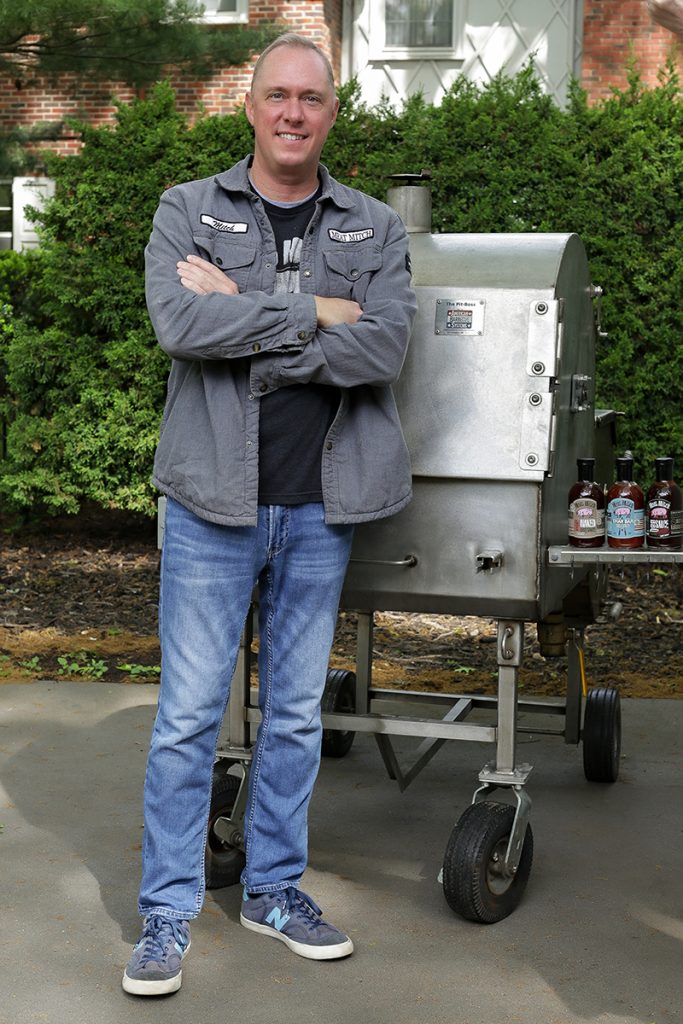 Before we interviewed restaurateur Mitch Benjamin, we didn't even know he had a last name. Throughout these parts he's simply known as Meat Mitch, the founder of his eponymous traveling Meat Mitch Barbecue Team. The former world champion pitmaster formed his band of merry meat misfits 20 years ago and they're still just as competitive as ever.
Benjamin—who is an owner/partner at the popular Char Bar Smoked Meats in Westport—is poised to open his newest venture, Meat Mitch Barbecue, in August at the Ranchmart complex at 95th and Metcalf. He's also the author of BBQ Revolution, and (shameless plug!) "It's available at meatmitch.com and due to ship this month, just in time for Father's Day!" he says.
When he's not helping put the cow in Cowtown, Benjamin is out and about exploring the community and getting to know the people. "I enjoy the laid-back and kind-hearted nature with which we all roll," he says. "We have all the great aspects of much larger cities without many of the unpleasantries that go with it. Kansas City is a true hidden gem—and the best-smelling town in the world!"
---
Mitch's essentials…
A.M. Eats:
My burnt-end benny at Char Bar—with extra crispy Jo-Jo potatoes. Then spend the rest of the day enjoying the outdoor barbecue playground. Winners win!
Java-nated:
I run on Dunkin' every day—specifically the one on 75th & Metcalf.
People Watch:
The American Royal BBQ Competition! It's one of my favorite places on earth—and with all of my favorite people. It's where I got my start.
Chill Out:
Walking the golf course. I decompress around the 14th hole and tend to lay down.
Dive Bar Hangout:
Bobby Baker's in Waldo. (Shhh, just don't let them know I'm in there.)
Sugar Fix:
I'm a total sucker for a double-layered chocolate chip cookie cake at Blue Chip Cookies in Leawood.
Spice, Spice, Baby:
I love Waldo Thai's Tiger Cry Beef with an extra heat crank. That place is money. I'll also ask what the chef recommends since their menu changes often.
Local 'Za:
Have you been to Johnny Jo's Pizza on 47th Street? I would sleep in there on a cot, but then no one else could squeeze inside. I've been thinking a lot about his green olive and sausage pizza.
Best Place to Be a Kid Again:
Kauffman Stadium. I'm a huge Royals fan. I wear a jersey every time I am in the stadium. (I actually have the full uniform and I've worn it.)
Meat Accoutrement:
I'm really digging my Anova Sous Vide!