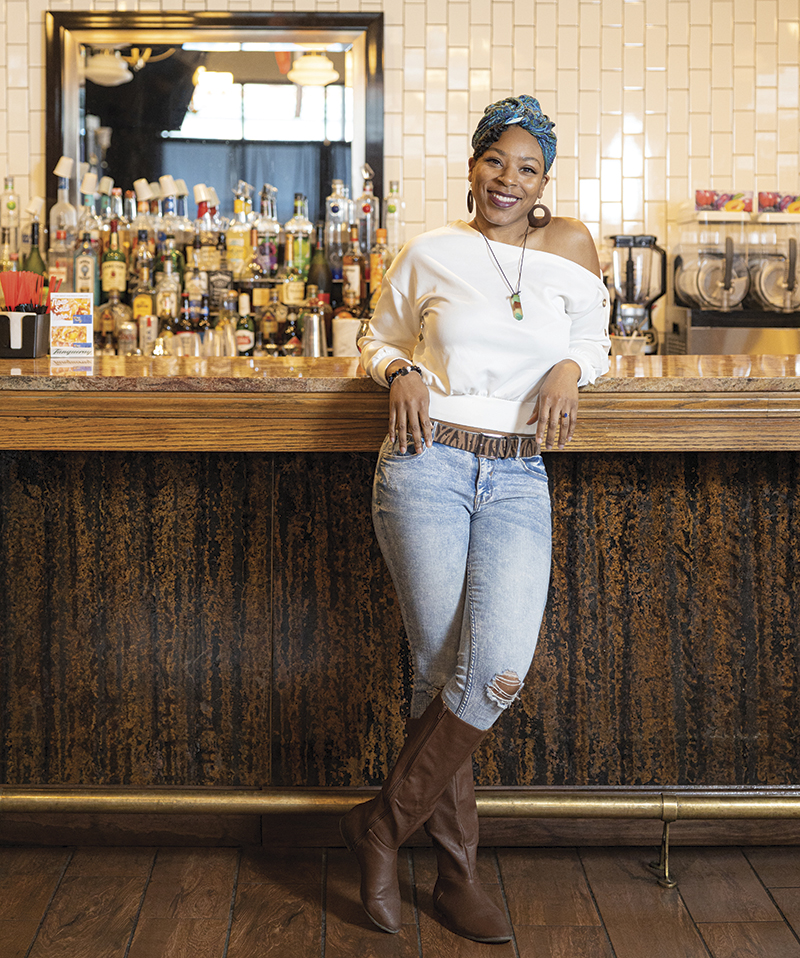 Event planners throughout the Midwest know that once master mixologist Marlena "Miko" Richardson and her team walk in the door, the party can officially start. Miko—as she's known throughout the metro—is the owner of Shots by Miko: Custom Cocktails and Shots. This local, full-service beverage company has become the toast of the town, with Miko and her crew concocting some of the meanest cocktails you've ever enjoyed.  (As one of Miko's partygoers once told us, "You can't spell libation without lit.")
Late last year Miko garnered some national recognition in a nationwide cocktail competition—besting competitors from across the country during Black Restaurant Week's Power of the Palate—where she made it to the final four. With two bachelor of science degrees (one in biology, the other in chemistry) from Baker University, Miko takes her mixology skills seriously.
We caught up with the cocktail maven who says she's not just a fan of KC, but of how quick it is to simply maneuver around the city with minimal fuss and muss. "I love the ease of access to most things—the suburbs, downtown, highways, malls, event venues," she says. Spoken like a true woman about town!
---
Miko's essentials…
Drop Some Coin Cocktails: I will say I have dropped some funds over at Eddie V's and
Stock Hill—mainly on just tasting their variety of cocktails.
Sweet Treat: I love Mr. Bulky-type stores where I can get a little bit of everything—chocolate, sour candies, caramels.
Chilled: My favorite place to decompress is lounging/lying next to my fiancé.
The Nose Knows: I do love some candles! My all-time fave currently is Cashmere by Black Honey Candle Company. Anything done by her is amazing—including her rose oil that I use in my hair and on my body. My fiancé uses it in his beard, too.
Keep 'Em Caffeinated: I love a great chai latte. The last one I had was from Thou Mayest. Plus, their homemade Pop Tarts are amazing. That combo right there can keep a girl going.
Must-Have Accessories/Accoutrements: I've tried out Boozy Botanicals syrups—a good source if I don't want to make my own. As far as accoutrements? I do like using LC's burnt ends on my Bloody Marys and Cee-Cee's Sweet Creations cake pops to accent sugar-heavy, dessert-inspired options.
To-Die-For Adult Beverage: Now this is a cold-blooded question. I go around the city making notes of my favorites at particular locations so I can have it again when I return. In real life, I really don't have a must-have, but I do enjoy the atmosphere and low-key energy provided by Manifesto and Green Lady Lounge.
Hidden Gem: I love food! A spot I recently discovered for great tacos (and even better sauce options) was Ricos Tacos Lupe on the Boulevard. I also recently found KC Burgers on 12th Street for North African food—but get there at a decent time because they will sell out.