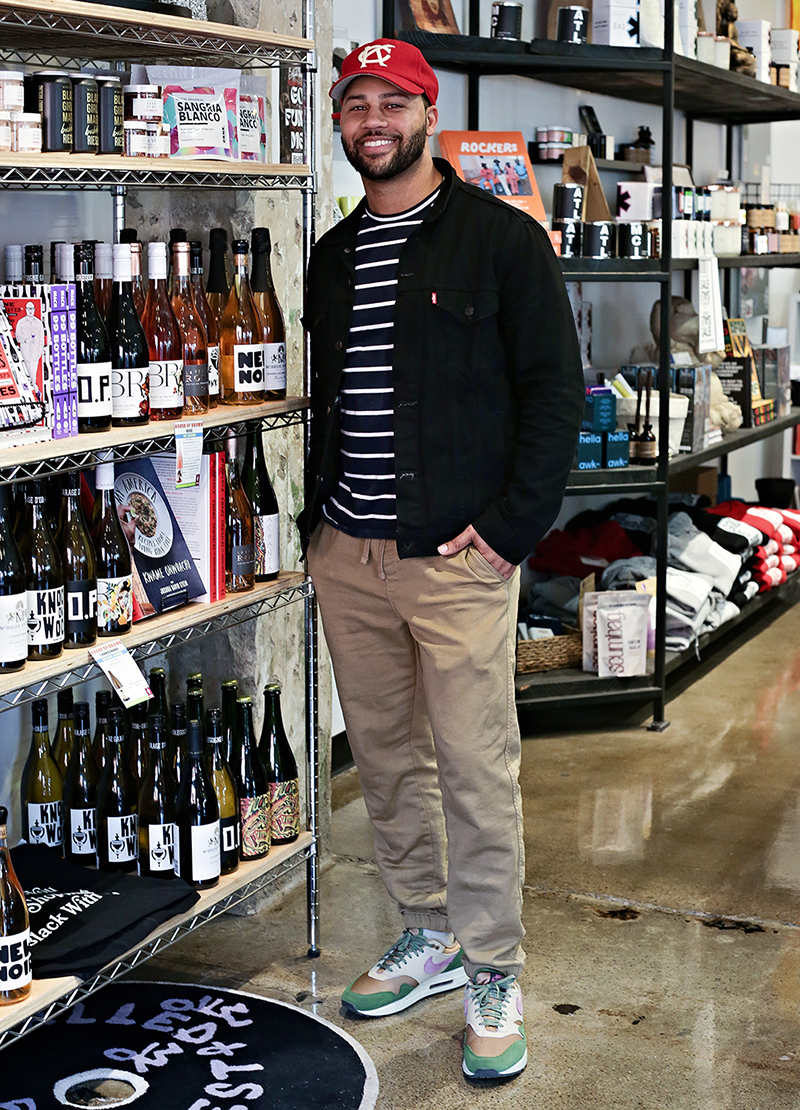 When Brian Roberts and his family moved back to the city where he was born and raised in 2019, it didn't take long before he started fostering support, awareness, and commerce anchored around Black makers in Kansas City. Fueled by his background in retail and manufacturing, the Raytown High School graduate launched The Black Pantry to elevate the Black community and spotlight locally made and produced apparel, gourmet food, household items, and accessories. "The Black Pantry is my second job, but the first business I have owned. I have a West Coast approach to how I see opportunities in KC, which is why I am so passionate about what The Black Pantry and any of the other endeavors I have will become for the city. Kansas City is very fertile soil, and those who aren't participating are missing out on a renaissance era."
Currently, Roberts is working on creating a cafe at The Black Pantry's brick-and-mortar location on Martini Corner. "We are working with a local, young Black architect, Carleigh Pope, to bring the city something special. What we have been able to bootstrap thus far is beyond anything I've ever done. I'm most excited about the amount of growth happening in Kansas City. If you are ambitious enough—help build this city! Everyone has an opportunity to help do it right. Kansas City is small, and everyone is within reach, so we can roll our sleeves up and either include ourselves or exclude ourselves—you don't get this opportunity in larger cities."
Brian's essentials…
Local Maker: Tirza Design Jewelry has great quality jewelry at an approachable price point with an even better cause. (Every purchase supports survivors of domestic abuse and human trafficking.) We sell them at The Black Pantry, and they are also sold at their retail location on the Plaza.
Self-Care Sesh: I use beard oils and balms by Trinity Hills. We carry them in the shop, and they always leave my beard feeling great!
KC Sip: The No Sweat juice by Ruby Jean's Juicery is a great refresher. (It's made with watermelon, apple, and lime.)
Nightcap: Big Mood Natural Wine has a really good range of wines to try. They even have a cocktail menu on certain nights. 
Dining Out: I like a slice of Cowtown pizza at The Combine for lunch. For special nights out, I am really in anticipation for two places—Noka and Privēe. They launch in the spring, and I've had front-row seats to the buildout—they're very special.
Spring Activity: I'm looking forward to what the KC Current does this year!
Made-In-KC Scent: If you haven't smelled The Gentleman or Hey, Daddy candles by Heaven Scent—you're living under a rock!