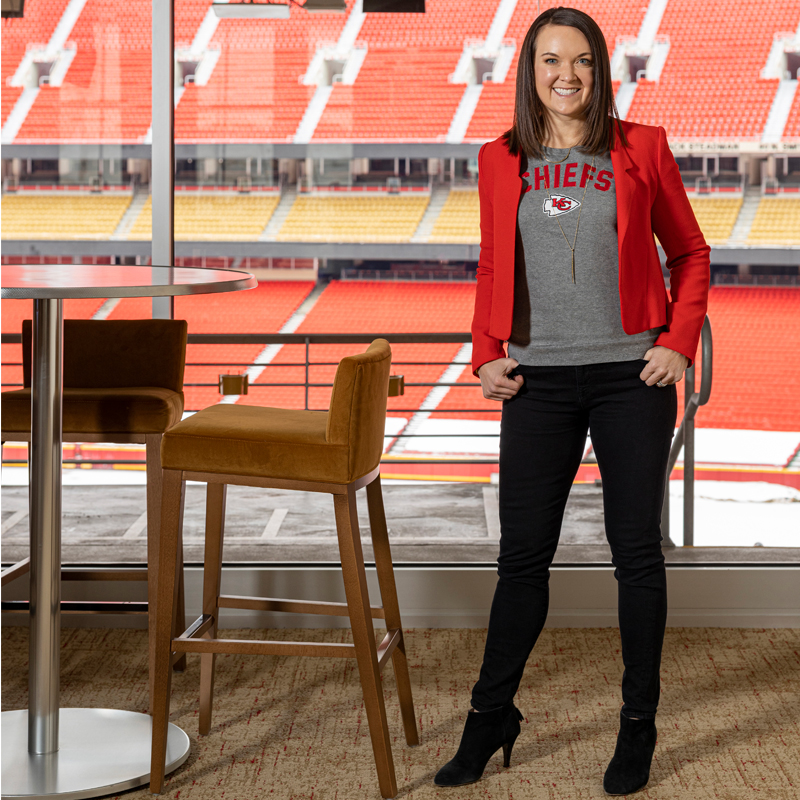 Anne Scharf is still on Cloud 9 after the Chiefs second stellar season in a row. Scharf—who has worked in the NFL for the past 17 years—is the Chiefs vice president of the Hunt Family Foundation and Civic Affairs. From corporate philanthropy to government affairs, Scharf does it all—including providing wide-ranging support for club ownership and team executives as it relates to civic engagement and responsibility.
Here in the metro, Scharf has served on the boards of various charities and chaired civic-minded events. While a student at Yale, she met her husband, Brian, a Kansas City native. After years living in New York City, they settled in Kansas City to raise their two sons and now call Fairway home. To call her a fan of the city would be an understatement. "KC is so unique in that it offers access to big-city perks but with the feel of truly being in a community," she says. "I've been so grateful to meet some of the most amazing friends, co-workers, and community leaders over the past decade.  The people in Kansas City are what make it special and home for our family."
---
Anne's essentials…
Hidden Gem: The Russell is my go-to for a business lunch, philanthropic brainstorm, weekend brunch, or catering for any event. I'm the worst person to ask for a specific recommendation—because I love every single item on the menu.
Chiefs Swag: The annual Chiefs Style Lounge event in November is the place to find the best options each year. 
Philanthropy 101: Philanthropy is the best way to maximize financial support. But, whether it's time, treasure, or talent, Kansas City offers endless ways to give back and make a difference.
Fragrant Finds: All of the Pickwick candles are amazing—especially Palo Santos. They can make any room feel cozy, calm, and welcoming.
Java-nated: I just recently discovered Messenger Coffee—and am completely hooked. The urban atmosphere makes me feel like I'm back in New York City.
(Sweet) Treat Yourself: The Restaurant at 1900 has amazing desserts that rotate seasonally. The chocolate mousse is a favorite right now.
Let's Decompress: I usually try to get outside for a walk or run with friends but also love Pilates classes at The Body Lab.
Motto du Jour: "You create your own happiness." It's easy to focus on things that frustrate you or weigh you down. But, if you're unsatisfied with something, the person who has the best chance to change it is you.