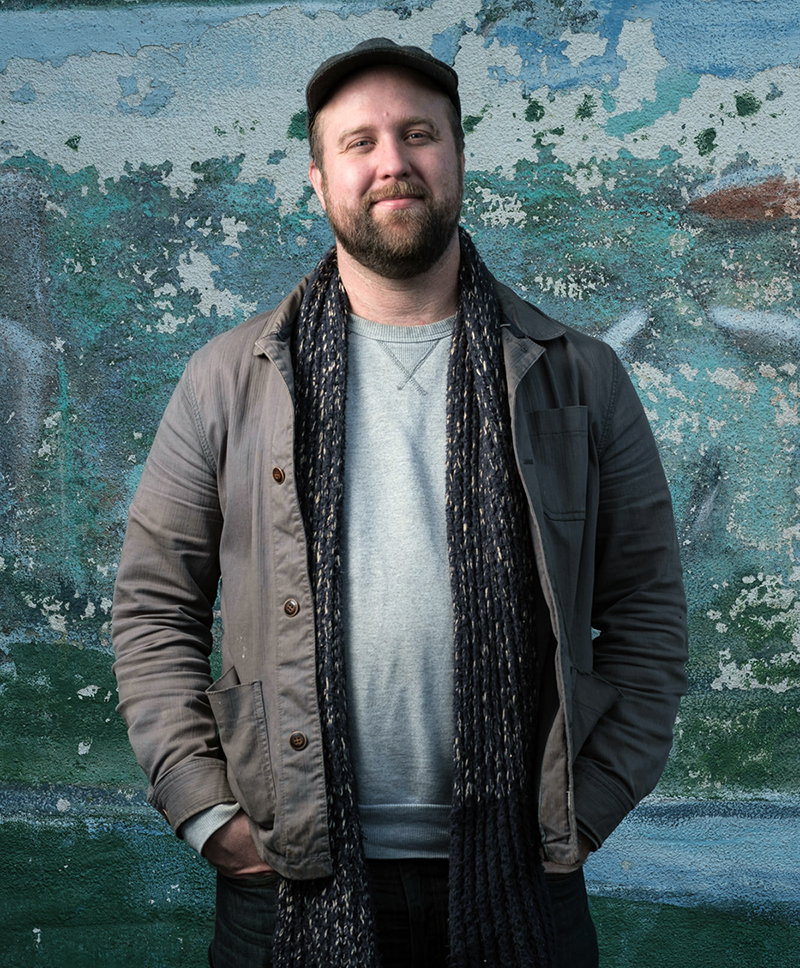 After spending a few years working in New York, Andy Thacker, a furniture designer, artist, and native Kansas Citian, decided to bring his craft back home. "Kansas City is still very much a growing city, and that growth can allow for a lot of cool things to happen. New places are always opening up—weird little spaces run by people who truly care about what they do. If you're longing for an art scene, music scene, restaurant, or store to exist, you might just have to be the one to start it. I have so many friends who have done this and created their own communities because of it. We have so many people here that have great ideas."
You'll find Thacker's work connected to his brand, A-Frame Design (@aframe_design). He designs custom, modern furniture with an emphasis on wood designs influenced by Scandinavian and Japanese techniques. Look at his past work and discover oak storage benches, zebrawood and walnut tables, modern barn doors, and everything in-between. When Thacker's not making furniture, he's hanging out with his dog, Ada, in an apartment with enough houseplants to rival the Rainforest Cafe, competing with his trivia team that is "forever doomed to be in third place," or exploring his other favorite spots in Kansas City.
Andy's essentials...
Breakfast Time: Los Alamos Cocina makes some of the best breakfast burritos in town! I've been going there for years now.
Self-Care Sesh: Walking through the greenhouse full of plants at Larry's Nursery in Riverside provides a nice little serotonin boost.
Local Maker: Some of my favorites are Phill Sikes Designs, Please Send Word, and brother/sister duo, Elliot and Erin McAnany. Phill is a woodturner who makes some of the most beautiful bowls I've ever seen. PSW makes these amazing handmade brooms that I will find an excuse to buy someday. Elliot is an amazing artist who takes things such as old advertisements, wallpaper, and old frames and turns them into interesting, emotional, and modern pieces. And lastly, Erin is a very talented home-accessories designer. She makes everything from pillows that she calls Knotties to pottery and jewelry.
Hidden Gem: There's this awesome little neighborhood bar in KCK called Hillsiders. It's the kind of place you go into and just instantly feel comfortable. It's one of my favorite places to go in KC, and the bartenders are friendly and awesome.
Date Night: Betty Rae's Ice Cream is always a good choice. I am a big fan of their coffee ice cream, but the affogato with peppermint and cookies n' cream is amazing. Unfortunately, their peppermint ice cream only comes out once a year.
Nightcap: I've spent the last few years trying to learn about wine, and I'm finally starting to feel like I know how not to make a fool out of myself. The Pairing, located in the Crossroads, is one of my new favorite wine shops. They have so many good bottles to choose from and even have a bar in the back where you can hang out and drink.
Shop Local:
For things I can't build or smaller accessory pieces, I love going to Kanso, located in the Crossroads. Jason, the shop owner, is super knowledgeable, and I love his focus on modern Scandinavian and Japanese design.