From a teeny 250-square-foot barbershop, Kalin Callewaert built her men's hair styling empire one snip and clip at a time. Along the way, she realized what she had built was an experience, not just a haircut. "I found my clients to be my friends, and really appreciated that I had that 30 minutes to talk one-on-one with my clients."
A few moves later and Callewaert positioned herself nicely in the West Plaza Area where Salon 1013 was born—as was a bit of inspiration. "I was on the hunt for the perfect product line that I could provide for my clients in the barbershop," she says. "Listening to my clients' product woes and coming up short with solutions inspired me to think about developing my own brand."
With zero retail experience, she took an "entrepreneurial start-up crash course" with UMKC: E-Scholars. "I was accepted into the program and set out to start my next venture under their guidance. What a roller coaster ride!" she says. Through a lot of trial and error, she decided to start making various men's skincare products last December. "I became a soap nerd quickly. I love the challenge of making things!" she says. "I started by making soaps and gifting them to friends, family, neighbors, and of course, my beloved clients. Once I got enough positive feedback, I started selling soaps out of my shop. I also made a beard oil and shower steamers."

And then the coronavirus crisis hit and "the unfathomable happened"—Callewaert was forced to close up shop along with thousands of other local stylists. "But there was an amazing silver lining for me during this devastating event. Time," she says. Somehow in the middle of COVID-19 chaos and taking care of her two young sons, she launched her business Stone + Spruce Supply Company. "I built a website and e-commerce page in the first week the stay home order went into effect. I have used my extra time to dive into product development, and also making existing product almost every day," she says. "I have had to overcome a lot of my fears and just do it."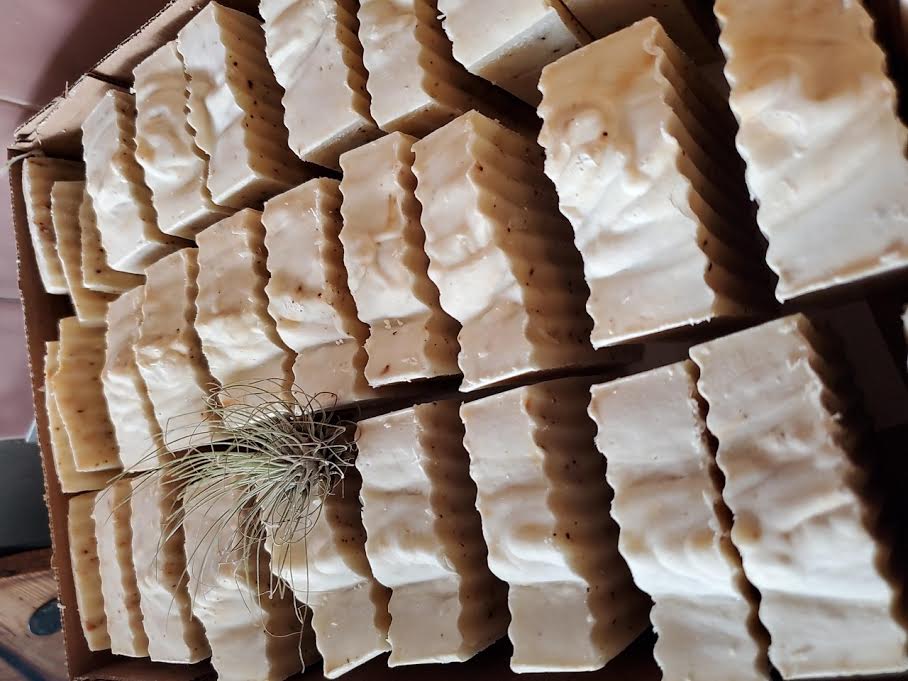 Pandemic notwithstanding, Callewaert has officially launched her Stone + Spruce Supply Company products to the public. (Wing and a prayer also notwithstanding.) "I think launching my business during quarantine has saved my sanity," she says.
Early on, Callewaert says, "I decided that I was going to maintain an all-natural theme and only make products out of things I understand and recognize. I also learned that there are a lot of things in the products many of us use every day that can cause adverse effects to our bodies." Fortunately, two of her products are, well, currently in overly high demand. "I will say there is a natural need for soaps and [hand] sanitizer now more than ever with the current situation. So far, I have had extremely encouraging feedback," she says. "I am just happy that people who are supporting me trying my products are seeing positive results—and their skin is feeling better than it was previously!"
What "recipe" is she most proud of? "This is a hard one! I would have to say my soaps," she confesses. "I'm obsessed with all of them. If I had to choose? It would be a hard tie between the Fierce Exfoliating Walnut Bar and the Gentle Black Tea Face Bar." The Walnut bar, she says, is has the perfect amount of grit for exfoliation. The Black Tea Face Bar, meanwhile, has been a gamechanger. "The peppermint is so refreshing and the tiny bit of black tea leaves adds a very comfortable exfoliation. I can't imagine not having it," she says. "Plus, there is no plastic. So it's all environmentally conscious—which is a bonus!"

Since Callewaert can rarely "sit still," she's probably invented two or three new products in the time it took you to read this article. Either way, the ambitious entrepreneur is hopeful that she'll open her barbershop soon—but, for now, she's keeping herself more than occupied.