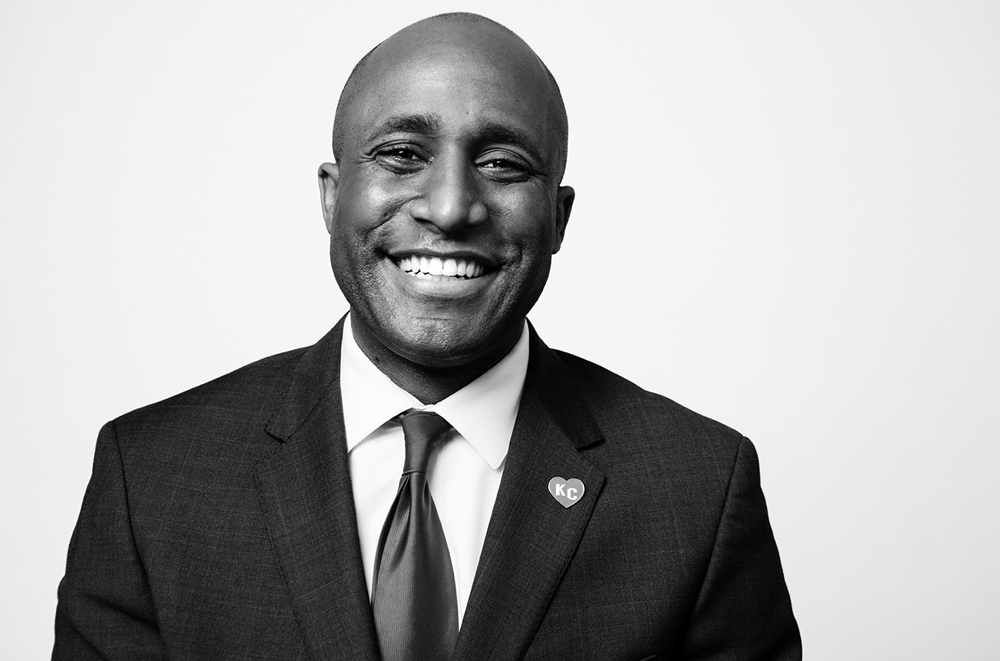 He looks bigger in person than on TV, and that's not the only surprising thing about Kansas City's 35-year-old mayor, Quinton Lucas.
His strong, athletic frame sports a well-tailored navy suit and ruby red tie, yet he drapes himself diagonally into a conference chair with the languor of a teen in joggers. He's got the standard politician's quick-draw smile, to be sure, but he's just as loose unfurling a grimace, wince, or furrowed brow. His face is a live-stream of authentic reactions, neither poker-faced nor overly animated.
"Mayor Q" as some constituents call him wears both parts of his biography easily: an impoverished, fatherless childhood in the urban core and an elite scholarship-fueled education at The Barstow School in Kansas City, Washington University in St. Louis, and Cornell Law School in New York. He embraces the criticism that he is an "East Side guy" when it comes to policy priorities and also makes no apologies for "talking white."
Lucas's career began clerking for a federal judge in Kansas City, practicing business law, and joining the University of Kansas law faculty at age 28. Leaders of inner-city nonprofits such as Operation Breakthrough say his volunteer work is tireless and from the heart.
Lucas served as a City Council member before becoming mayor Aug. 1, 2019. Single, he lives in an apartment in the historic 18th and Vine jazz heritage district. Over the years, Lucas has conducted 25 marriage ceremonies.
In an in-depth conversation in his 29th-floor City Hall office, Lucas talks about his goals for 2020; early successes he's proud of; his impressions of the Democratic presidential primary field; the challenges of dating while mayor, and his abiding passion for the Chiefs. (During the season, Mayor Lucas shares his take on the Chiefs on 610 Sports Radio at 8:20 a.m. on Mondays and on KPRS Hot 103 Jamz on 6:55 a.m. on Fridays.)
As an avid fan, were you able to watch the Chiefs' major victory over the Patriots in Foxboro?
Oh my gosh, yes. I watch every game. Indeed, my staff after the Patriots game actually tried to talk to me and get me to do stuff, I was like, "Not in any way close to a Chiefs game."
The Chiefs have been a passion of mine since childhood. When I was in law school in upstate New York, I would listen to the Chiefs games on streaming wifi in the Cornell Law School library. I would shout every now and then, and people were like, "What is he doing?" and "Who goes to the library for that?"
What were your takeaways from the Patriots game with regards to the Chiefs' chances in the postseason?
If you can go to Foxboro and defeat Tom Brady and the Patriots on their home field, that means you can beat anyone in the AFC. So as we continue to work towards getting back to the Super Bowl, my thought is: the defense was firing on all cylinders, especially special teams, and certainly the offense, Patrick Mahomes and all the guys, are exceptional. I have great hope for what lies ahead.
You're not new to city politics, having served on the City Council, but how is being mayor different in ways you didn't expect?
[laughs] I think the volume of information, activity requests, and pressure is more significant than I thought it would be. It's a lot cooler in some ways.
How?
I have a chance to go anywhere in the city and talk to folks of all different walks of life. That has really been a great joy. And not just in Kansas City. I've had the chance to go all around the region. I was in Iowa recently visiting with presidential candidates.
Why?
The US Conference of Mayors put together a presidential candidate forum. It was organized by Eric Garcetti, the mayor of Los Angeles, and we interviewed the candidates.
I interviewed billionaire Tom Steyer. He was an interesting character. After my interview all these mayors were coming up to me and a reporter from the Atlantic, and they were saying, "You did a great job. You pulled out more of his personality than anyone ever has."
What were you able to pull out?
Something that has challenged him as a candidate, and may doom him ultimately, is the relatability question, you know: "You were a successful hedge-fund executive, what gives you the qualifications to be president of the United States?" I asked him, "You went to Phillips Exeter Academy, you went to Yale, then Stanford. Your life has been in New York City and San Francisco. How do you relate to somebody from Kansas City or Waterloo?" I gave him a chance to talk about his family background and some of the passions that he has been working on for decades and I think it was interesting. I don't know if he left with more votes, but he left with more people saying, all right, that's a neat guy.
Seeing mayors interview the candidates is really quite interesting. Senator Amy Klobuchar was interviewed by the mayor of Hartford, Connecticut, and I learned a lot about her.
Like what?
Mmmmmm, her progressive substance. If you watch the large debates, her role has usually been the realist, to say, "We can't pay for your program, Bernie or Elizabeth. And instead I have to be the practical Midwesterner." What I heard her talking about was more funding to build affordable housing. Looking at concrete solutions to violent crime problems, particularly gun violence—things that are good, core Democratic issues that I don't know a lot of people have heard her express.
How do you see the dynamics of the race?
Bernie Sanders has always had his attention and his thing. Elizabeth Warren is known as this brilliant woman with these outstanding plans, which she is. And then Pete Buttigieg has been this kind of lightning-in-a-bottle exciting person, where Amy Klobuchar has just kind of gone a middle way. Another thing that is interesting for me is, we've seen people kind of drop out of the race, and it's mostly been these talented women: Kirsten Gillibrand, Kamala Harris. We've got a lot of male politicians. There are tons of us—too many in some ways—and I hope voters at least take a chance to say, "She is very sharp. There is a good, reasonable option for us to consider before we just say, we'd have to go back to Joe Biden or something of that sort."
What the field also lost with Kamala Harris was one of only two black candidates on the debate stage. What is your impression of Cory Booker?
You know, I've talked to him a few times. He's been to Kansas City on occasion. He is a dynamic senator. I think he was an outstanding mayor, and I hope he can gain traction. There is something to be said for the fact that none of our candidates of color have been able to gain the amount of traction one might have otherwise thought. It makes you ask why.
Does it bother you that the predominantly white states of Iowa and New Hampshire play an outsize role in winnowing the field?
You know, so, I'm from very close to Iowa. I like Iowans, because so many of them move down here at a certain point. [laughs] I think both parties have made some strides, particularly looking at the importance of South Carolina and Nevada, two [early voting] states that are a good deal more diverse. Frankly, I would like to see the timeline shrink a bit, so that perhaps Iowa remains first in the nation to caucus and the New Hampshire primary is right after, but I'd like South Carolina and Nevada to be in that same first-two-weeks conversation. I think it is very troubling seeing folks get almost starved off because of a poor performance in Iowa.
And I'd say this: Particularly if you look at the Republican side, Iowa is important, but it isn't everything. Senator Cruz won the Iowa caucuses in 2016. Mike Huckabee has previously performed very well in Iowa, and it didn't have a long-term impact on our 2012 race, with Mitt Romney winning the nomination. Iowa is important, and I like the retail politics, but I wish it was in a slightly more diverse place. I think the way we can do that is allowing South Carolina and Nevada to increase in influence.
As the mayor of a large Midwestern city, what are you looking for in a president? What can be done in the White House that would support your work in Kansas City?
Lots.
You always hear people say, a mayor doesn't have much power, the mayor is the pothole person. Do you think it can be more?
Yeah. If you look at my mayoralty, I think we've shown that the mayor is more. Right? From dealing with housing, to gun violence to transit, there are big, substantive things we can do. So where does federal policy help us? One, our agencies, how they work with local governments is key. So I would want to know, is there someone who understands that the Department of Housing and Urban Development does vital work every day in big cities and small towns throughout our country. I want somebody who understands that when we are dealing with organizations like the Environmental Protection Agency that they have a real impact of quality of life for people here in Kansas City. I want someone who is a person of ideas but also somebody who can get along with folks and somebody who has an interest in knowing how government works. I think too often we have folks that may just be flamethrowers, maybe looking to flip the table over in a system, but we've still got work to do the next day. Right? We've still got people who are waitin' on the bus. And we need a president who understands the Department of Transportation and funding for things like TIGER [Transportation Investment Generating Economic Recovery] grants helped us fund rapid transportation in Kansas City. And have helped us change lives and wait times and business opportunities in Kansas City.
Race continues to be an issue nationally and in the presidential primaries. There have been conversations about whether problems of poverty and crime in communities of color are caused by structural barriers or by insufficient role modeling or inadequate parenting techniques. Where do you come down on that question?
I think there is nothing more important than addressing long-term, systemic inequality in our country and in our city. One of the things that inspired me to run for mayor was the fact that I've lived here for most of my life, and things happen, right? There is a buzz in Kansas City now, and that's great. But the problem is that you go a mile or two to the east, and that fervor is lost. How do we make sure that we have lending institutions that are open in east Kansas City? How do we make sure that the public-school conversation doesn't just surround a few nice charters, but that we care about our core districts? That we worry about our friends in Hickman Mills, who are having significant funding issues. Those are the sorts of things that I think are important. When I decide to endorse a presidential candidate, that is what I will be looking at: Is there someone that understands that long-term issue? I care less about one's cool factor. I care a lot more about whether somebody understands that each day in America, the choices that we make—from how we're funding the Department of Transportation to how we're looking at infrastructure to finally prioritizing and caring about housing—will make a key and important difference.
Your family and friends were already used to you having a supercharged schedule as a city council member. Has it gotten even harder as mayor to carve out time for a private life?
It has. It's one of those things where you realize that this is an outstanding opportunity, and I'm proud to do it, but you realize that the opportunity doesn't come without some sacrifice. You lose anonymity. Being out to dinner, people walk up and say hello. That part's nice but then there are others that want to hold the conversation for another five to ten minutes and that becomes a little troubling sometimes.
That's just rude.
[laughs] Right. Particularly when, look, I'm trying to take my mom to dinner or catch up with friends. I'm not a married man, and that adds an intriguing dynamic of having the fortune or misfortune of dating while holding this position. Showing up somewhere with two police officers and people stopping you to talk just changes it.
Dating while mayor has got to be a nightmare.
I would not recommend it. [laughs] Most of the time, people are nice, but there's a lot of pressure.
There are other pressures as well. A couple of weeks ago I was sad because I was reading about more homicides in our city. And there are these issues that end up being something where there's this great pressure because you really do feel the weight of it all on you. I have never found it persuasive when somebody who's got an important job says something to the effect of, "Well, it was this way for three years and it's a whole system" and all of that. That's bull.
People see their mayor and they want that person to have solutions and ideas, and when I don't have them, I feel like I'm disappointing people and letting down our community. That's why I work like hell and why I get disappointed like hell when it seems like we're not being as productive as we need to be.
Do you have any pets?
No. Weird thing: You can probably tell by looking around the office, but I'm a plant guy. I have lots of plants in my apartment. Petting a dog or cat would be nice, but I tend to just sit back and stare at my plants sometimes if I'm at home and have a really chill moment. One plant of mine is like seven feet tall. I've watched it grow from baby plant stage, and it gives me great joy. Some people might think that's weird, but if you've got a green thumb, I'm your guy.
Kansas City's bold move to become the first city to provide free bus service—a plan you spearheaded—exploded across the national media. What other initiatives are you excited about jumping into in the new year?
You know one thing that's been cool? I've been mayor for about four months, and we've done so many things that people said we couldn't do. We've taken key, substantial steps to getting free transit in this city. And I was running this morning with my police detail, which annoys them. [laughs] I was at about the intersection of Truman Road and The Paseo, and I was looking at this family, a black family, parents with two young kids. They're putting coats on and bundling up. And I thought, "How cool is that that we can put money back in their pockets, that we can make a little step in life easier for them?"
Everybody's heard my story before, but I grew up with challenges, and some days, if you're going through struggles, one thing just being a little easier can make a world of difference. Maybe that's $80 more per month…
"I've been mayor for about four months, and we've done so many things that people said we couldn't do. We've taken key, substantial steps to getting free transit in this city."
That's a lot when you're trying to buy food and pay the electric bill.
That's right. That's a lot. Maybe it's realizing that if you're a survivor of domestic violence that your abuser can't walk around with a gun. And maybe it's recognizing that if you're a tenant who's mad that for two weeks your hot water's been out, and you called the landlord and nothing happened, and there's a number you can call and there's somebody there to help you. That's the sort of thing that I'm excited about. In terms of the next step, I've said that local criminal justice reform is important to me. There are thousands of people walking around our city with marijuana convictions on their record, just for municipal ordinance violations, that I would like to see expunged. I want to continue to address the system of incarceration at the local level, because that's where most people start a career in and out of incarceration. I want to see that there's more treatment for people that need it, that we are not using our jails as mental-health facilities. I want to help people get out of that cycle of arrests that pulls you in, especially if you're poor. You get a ticket, and then you can't pay it, and a warrant is issued, and it escalates. I want to see us address that situation. It's something I'm very, very excited about.
Interview condensed and minimally edited for clarity.