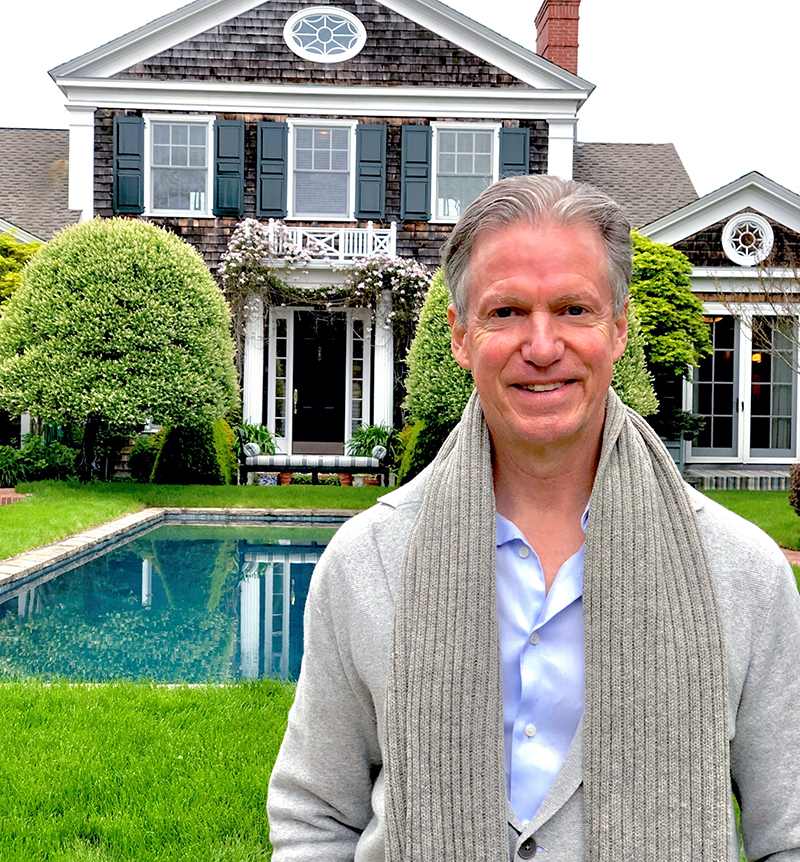 It's hard to imagine a more native son of Kansas City than New York-based interior designer John Marshall Watson (KC friends call him John). Born into an illustrious family whose roots were set down on the muddy banks of the river port town in its earliest days in the 1830s, Watson was the youngest of three high-achieving sons to whom much was provided and from whom much was expected.
Oldest brother Ridge is a legend in California's Carmel Valley for the wines he crafted for 35 years at Joullian Vineyards. Middle brother Tom is a professional golfer who won the US Open, the Masters (twice) and the British Open (five times). 
Marshall earned a design degree at Stanford University, studied set design at Brandeis University, and got a master's in acting at American Conservatory Theater in San Francisco, an intense program where he was one of four out of 50 in the original class to be invited to join the company. 
When he moved to New York, he worked with Meg Ryan on As the World Turns during the show's heyday in the early '80s. After 12-hour days on the soap, he took graduate design classes at the Fashion Institute of Technology by night.
Watson has designed homes for clients with names like Vanderbilt and Whitney. His interiors have graced the cover of Architectural Digest and all the top design magazines. He designs a top-selling line of furniture for Ferrell Mittman and authored a lavish 250-page book of some of his most jaw-dropping projects, The Art of Elegance: Classic Interiors (Rizzoli, 2017). 
Watson has a design studio in New York City and lives in New York and East Hampton with his husband, Paul. In two lengthy phone calls from a train and from his home, Watson shared stories about his ancestors, his memories of growing up in Kansas City, and how his childhood here shaped him as a person and as a designer. 
You've lived in New York since 1986. What do you like about living there?
You know, people come to New York to do. They don't come here to live because it's a pretty rough place. It's a place that demands the best of you. You have the most amazing workrooms here. You have the most amazing skilled craftsmen here. I love the people that I meet here. But it always helps being a Midwesterner, because you're that much friendlier, you're that much more open, and that much more receptive to people. 
Whenever I go back to Kansas City, I say, "Oh boy, people really enjoy life here." They may not be inwardly happy but they certainly seem like they're happy. And in New York, people always seem unhappy on the outside but I think they are inwardly happy. [Laughs]
How did growing up in Kansas City shape you?
I think about that all the time. I always tell people I'm from Kansas City.
I had a pretty exceptional childhood. I went to a wonderful school, Pem Day [now Pembroke Hill]. I had unbelievable teachers who really believed in me. 
My parents [Ray and Sarah Watson] were very socially engaged and very civic. We were a fairly close family. But mom and dad demanded many things of us. There's a famous story about Tom that after he won the Master's, my dad said, "Congratulations, son, but what happened on 16?" 
Wow.
I was on the cover of House Beautiful and my mother said, "Well, that's OK, but why aren't you in Architectural Digest?" Eventually I was on the cover of Architectural Digest but mom had long since passed away. 
They were tough, but they were both very funny. They both had a great sense of humor.
What did your dad do?
He was an insurance salesman, but he was also a passionate musician. He became a pretty accomplished jazz pianist. 
My brothers and I all sang, we were sort of performers. If you talk to people of my generation that went to Barstow, Sunset [Hill]or Pem Day, you will hear this name: Mel Bishop. He was a music director. We did phenomenal Broadway shows every year. We had madrigals, we had cantatas, we had real Christmas extravaganzas at the Gallery [Nelson-Atkins Museum of Art]. Ridge and I were also very involved in the choir at St. Andrew's, Tom not as much. 
Mom and Dad didn't really go to church much back then. They sent their boys off on Sunday morning and then enjoyed their eggs Benedict and their Ramos gin fizzes. [Laughs] 
My parents were also avid gardeners. My dad was a great rosarian. My mom was president of the Westport Garden Club, my aunt was president of the Westport Garden Club, and we all inherited a love and a passion and a competitiveness for gardening.
Did you have other interests outside music as a kid
I was very interested in art, and not many kids were. My grandfather, [William Searcy] Ridge, was president of the Kansas City Museum in the historic Northeast neighborhood, the old Long mansion. He was very kind. Everyone in the family adored him. He and my grandmother bought a big stone house opposite the [Nelson] Gallery. It was a burned-out shell when they bought it, and they built three very beautiful apartments into that house.
In fact, the famous director Robert Altman—I'm not sure if he ever lived there, but my grandparents rented his parents the apartment on the second floor, and that was the grandest of the apartments.
How interesting.
My grandmother had a great flair for decorating. They weren't extraordinarily wealthy, so my grandmother would hire whoever was the newest, youngest designer in town, partially because they were cheap, and work with them. She had great style. She was the first person I knew that had black tortoiseshell wallpaper.
I have such great memories of my grandfather taking us to the [Nelson] Gallery as kids. He would just let us run around. We had to be careful, but the museum was a place where we could explore and discover—it was never a hush-hush place. We would go on hot August days and just lay down in front of the big Buddha on that cool floor.
I also loved to stand outside those period rooms and stare at them and think, "This is incredible."
I remember Grandmother would serve us dinner and Grandfather would have his bourbon. Then Grandmother would retire, and Grandfather would walk us around the museum around sunset. It was like our backyard playground. We would walk by The Thinker, and Grandad would say, "Well, what do you think he's thinking?" To me as a kid, art wasn't for rich people, it was for anybody.
Kansas City influenced me a lot. My uncle Jack O'Hara (1921-2012) was a landscape painter. His wife, my aunt Marie Bell [Watson O'Hara], my father's sister, is 95, and she's an amazing classical pianist. On her 90th birthday, she played Claire de Lune and Scott Joplin for us.
I was mesmerized by watching my uncle paint landscapes. And he and my aunt traveled back to the East Coast all the time and they would bring back these wonderful pictures of the ocean and of Martha's Vineyard and of Nantucket and East Hampton and Maine and it made me want to be an artist. 
My grandmother was an easel painter. She made me go with her to cemeteries. [Laughs] We would always paint cemeteries. And she taught me other things. She took me to the Alexander Majors home on State Line.
That house has beautiful proportions.
Exactly. Design is all about proportions. I was fortunate, my parents lived in a beautiful French-Norman style house on Dunford Circle, and it was well-proportioned. It was a brick house with a slate roof. 
Kansas City has this great cache of amazing residential architecture. Beautiful, beautiful neighborhoods, all the way from the Paseo to the neighborhoods around the Gallery, and the bungalows over on Wornall, and the Arts & Crafts houses, and what JC Nichols did with laying out Ward Parkway. There's no question that growing up around the Plaza and seeing great houses and great landscape design shaped me.
And then there's the other side of my family. My grandmother Watson loved musicals. She took Ridge, Tom, and me to Starlight Theatre all the time. I'm a total arts nut to this day. I'm going to the opening night of the Metropolitan Opera this year, which is the hardest ticket in the world to get after it's been shut down for a year and a half because of Covid. I don't think there's going to be a dry eye.
So that was my upbringing in Kansas City. That is in my heart. That is in my soul. That is in my blood, in my DNA. You know, my family's been there since the 1830s.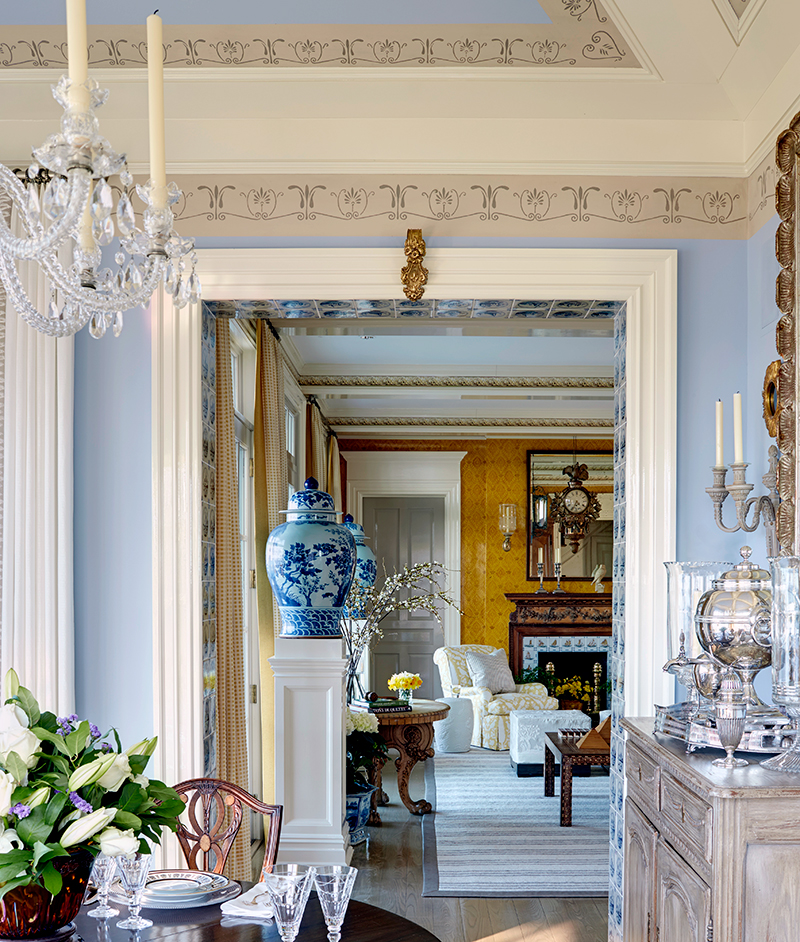 That's about as long as there's been a Kansas City.
Our great-great grandfather was the first medical doctor in Kansas City, Isaac M. Ridge. He treated native Indians when they had yellow fever at a time when other people considered them untouchables. The Indians called him Little Thunder. I don't know if he was little in stature, but they called him that because he yelled at them all the time to do certain things in order to stay healthy.
And then there is a lot of family history with the Civil War—both sides of the family were on both sides of the war. We also had doctors on both sides of the family. Some Jayhawkers almost killed Isaac Ridge, who was Southern, because he would treat wounded Union and Confederate soldiers alike.
On my father's side, Dr. Simeon Bishop Bell was a Northern sympathizer, but he also treated wounded soldiers from both sides. Once his house was raided and he was kidnapped at gunpoint by Confederate Bushwhackers and taken to treat their injured fighters. 
Later Dr. Bell gave the money to build the first [University of Kansas] hospital and medical college in Rosedale (a then-independent city in Kansas City, Kansas). 
A strong sense of egalitarianism came down through our family, despite political differences. [Laughs] Tom is very much a Republican and Ridge and I are very much Democrats, but that is neither here nor there. 
When you come home to Kansas City, do you have a checklist in your…
Yes! I eat barbecue! I go to as many different places as I can until I am sick to my stomach. I try to have barbecue morning, noon, and night. 
I love to visit my friends, and I love to visit the Nelson Gallery. I love downtown. I like certain areas, like near Union Station. It's kind of cool. And I have friends who live by the river. And I always take a ride around the suburbs. In the Hamptons, all the great estates are behind hedges. And I'm an unbearable snoop, so I always want to see the houses. In Kansas City, all this beautiful architecture is out in the open. 
I go to Powell Gardens; I think it's an incredible gift to the city. Tom lives way out in the country in Stilwell, and there's a beautiful arboretum out there that we always visit [Overland Park Arboretum and Botanical Garden]. And I always like to see the rose garden at Loose Park.
In your book, when you describe how you approached your different careers—set design, character acting, and ultimately interior design—there seems to be a common thread of making yourself invisible.
Boy, I don't think that is a direct quote, but that is a shockingly astute observation. "
Is a form of invisibility part of the Marshall Watson aesthetic or theory of design?
Yes. It's not about me. And that goes back to my Kansas City upbringing. When you come to Kansas City people ask you about yourself. That's why you can know people a long time in Kansas City and not know what they do for a living—we are taught to ask questions, that it's all about other people.
I think my education at Stanford was one in which they wanted to make us the stars of the show.
Insert California stereotype here, right?
Yeah. They wanted you to go out there and change the world, and it would be all about you. 
Later, when I studied set design at Brandeis, it was all about research, research, research. You aren't going to design a Neil Simon comedy like you design Henry IV. It's not about your personal style, it's about you being in service to the script. 
And when I got my masters in acting, they taught us that you really had to look at people, really observe them. I remember sitting on the street looking at people, how they walked, trying to find archetypes. And every single person had a quirk to their walk. There are so many things to capture if you really look. If you look with your soul.
When I came to New York and was cast in As the World Turns, I was already interested in design. My apartments always looked great. So, I took design classes at night when I could when I could get out of the soap early. 
In your book, you write that after you've done all the research for a design project, you have to throw it all away and trust yourself. That sounds scary.
You have to be confident that you've done enough and that you understand it. And you have to be able to get into the mind of the client, and that's where acting helped so much.
There is a house in Sweden in your book. What did you learn working in Sweden?
That project was near and dear to my heart because I was raised by… I was very lucky because Mom and Dad had hired somebody as a housekeeper, but she became like my mother over the years, and she influenced me tremendously. And I loved her, loved her like a mother. We were very close my whole life until she passed away. Her name was Lilly and she was Swedish. 
I had always wanted to work in Sweden because there were elements of Lilly that were mysterious to me. I knew that she loved me very deeply but she could never express it physically. She could never hug me. She had a remoteness that I felt I could understand better if I went to Sweden, and I do feel I understand it now.
The clients let me go to Sweden and travel all over to buy antiques. And I got to work with Swedish contractors. When you work with contractors in any country, you learn their strengths and weaknesses, so that's fun to talk about.
Mexicans make the most beautiful plaster walls you've ever seen. They can do stonework like you've never seen it. They can do tile roofs like you've never seen it. They do beautiful ironwork. But they don't understand plumbing, and it will always leak.
I was doing a job in Mexico simultaneously with the Sweden project, so then you go to Sweden, and if you want a tile bathroom, you have a selection of white or white or white. And they don't hide the plumbing in Sweden because it will freeze. So it's right there on the walls, and they don't use anything silly like iron or copper or anything attractive, it's got to be clear vinyl or rubber hoses. And in terms of fixtures, if you want anything with a traditional aspect to it, forget it. It all has to be Swedish modern. And you can't find a lamp in Sweden. They don't believe in lamps. It's all down lighting. It's very practical. We are really spoiled in America. We do the best kitchens in the world and we do the best bathrooms. There is just no question. 
And yet, the Scandinavian love of the home is unmatched. The concept of "hyggeligt" is often translated as cozy, but it's much deeper than that. It's a whole feeling of warmth and well-being and belonging.
In your book, you write that your role is interpreting your client's fantasy of home. What is your fantasy of home?
My fantasy of home stems from the things I believe in. I believe in light, peace, balance, proportion, comfort, livability, and harmony. Beauty is important to me. It needs to be beautiful. 
Air must move through the house. We live on a bluff next to the ocean and I want the ocean air to suffuse the house all the time. I want the scent of the ocean in the house. 
I want my gardens to feed my senses, so I have heliotrope, lilies, roses. I have lavender and night blooming jasmine. I love statuary that doesn't sit on the garden but seems to grow out of it. I love balustrades that have the garden swamping over them.
I want my house to inspire and envelop me. I think there's a theatricality because of my background. We have a crystal candlelit chandelier—why do I have a candlelit chandelier? It's because when we have our best friends over for dinner and we light those candles, they feel like they are special. After they go away, it means so much to me that I gave them a beautiful, unique experience.  
Interview condensed and minimally edited for clarity.