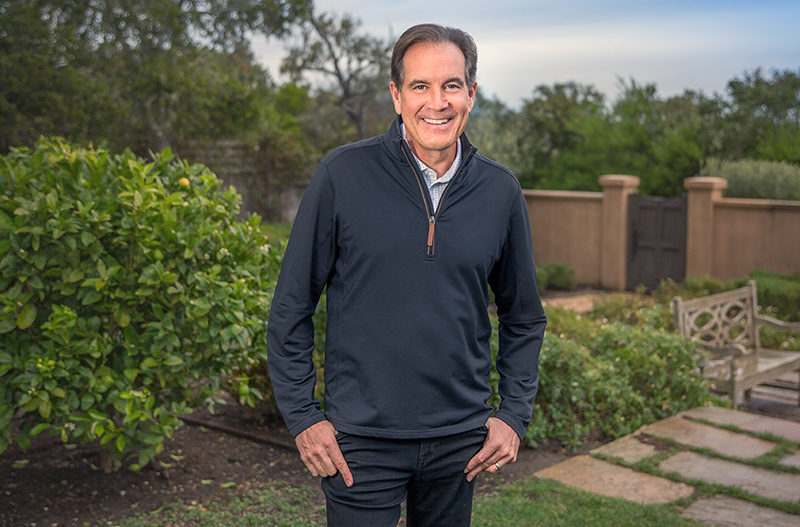 Kansas City is a sports town. Even when we're losing, we're cheering. It defines us and endears us to the cadre of national personalities that come with professional league play. It's certainly something that has impressed Jim Nantz, three-time Emmy winner and five-time National Sportscaster of the Year. Nantz is a frequent guest in Kansas City and has a soft spot for the Chiefs. But don't we all?
Nantz is one of those rare talents that can do it all—he was famously the first sportscaster to call the Super Bowl, NCAA Men's Final Four, and the Masters, all in 63 days. He topped himself in 2019 and 2021 when he called the AFC Championship, Super Bowl, Final Four, Masters, and PGA Championship in 120 days. This month, he'll be inducted into the National Sports Media Association Hall of Fame, just one of his many and sundry awards over the years. Nantz is a busy guy.
But calling games is only one part of what he does—his entrepreneurial spirit runs almost as deep as his love of sports. In addition to sharing his father's story in his New York Times bestseller, Always By My Side, he collaborated with Vineyard Vines on custom-designed golf apparel and founded the Nantz National Alzheimer Center at The Texas Medical Center. Much of his work outside of sports relates to his relationship with his father.
Nantz has tiptoed into the world of wine. His label, The Calling, has garnered multiple scores of 90 by esteemed wine organizations, and their Dutton Ranch Chardonnay was ranked the 15th best wine in the world according to Wine Enthusiast. We chatted with Nantz about his love of Kansas City, how he came to the wine world, and what The Calling really means.
What's the most distinctive part of calling games in Kansas City?
The weather. I've seen it all as far as the weather goes. Early season games are blazing hot and humid. But later in the year, it's so cold in the booth. I always tell people that the air in the booth in Kansas City is an arctic chill. In those extreme times of the year, it's colder than anywhere else in the country, including Green Bay. I've just frozen in there a few times.
One time, I had to do a game wrapped in an electric blanket. It's the only time I've done that. My hands were underneath, and I couldn't gesture like I normally would, to emphasize words. I was just shivering too much, and the words wouldn't come out.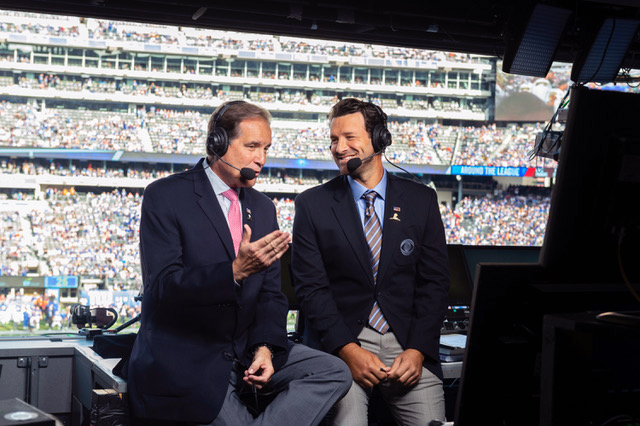 Why did you want to start a wine label?
Whether it's football or basketball or golf, I like to pride myself on being highly researched. I love the process of getting to know the things that I'm involved in. I love information. So for years, I watched people dabble in the celebrity wine business, put their name on a label, and then have at it. Particularly in the world of golf, which I cover 20 weeks a year, a lot of golfers have their own wine label. I really wanted to just kind of nose around a little bit. I enjoy a great bottle of wine, and I live on the road a ton more than I would like to, but that's where the job takes me. So, my idea of a good time is working hard all day long, preparing, getting ready for whatever the event might be: a game, a golf tournament, whatever it might be. And then, at the end of the day, rewarding myself with a great dinner and a nice bottle of wine. That's kind of life on the road for me now in my 37th year at CBS.
You've partnered with wine expert Peter Deutsch. How did you meet and begin to collaborate?
In 2009, I was on the precipice of going into the wine business a little deeper and finding an opportunity to try and develop a business plan. And I was heading into New York to meet with the owner and publisher of Wine Spectator magazine. On the eve of that meeting with Marvin, I was at a restaurant in Greenwich, Connecticut, and a gentleman came by the table and introduced himself. It was Peter Deutsch, and he had just read a book that I had authored about my father called, Always by My Side. It wasn't really a sports book; it was about relationships.
Anyway, Peter stopped by the table to say he had just finished it. He said, 'I've never had a chance to meet you, but I feel like I know you.' And I said, 'Well, tell me what business you're in. And he said he was in the wine business. 'My family were importers, creators, marketers, and distributors of wine brands from around the world and the US for 30 years.' I said, 'Well, that's fate. I'm actually about to explore going into your world a little bit.'
I told Marvin Shanken, the editor of Wine Spectator magazine, about our chance meeting, and he said, "That's the guy you should team up with."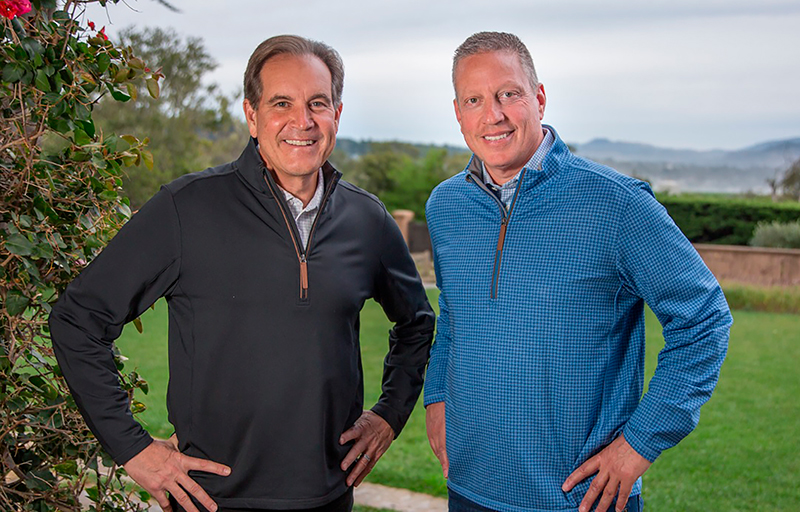 Your wines are called The Calling. Why choose to omit your name from the label?
One of the first questions that Peter asked me was what I wanted to call my brand. I had done my research and knew that putting my name on it would actually hurt the viability of the brand. People aren't drawn to wines with a celebrity status attached to them. Wines should be handcrafted, and that's something best left to the experts. And Peter said right off the bat that that was the correct answer.
So why The Calling?
It was important to come up with a name that reflected what was in our hearts. Some people say it's because I'm calling the Chiefs game on Sunday, and yeah, that's kind of a cool little tie to it, but it's really about finding your calling. What are you meant to do? What do you really want to accomplish? Do you care? Do you set goals? Are you driven to succeed? What is your calling? I have a lot of callings. I want to be the best father in the world. I want to be the best husband. I want to be a great friend to all my friends. I want to be the best sports commentator I can be. I want to be successful in the wine business, in the golf apparel business. I want to defeat Alzheimer's and be a part of the winning partnership that one day figures out a treatment and ultimately a cure for this insidious disease.
I feel like I'm on this planet to pursue all of these calls. Right? And I wake up every day trying to figure out how to do it. I pursue it. It takes energy and a vision. You've got to go for it. And that's how I live my life. And that is why we call it the calling.
Unlike many celebrity wines, The Calling isn't just a label. Your team is sourcing grapes and creating award-winning wines. How did you decide to dive in that deep?
The Deutsch Family Wine and Spirits had never produced wine—they had imported it, marketed it, and distributed it. And they were hugely successful. I asked Peter to go into business with me outside of the family business. He thought about it for a while and came back and said, 'Let's do this.' It took a sports commentator to convince him to go into the production side.
So now we had to line up sourcing; we weren't going to go buy dirt. We were going to buy grapes, lease vines, and we were going to source our juice. So, we made trips out to California. We had certain places earmarked that we knew were top-tier and iconic vendors, and an association with them would really help our brand launch. So thankfully, we found Dutton Ranch in Russian River Valley. We came across the country to visit with the Duttons, and we made our pitch, and lo and behold, we got on their property.
We became the 15th brand that was sourced there at the time. And we got a little bit of production, and it helped us tell our story. We just finished our tenth harvest. We are the number one partner and producer at Dutton ranch.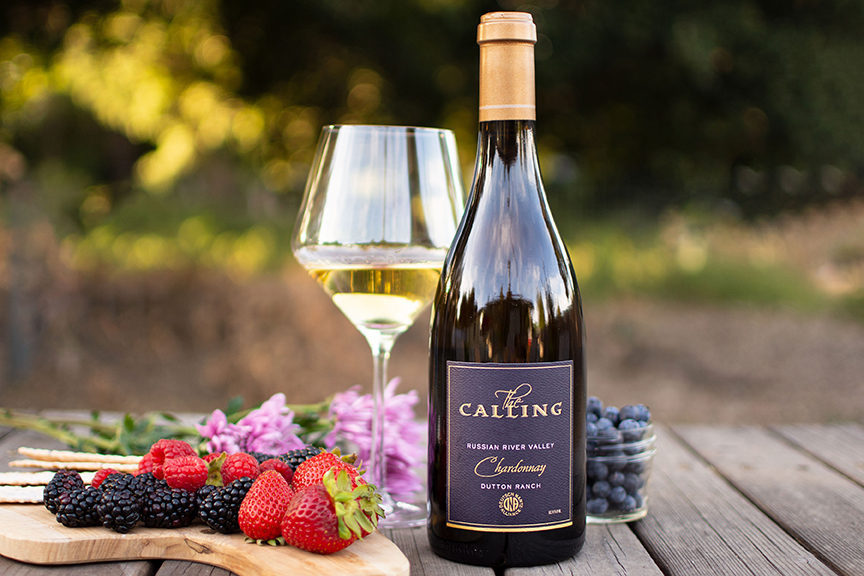 What's next for The Calling?
Our five-year plan is very exciting. Peter and I both believe in the same thing. We want to do this not because we have to do this–our lives don't depend on it. We're doing this because we want to spend the time and have the passion, and we're going to put it toward building something special. We don't want to be just another brand out there. That wouldn't be worth the effort. If you don't, if you don't have the goal and objective to be the best, to create one of the iconic wine brands in America, why get involved? So, when we got together and started noodling, so to speak, over how we would put this together and what we wanted to accomplish, we kept getting back to that idea that we wanted to create the next great American premium wine brand. And here we are, at the end of our first decade, and it's grown so fast.
Interview condensed and minimally edited for clarity.