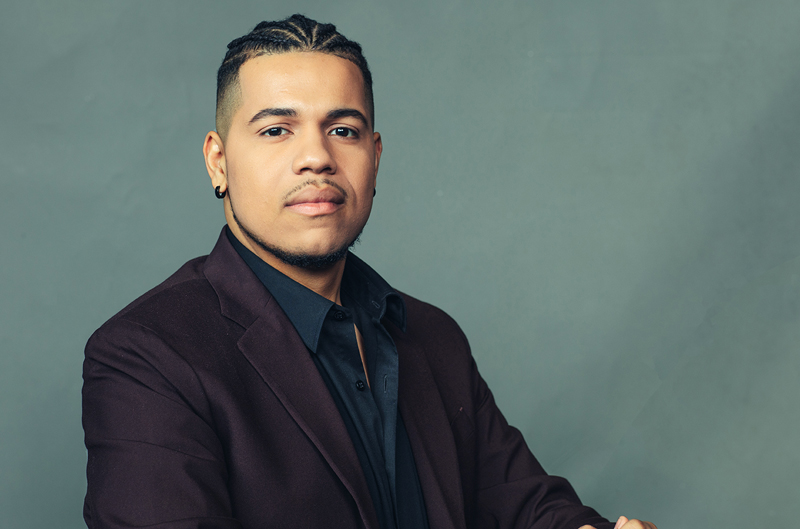 It's an opera-worthy plot development: after a turbulent early life in Ohio, a talented young man finds stability with an adoptive family in Liberty, Missouri, discovers a love of singing in the high school theater program, earns a bachelors and then a master's degree in vocal performance at William Jewell College and University of Missouri-Kansas City respectively, auditions locally, gets no offers, uses his savings to move to New York City, and within a year is singing on stage at the Metropolitan Opera in Porgy and Bess and wins a Grammy for the recording of the show.
And, at age 28, tenor David Morgans Sanchez is calmly certain that his second and third acts will be as thrilling as the first. Following Porgy and Bess, which closed in Feb. 2020 just before the pandemic shut down the city, Sanchez was invited to be part of Portland Opera's historic all-black class of resident artists for the 2020-2021 season. The season debuted April 16 with Journeys to Justice, compositions that explore the experiences of being a Black American (available for streaming through May 31.)
In a relaxed and winding Sunday evening conversation with IN Kansas City, Sanchez discussed his vision for the future of opera in America, reflected on the inseparability of his role as an artist and his identity as a young Black revolutionary, and shared his deep love for Kansas City and the changes he thinks would make it even better.
What has it been like, being a member of the first all-black class of resident artists at the Portland Opera?
It has been really special, working with the other Black artists, and being able to network with other Black singers, especially Russell Thomas, an Atlanta-based tenor who has become like my voice coach and a mentor. To see someone on stage singing the things I want to sing that looks like me is something I cherish.
Growing up in white America, the culture I was raised in didn't give me the privilege of seeing people doing things I wanted to do that looked like me. One of my favorite shows right now is This is Us, and of course I relate to the character Randall, as an African-American man raised by a white family. When I watch it, I feel so seen.
Did you participate in the civil rights protests last summer?
Yes. I spent the lockdown in Kansas City with my family, so I was going out and protesting. When I went to Portland, I was definitely ready for hostility, because I had already seen it firsthand (in Kansas City). I had witnessed people being maced and being abused by police for zero reason at a peaceful protest.
I haven't participated in protests in Portland because of the very strict Covid protocols (of the opera company) and needing to protect the other artists. I have been followed and tailgated by police on motorcycles a few times, even though I was just driving from my downtown apartment to my job, about ten minutes away. I was confused at first, because I was going the speed limit—this is why people are upset. I just want to exist and not have to think about that.
Do you think about whether protesting could hurt your career, or if you could get hurt?
I've never even considered that there could be an implication for my career for doing the right thing. Yeah, I guess I could be hurt, but I could be hurt driving to work. I don't feel any safer in my car (as a Black man) than I would out on the streets.
The stories that I tell and that I want to tell in opera about Black revolutionaries are powerful and beautiful. And being a person who just says something without being out there actively doing it, I just think there's no value in that. I don't think there's truth in that. Who I am is a young Black revolutionary.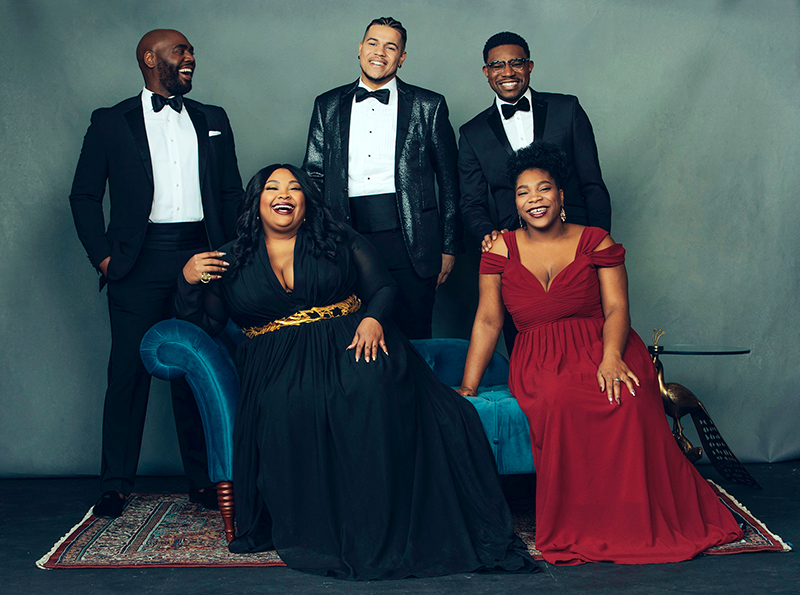 When you were a kid, what did you want to be when you grew up?
I wanted to be a paleontologist-slash-Egyptologist.
Why?
I loved the symbolism, the architecture, the artistry, the hieroglyphs. It was this amazing, fantastical world. The mystery is really intriguing, too—we don't know how the pyramids were made. And all of the gold! And the great stories. That was where I first got my love of art and beauty and other cultures.
Were you a natural performer as a kid, wanting to entertain family members or friends?
Not at all. [Laughs] I don't think I knew I had that side of me back then. Also, I grew up very poor before I was adopted, and we didn't have any of the resources to give me anything extra. I grew up on food stamps. I remember getting boxes of food from the church, and it was about just trying to survive.
It wasn't until I was adopted in 7th grade that things opened up and I came into my creative being. In 9th grade I was in Guys and Dolls. That was my first musical. Then Les Mis in 10th grade, The Sound of Music junior year, and L'il Abner senior year, and I realized I love to sing.
When you were on stage in high school, did you blow everybody else away? Was it obvious to the audience that yours was the voice on the stage that would win a Grammy one day?
[Laughs] No. I want to say I was given a lot of smaller opportunities in high school. In Les Mis, I got to play five or six bit roles. I don't know that I was ever given those accolades. I certainly wasn't cast in that way. But I'm singing today and I'm very happy doing it.
What are your earliest memories of music?
Listening to Ja Rule and Eminem with my uncle and my cousins growing up. I remember hearing the poetry and the lyricism, and it was like, wow. I didn't understand as a kid quite what it meant but it was a good feeling, to hear this narrative delivered with emotion and intention.
That's the through line from opera to rap.
Definitely, in the aspect that in opera we tell stories through poetry. And in opera, not only is the language heightened but the music is heightened through amplification, and there are these amazing costumes and sets.
What have you learned about yourself during the pandemic?
I already knew I was a people person, that I need human connection. When I'm not able to experience that, it's a little hard for me. I get a little down.
Has life during Covid changed you in any permanent way?
Covid taught me for sure to be more intentional about communicating with and loving the people that love me.
And, just like singers always wear a giant scarf in the winter, I will always be wearing a mask in the cold seasons and in cold weather from now on, and I'm not going to feel awkward about it.
"The stories that I tell and that I want to tell in opera about Black revolutionaries are powerful and beautiful. And being a person who just says something without being out there actively doing it, I just think there's no value in that."
What are you passionate about besides singing?
I'm really into cinematography. I love [director] Christopher Nolan, who just released a new movie called Tenet. I'm really into watching people's acting choices and how a camera can capture that, and how a director frames a landscape and why he chose these colors to represent a character.
I guess I love diving into any and all kinds of visual art. Like the Caravaggio at the Nelson. I could stare at that for about an hour and a half, looking at the brushstrokes, the facial expression, the extreme chiaroscuro.
How do you experience nervousness before a performance and how do you control it?
For me, it's never nervous energy, it's just energy. It comes as emotion, and I've learned to use it to propel me forward instead of hold me back.
Are you a goal-setter? Do you have a 5-year plan, a 10-year plan?
My career trajectory already doesn't look anything like [my plan]. I got my master's and then, before I was a resident artist here in Portland, I'd already been to the Metropolitan Opera.
In five years, I definitely will be established, far more so than I am now, and singing in opera houses around the world.
In ten years, I will continue to have a music career but also cross over to more popular culture. If opera is going to continue, we need to reach out to younger audiences and also not cheapen the art form. I want my mark on the industry to be, not just was I an amazing artist, but I brought opera back over to popular culture, as it really was back [in 1990] when Pavarotti's Nessun Dorma was used as the theme music for the World Cup.
What do you think are the biggest challenges facing the arts in America, and what are the bright spots?
The biggest challenge is that, for the most part, the people that hold the most power and that have been gatekeepers, are still there. Of course, every new artistic director we get who is committed to change is beautiful, and we have seen a lot of that. What gives me hope is that we are seeing more people-of-color stories, more LGBTQIA stories being told on the stage, on the screen, and in every single place where we take in culture and art.
When I get back to Kansas City, I don't want to just see Black jazz musicians in the 18th and Vine district. I would love to see more of that culture being celebrated at the Lyric Opera of Kansas City. I would love to see more musicians of color in the Kansas City Symphony. I want to go the Green Lady Lounge and have it be a regular thing to see musicians of color on that stage and on other stages that have been traditionally white spaces.
What do you miss about Kansas City?
A lot, I think. It shows up like this: Whenever I'm in a new city, here's me trying to find Kansas City in the new city. Like in New York, they have this amazing bar in Brooklyn that has Kansas City barbecue. I sincerely miss Gates Bar-B-Q and Jones Bar-B-Q.
The second thing I really miss is the coffee shops. I love Messenger Coffee but the favorite, the OG coffee shop for me, has been Thou Mayest on 18th Street. The vibe is always great. I did plenty of coursework there for my master's, and it was a great place for a date because you can have cocktails there and there are no children.
When you come back to Kansas City, is there anything missing that makes you think, "You know what this place really needs…"?
Besides more Black art, I want to say public transportation. I used to live downtown in Kansas City, so I could take the streetcar when I wanted to go to the River Market. But that is nothing like not having to have a car. In Portland, I don't need a car. In New York, I don't need a car. In Kansas City, our transportation system needs a major overhaul. Maybe we need to legalize recreational marijuana and tax it so we can get real public transportation.
Interview condensed and minimally edited for clarity.