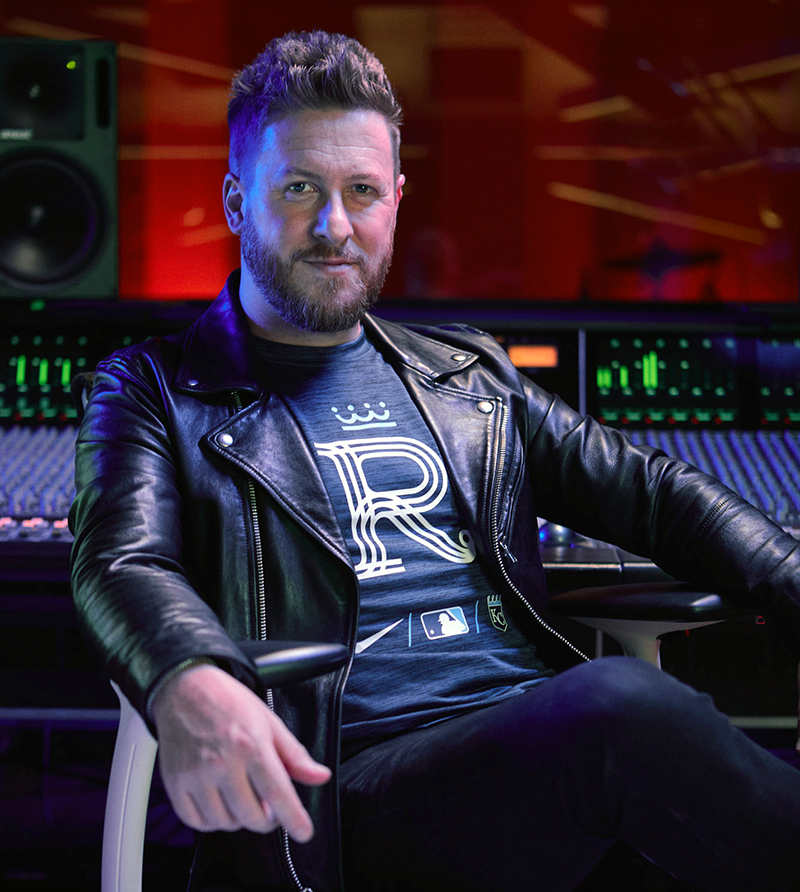 At 20, during the heyday of grunge, he formed a traveling band and later lived in Nashville. But Kansas City-born drummer Billy Brimblecom is back home now with a day job as executive director of Steps of Faith, which has raised $3.7 million to pay for prosthetic limbs for uninsured amputees. Brimblecom lost a leg at 28 to a rare cancer, Ewing's sarcoma, but it doesn't stop him from playing the drums in the house band for Thundergong!, the raucous fundraiser he throws the second weekend of November each year at Uptown Theater with pal Jason Sudeikis to benefit Steps of Faith, which he has run since its inception in 2013.
Brimblecom grew up in Shawnee and Lenexa, graduated from Shawnee Mission North and attended KU for a year, studying jazz music and playing in the Marching Jayhawks "that year KU had a good football team like this year" (1995, when they beat UCLA in the Aloha Bowl.) He lives in Lenexa with wife, Allison, and their children, Leo, 10, and Goldie, who turns 8 this month.
Brimblecom spoke with IN Kansas City by phone from his Midtown office about the origins of his friendship with Jason Sudeikis, the shift from being a full-time musician to running a nonprofit, misconceptions people have about amputees, the failings of the health insurance industry, and his sneaker "addiction."    
How did you and Jason Sudeikis come up with the concept for Thundergong!, which is kind of a crazy concert-comedy-benefit hybrid?
Jason and I do Thundergong! together first and foremost because we're friends. But it's also combining a couple things. I know how to put on that kind of show. I know how to turn a handle and open a door. He has keys to open a much bigger door to attract a bigger audience.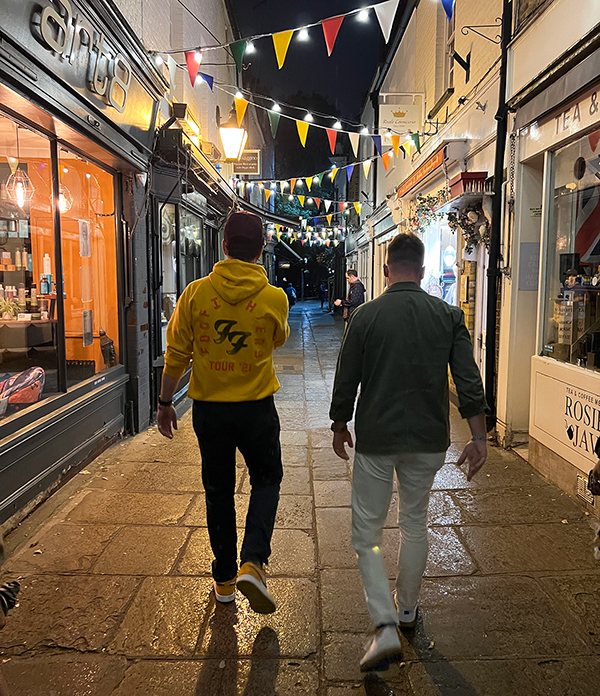 There's a photo on your Instagram from last summer of you in London with Jason in an alley familiar to fans of Ted Lasso. How did that come about?
That's a real place in Richmond that is partially used as a set. My wife and I were over there visiting Jason. The spark for the trip was a big concert he was a part of at Wembley stadium. The Foo Fighters put on a tribute to Trevor Hawkins, their drummer who passed away last year. I had met [Hawkins] a handful of times, but Jason was legitimately friends with him. A group of us had been out to dinner in Richmond. We were walking down that alley and Jason and I were talking, and Brendan Hunt, who plays Coach Beard, said. "You may recognize this door." And I was like, "Oh, whoa! We're here!"
How did you become friendly with Jason?
We met in 1995. I was in my senior year of high school, and he was in his first year of college, and we both auditioned and were hired for an improv comedy club called ComedySportz in the River Market. We were in the same workshop, getting trained to play those improv games. We were fast friends, and we've been in each other's lives in a pretty big way ever since, in each other's weddings. He's like my brother.
You lived in Nashville for a while. Do you identify as a Kansas Citian and if so, how does that manifest itself?
Oh, I very much identify as a Kansas Citian, even during the seven years I lived in Nashville, much to the chagrin of the people there who had to listen to me. There's a lot of things about Nashville I loved, but I never loved living there.
I think really having an appreciation for where I was from started in my old job as a full-time professional musician. When we started touring, I went to so many places for the first time to play concerts. That was the first time I was in New York City, the first time I was in Boston, first time I swam in the ocean, all these things. As incredible as that was, the thing it made all of us feel was, we were proud that we came from the middle of the country, from this great city that people need to know more about. Traveling all over the country just cemented my love of Kansas City even more.
As we speak, the Chiefs are in Arizona getting ready to play in the Super Bowl. Are you a fan?
Of course! They are so exciting, and this is such a great sports town. Admittedly, I was never much of a sports guy, but I've become a really big Chiefs fan. I credit my dad. He said to me a few years ago when Patrick Mahomes came on the scene, "Billy, I know you're not a huge football guy, but I'm telling you this young quarterback is special, and you should watch him." And obviously, the world agrees. I'm friends with Ben Lyons, the host of a live morning talk show called Bonjour Sports Talk on Amazon Prime, and I was on his show on Friday (after the AFC Championship game) because he knows I love the Chiefs.
This year I got to meet Mahomes and Kelce, and they are everything you'd want them to be. They asked me, "Is this like old hat now? Are people in Kansas City just used to winning?" I was like, "Look man, we went 50 years between Super Bowls. Growing up, other cities had dynasties, like the Yankees or the Patriots that won all the time for years and years and years. I think, wouldn't it be great if we had that in Kansas City?" 
What were you like as a little kid?
I loved music from an early age. I was a class clown, kind of rambunctious and loved to make people laugh. I loved comedy, loved Saturday Night Live from a young age, loved the movies that people from SNL went on to create, from Caddy Shack to Fletch to Beverly Hills Cop to Stripes.
I played sports because that's what you do when you're little, but I wasn't a natural athlete. Fortunately, when I was in 6th grade, I started playing the drums and that just rewired my brain and changed the whole trajectory of my life.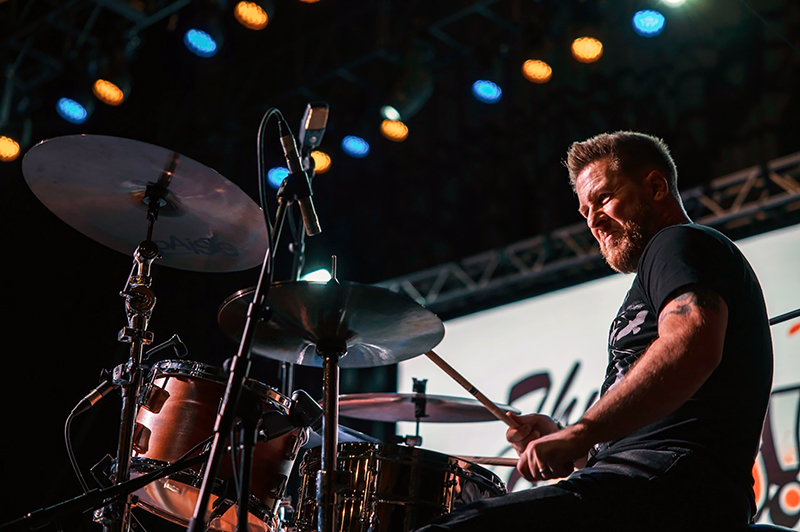 You've been in many bands. Can you give a quick description of the ones that mattered most?
In 1995 when I was 18, I joined a band called Stick. In the early '90s when grunge exploded, record companies all over the world went searching for rock bands. Non-hair rock 'n roll was selling, man! Lawrence, Kansas, was the quote-unquote next Seattle for about 15 minutes, and Stick was signed to a major label. Two of the guys were ten years older than me and what that did was, I kind of got introduced to the whole city and people who became bandmates in my next band.
In 1997 I started a band with a friend called The Creature Comforts. That was the band I toured with. We had a booking agent in Boston. That band went until about 2002, and we're brothers to this day.
I was in a band called The Start in LA, which was a really cool and weird time of life in 2003, 2004. My friend Jim Suptic from The Get Up Kids and I started a band called Blackpool Lights in 2004. We put out an EP in 2010 and we've had a bunch of songs on TV shows throughout the years.
Since 2009 my wife, who sings, and friends and I have had a band called Summer Breeze, which started as a yacht-rock tribute band of '70s and '80s soft rock. In the six years we've been the house band for Thundergong!, we've teamed up with everyone from Winona to Ben Harper to The Darkness. It's been really life-giving for us.    
Do you get tired of telling the story about what happened to your leg?
Yes. But I'll tell you if that's why you're asking. Or was that the question?
That was the question. I don't want to define you by your leg.
I feel like a big part of why this happened to me is to tell the story. I didn't write it. But after ten years of Steps of Faith, I can claim some responsibility for how the story has unfolded. Previously I felt like all these things that happened to me just happened to me.
What are the worst things well-meaning people say when they see or learn that you are an amputee?
There are so many misconceptions. I know some amputees who, if a random stranger says to them "You're such an inspiration," they're offended by it. I'm not offended by it. Maybe because I was a grown man by the time I lost my leg.
I try to see the place people are coming from. I don't always succeed. But I try to understand; they see something, and they don't know what to say. To say people are ignorant is considered an insult, but it's just a fact. It means "not knowing." I'm ignorant about most things other than music and robot legs. [Laughs]
One of the things that is the most exhausting is people assuming I was in the military. The common misconception is, since I don't look old and I have a prosthetic leg, I must have been in the military.
Let me break down some stats for you. Around 510 people lose a limb every day, just in America. The most common causes are vascular disease and trauma—like a motorcycle accident. The third most common cause, cancer, only makes up two percent.
When you look at the military, since 9/11 around 1,500 people have lost a limb in combat—that's the total in more than 20 years, compared to over 500 per day from other causes. So, if you see an amputee, it's very, very unlikely that they lost their limb in the military.
So don't thank them for their service if you don't know.
Right. I get thanked a lot for my service. So that's my PSA, along with, don't park in a handicapped spot, even just for a second, because it makes you a jerk.
Do you think amputees feel pressure to be positive and uplifting for the benefit of non-amputees, so they don't have to feel sad? Does it feel like there's a taboo against saying, "This totally sucks"?
There is, and I think it's incredibly unhealthy. Like it says on T-shirts and bumper stickers, it's OK to not be OK. I definitely feel a little bit of that. And I've maybe pushed back on that a little bit. I don't want to go on a rampage and break windows. I just want to tell the truth. I don't have time for anything but that.
And on the flip side, when people say, "You're nice!" it's like, that should be the baseline for humanity. Yeah, I'm nice, and sometimes I'm also not nice, I'm impatient, I'm a human being. I think people might think I'm nicer than I am just because I have a job where I help people for a living.
But yeah, I think a lot of people experience that. Sometimes, with somebody who's lost a limb, you've got a room full of people looking at you with their eyebrows raised like, "Ok, so, are you, are you, all right? How do you feel? Is everything OK?" Sometimes that's good, but then that time passes.
The best advice I was ever given was to mourn the loss of my leg like you would mourn a family member. And that has helped me enormously. I have more PTSD from other things in my life than from losing my leg.
''We're all, including doctors, under the thumb of insurance companies and drug companies in this country. It's not like that in other countries. I'm not saying this country versus that country is doing it right or wrong. But we certainly ain't doing it right here, period."
You have created this amazing foundation that helps so many people. When you meet these people and hear their stories does it ever anger you that a foundation like yours is needed in the first place?
More and more—to the point that it concerns me how angry it makes me. Which is why I'm trying to find ways to help fix the problem that we address. It's such a joke that I should have to have this job in the first place. And we're not the only nonprofit that does this kind of stuff. There aren't many of us, and we all do it differently. But it's completely and totally ridiculous that you have to fight more for a prosthetic knee than you would for a knee replacement or reconstructive surgery after breast cancer. If I have my leg cut off, I have to fight with the insurance company to get the robot leg to be able to walk and be healthy. It's just backwards.
We're all, including doctors, under the thumb of insurance companies and drug companies in this country. It's not like that in other countries. I'm not saying this country versus that country is doing it right or wrong. But we certainly ain't doing it right here, period.
Cruising through your Instagram, I saw a whole bunch of good-looking sneakers. You appear to possibly be a sneakerhead. Would you say that about yourself?
I would. The addiction is very real. I don't drink anymore, but I do love those sneakers.
How many pairs do you own?
I don't even know. But I don't pay a lot of money for them.
You don't?
No. Sneakers are a hundred and fifty bucks, you know what I mean? If you're paying more than that, you're getting ripped off. I had the Air Jordan 1s when they were just called Air Jordans, and they were new in 1985. I was in third grade.
Wow, you're an OG sneakerhead.
[Dramatic exhale] Not to pat myself on the back, but yes, I am. I go all the way back. Now it's weird—I go to sneaker stores when I'm traveling and even here and it doesn't look like there's a single adult that works there. [Laughs] Crazy.
It's a whole weird world, but it can be fun. For example, I have actual friends in my life who became friends exclusively because someone said, "Oh, you should meet my friend Todd. He loves sneakers."  Todd is now one of my great friends, who I communicate with every couple of days.
I won't ask you to pick favorites but is there one pair of sneakers that has a great story behind it?
Yeah, and it involves Jason. I was in New York in 2013, the year Steps of Faith started. I was still a musician, and I was there to play a show. Jason came to the show, and I met up with him afterwards, and we were talking sneakers, because he shares this affliction. I crashed at his place and the next morning we went out to breakfast together, then I went back to his apartment to get my stuff and get in the van to go to the next city, and he was like, "Here, these are for you." Somehow, while we were at breakfast, someone had gone and got this pair of shoes, which were my favorite shoes, the Jordan 1 Royal Blue. That day was Aug. 4, which he remembered was my leg-aversary—the day I lost my leg but also the day I lost my cancer, so we always celebrate it.
Interview condensed and minimally edited for clarity.